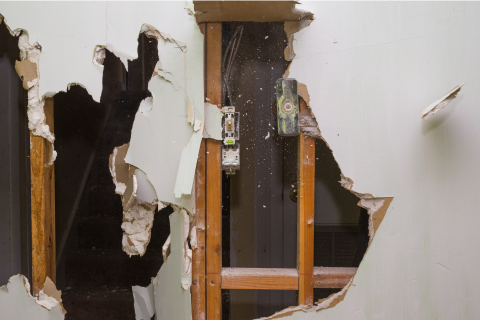 Updated January 11, 2022
Owning a home is a big financial investment.
Most people want their house to look its best without paying more than they have to, which is why so many people consider doing home projects themselves.
However, DIY home projects come with a number of risks that need to be considered before moving forward, regardless of the job.
Contrary to popular belief, demolition is rarely a project that should be done yourself unless you have the necessary experience and equipment.
In this guide, we'll discuss the various projects that homeowners frequently consider doing themselves, the risks involved and other factors to take into consideration, as well as how to find a contractor who will complete the project properly, efficiently, and for a fair price.
Jump to:
---
---
Floor Removal and Replacement
Floor removal is more difficult than it may seem.
To remove old flooring and replace it is a time-consuming and back-breaking job.
Because of the time and effort involved, floor removal is often best left to the pros.
Using whatever available free time you have, it may take you multiple days if not weeks to complete the floor removal, let alone the replacement.
Because most homeowners are busy people with better things to do with their time and efforts, hiring a floor removal professional is typically the better option.
Floor removal is also messy, creating large amounts of dust and glue, and potentially dangerous if your flooring contains asbestos mastic.
When you hire a floor removal expert, the project is completed virtually mess-free—no nails, staples, wood splinters, etc.
A floor removal expert will have all the necessary safety equipment and tools needed to safely complete your project and keep you and your family safe.
Learn more:
Cabinet Upgrades
Taking down cabinets from a wall, especially when the cabinets are old or glued together, can easily do significant damage to the wall behind it.
Unless you are planning on changing your kitchen or bathroom's layout, you will need to remove the cabinets without damaging the walls, and that's easier said than done.
If you don't have the experience and knowledge of how the cabinet was installed and how to remove it without doing damage to the wall, we recommend hiring a pro to avoid the hassle.
Not only is the cabinet removal process challenging for the average homeowner, it could reveal hidden damage behind them.
A pro will know how to approach all kinds of common cabinet removal and replacement issues that may arise, saving you the time and headache of problem solving and doing the work yourself.
Read on:
Wall Removal
Homes are complex structures made up of various important and potentially dangerous components.
Just as architects and contractors need to be certified and licensed to design and build homes, anyone performing demolition should be certified or licensed to do the work, too.
Unless you thoroughly understand your home's architecture, you might easily demolish a wall that is fundamental to your home's structure.
The worst case scenario involves the home crumbling down around you. The best case scenario is you cause unintentional damage to your home that slumps over time, leading to the eventual inhabitability of your home.
Demolition is not as quick and simple as television may have us believe.
If plumbing or electrical wires run through the wall you're attempting to tear down, you could do some serious damage and potentially end up severely injured in the process.
Because of all the risks involved, we recommend outsourcing demolition if you are even remotely unsure of what's within or behind the wall and if there is a chance that hazardous materials are present in your home.
Keep reading:
---
---
Appliance Replacement
The average lifespan of most appliances is 10-12 years, which means there's a good chance you'll need to replace one or more at some point.
Because most appliances sit in one place for a long time before being removed, they can reveal hidden problems when they are moved.
A pro will know how to address and handle any unforeseen issues.
In addition, installing an appliance yourself can void the warranty, unless installed properly, so keep that in mind as well.
Find out more:
Toilet Removal and Installation
Removing and installing a new toilet is a gross job, simply put.
Removing the old toilet can be messy when the proper steps aren't taken, and the fumes from the drainpipe can be harmful if exposed to them for too long.
Generally speaking, a pro can have your toilet replaced in less than an hour, but it would likely take you longer to do so, causing fumes to accumulate more over time.
In addition, a leaking toilet is not always immediately apparent, but can cause significant damage if gone unnoticed.
Learn more:
Shed, Barn, or Outbuilding Demolition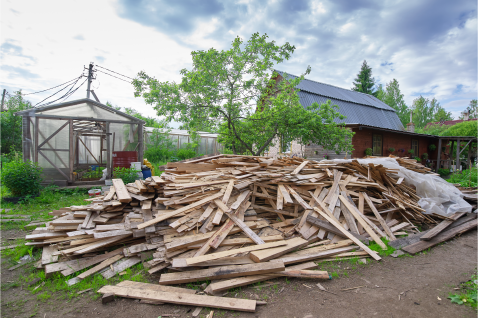 Just like with wall demolition, the demolition of an outbuilding or other structure is equally as dangerous.
There are a number of potential hazards as well as a great deal of strength to tear down a building and haul away its debris.
Even if you and your team have experience with other DIY projects, demolition is challenging, and someone could easily end up seriously hurt.
Demolition contractors are able to make quick work of even large buildings, so we recommend hiring a pro to help with this.
Keep reading:
---
---
Outlet Upgrades or Electrical Changes
If your electrical outlets are old, damaged, or not functioning properly, it's time to replace them.
Not only are old outlets less effective, but they can also put you in danger.
Incorrectly wiring an outlet can cause significant electrical issues and can put your family and home at risk.
Because outlet and electrical changes put people at risk of electrical shock and other electrical dangers, we recommend hiring a professional electrician to do this work.
Read more: