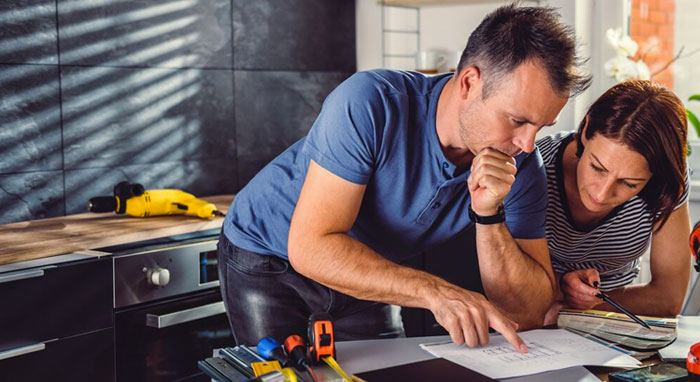 Updated January 23, 2023
You did it—you saved up and bought a house! Or maybe your current house needs new life.
Either way, it's time to remodel, and maybe you're not sure where to start.
Determining your desired color palette, design style, and budget—it's a lot to take on! Start off on the right foot with a well-thought-out plan in hand.
Figuring out what to redo, revamp, or rip out (and in what order) can be extremely challenging and just plain intimidating.
Your house is your biggest investment, and making the right decision for you and your family is important.
Learn how to go about a remodeling project—where to start, where not to start, what to consider, and more.
---
Get inspired.
The first step in the remodeling process is finding out what you like. Create a design "file."
Create a physical file of magazine clippings and paint swatches or a digital file, like Pinterest. It doesn't matter; anything to act as a catch-all place for the looks, colors, and styles you like and want to see in your home.
Begin this step as soon as possible. Even if not planning on starting your remodel for awhile, you'll want as much time to prepare as possible.
Once you've got a good idea of how you want things to look, determine your next plan of action.
Learn more:
Plan it out.
After you've got an idea of the desirable color scheme and general design style (and feel would be a good fit for your home), make a list of the projects you want to tackle.
Be realistic here. There are times for being wide-eyed and bushy-tailed and times for getting down to brass tacks. This is a time for the latter.
Once you know what you want done, it's time to outline how it will get done.
Keep reading: What's the Best Time of Year to Handle Interior Demolition Projects?
---
---
Begin where you spend the most time.
The average kitchen remodel can yield a 70% return on investment.
Not to mention, a great kitchen can sell a house faster than almost any other room or feature in the house.
Knowing this, it could be safe to say that tackling a kitchen remodel first would be the best place to start.
This is especially true if your kitchen is old, unsightly, or outdated.
Freshening up your kitchen sooner than later will breathe new life into the home, which can lead to feeling inspired and motivated—all great things for moving on to your next project!
On the other hand, because kitchen remodels can be so messy and inconvenient, sometimes they're best left for the end.
They're also one of the most expensive remodeling projects, so it may be better to handle the smaller, less expensive jobs first, like painting, replacing light fixtures, installing new switch plate covers, etc.
Start from the ground up.
Many experts believe in doing the floors first and then working up and out. While others stand firm in their belief that floors should be done last, regardless of the room.
The fact is: It depends.
Installing new flooring is a big, oftentimes expensive job. Not to mention, it can be a very dirty and time-intensive undertaking.
Sometimes, the best plan of attack is to get them done first, cover them up securely with plastic wrap and/or drop cloths, and move on with the rest of your project(s).
However, if replacing the floors is the easier part of the remodeling work, then leaving your floors for last is a great way to avoid messing them up.
If installing carpeting, this is generally best left for the end of the remodel, as carpet can stain and get dirty easily. If you're installing hardwood floors, laminate, or another smooth flooring surface, then it's up to you.
---
---
The fact is: There is no 100% right or 100% wrong way to remodel your house.
The best course of action is simply to plan ahead as best you can and stick to your budget.
The choices involved with a remodel are personal and highly specific to each person/family, so you have to approach it in a way that best suits your family's needs and habits.
Ask yourself:
Am I financially prepared to do this work?
Am I remodeling to sell my home for a higher price, or am I looking to stay in my home for a while?
If any unforeseen situations arose and I had to scale back, what would I do?
Practical questions like these can prove to be very helpful, providing you with the answers you need to move forward with a successful and within-budget home remodel.