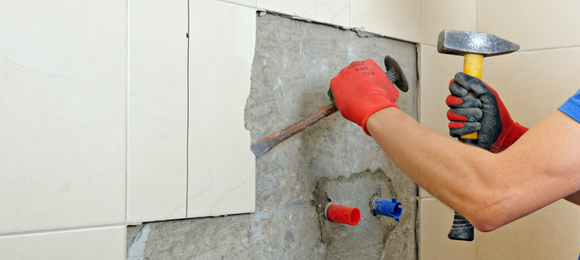 Updated July 12, 2021
Bathroom demolition takes some experience and handiwork due to the amount of plumbing (and water) in such a small area.
Demolishing your bathroom yourself could save you money, but things can go sideways rather quickly if even the slightest mistake is made.
This guide will outline the pros and cons of handling bathroom demolition yourself in order to help determine if DIY is the right option for you.
Before we can discuss the upsides and downsides to DIY bathroom demolition, you should have a general understanding of how the process works.
Basic Bathroom Demolition Process:
Turn off the bathroom electricity at the breaker before beginning
Shut off the water supply
Remove the toilet
Protect the bathtub by covering it up
Remove all flooring
Remove any bathroom mirrors
Carefully detach the cabinets and/or vanity from the wall
Rip off the baseboards
Turn off the water main valve
Remove the P-trap of each sink drain as well as the shut-off valves
Take out lighting fixtures
Unscrew and take out the shower pipe
Remove the shower and/or tub
Carefully take out drywall and insulation as needed
---
Benefits of DIY Bathroom Demolition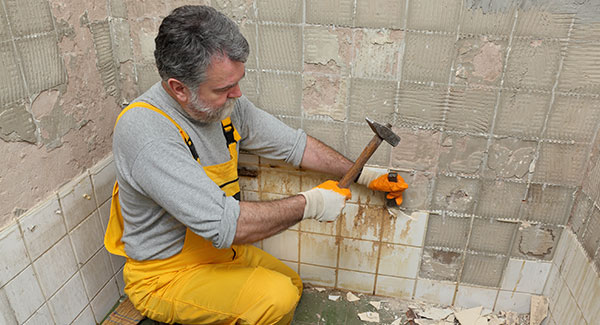 1. It's (typically) less expensive.
The #1 reason people choose to do bathroom demolition themselves is because it's generally cheaper to do so.
A typical bathroom demolition costs between $500 and $2,000 when hiring a professional.
The exact cost of your demolition will depend on:
the size of your bathroom
how much demolition needs to be done
whether or not asbestos or lead is present
If no hazardous materials are present, you could handle the demolition yourself and save on these costs, paying ostensibly zero.
Doing the demolition wrong, e.g. damaging electrical wires or plumbing in the walls, can lead to much higher project costs than anticipated—sometimes much more than you would when hiring a professional. Always use caution when doing work yourself!

Find out more:
2. Salvaging materials will be easier.
When you take apart a bathroom yourself, it's easy to set aside anything you want to reuse, recycle, donate, or sell.
This is another way you can save some money.
In addition, selling usable materials in a garage sale or donating them to your local ReStore rather than sending them off to the dump is an easy way for you to help your community and the environment, too.
Keep reading:
3. You'll get to break things.
Honestly, who wouldn't love the chance to destroy some stuff?
Tearing out floors, ripping out cabinets, and breaking down a wall or two are just a few of the many stress-relievers associated with DIY demolition.
Learn more: The Homeowner's Guide to Interior Demolition
---
---
Disadvantages of DIY Bathroom Demolition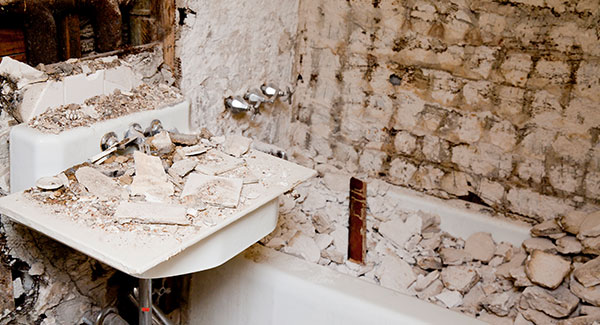 1. More risks are involved
Just with any DIY demolition project, there are a number of things that can go wrong when it comes to doing bathroom demolition yourself.
Generally speaking, handling bathroom demolition yourself is safe if you follow all the necessary precautions. However, even when acting carefully, things can still go wrong.
Lots of plumbing in a small space can lead to leaks and messes.
Not to mention, hazardous lead paint could be present, and drywall can produce a fine dust that irritates eyes and lungs.
2. It's backbreaking work
Even if you are proficient in demolition work, all that tearing, lifting, pulling, and ripping takes a toll on your body.
If you decide to handle the bathroom demolition yourself, plan on being exhausted during the process and seriously sore for the following week.
3. It takes time
Bathroom demolition demands a thorough understanding of what you're demolishing and your future plans for the space.
If you're only planning a minor remodel, you might be able to get away with demolishing your bathroom over the weekend.
However, if your bathroom is big, your house is old, or you're planning on changing everything, bathroom demolition can be a complex and extensive job, taking weeks or longer to complete.
You'll need to learn the basics of demolition work, and then take the time to implement them properly.
Demolition is much easier for a contractor with experience; they'll be able to finish the work quickly (without inflicting any damage).
4. You're responsible for debris disposal
To say demolition is messy would be an understatement. There's debris, dust, nails, and grime that will need to be cleaned up and disposed of properly if you choose to go the DIY route.
Renting a dumpster is typically the most convenient disposal option when getting rid of demolition debris. All you have to do is fill up the dumpster as the demo work is completed.
However, disposal costs can add up quickly, especially when you're tossing plumbing, wood, and other heavy items in the dumpster.
If you exceed your container's weight limit, dumpster pricing will quickly escalate.
So if you rent a 10-yard container with a 3,000 lb weight limit, and the dumpster ends up weighing 5,000 lbs, you will have to pay a hefty fee (overage charges) for those extra 2,000 lbs.
In a worst-case scenario, you may need to rent a second dumpster to complete the cleanup, which essentially doubles the cost of disposal.
Learn more about renting a dumpster for debris disposal:
5. The results may not be as good.
If a bathroom demolition is done incorrectly, it will affect the turnout of the bathroom remodel itself.
Although you may initially save money doing the bathroom demolition yourself, handling it incorrectly could end up costing you more to have it repaired than if you had simply hired a professional in the first place.
Even if you're careful, you can cause irreversible damage that affects the overall appearance of your new bathroom and your property's overall value.
Learn more about deciding when to DIY and how to hire a professional:
---