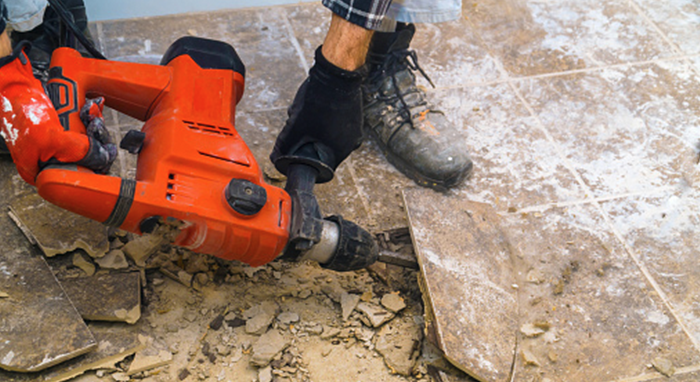 Updated July 27, 2021
Because of the availability of information on the internet, more and more people are choosing to remodel parts of their home themselves, but this may not always be the best decision.
Taking the DIY route can be very economical and practical for certain projects, but there are some projects best left to the pros.
This is especially true during social distancing laws amidst the COVID-19 pandemic.
When deciding whether or not to do a project yourself—particularly floor removal—there are a number of different opinions.
We're here to explain the benefits of hiring a professional to handle your floor removal and the pitfalls of handling it on your own so you can make the right decision for yourself.
---
Benefits of Hiring a Professional for Floor Removal
While tearing up floors seems like a simple thing to do, it can be quite time consuming and tedious.
Hiring a specialist will save you time, stress, and a lot of mess.
If your state has issued stay-at-home orders, waiting until you can safely hire a floor removal specialist is likely your best option. It's possible to remove and replace your floors yourself, but your safety should always be the top priority.
1. There's less danger to worry about.
Removing floors is a messy job, and when you do it yourself, it's necessary to protect the rest of your house from the potential damage that can happen from the rough and dirty process.
You will need to cover and properly protect walls, appliances, furniture, and any flooring that is not being removed.
Because tearing up floors creates a lot of debris, it could present problems to your home and your family's quality of life if not managed and disposed of properly.
A professional floor removal or interior demolition company can efficiently manage all of the safety precautions.
They have the experience and equipment required to adequately protect your home and family.
2. You waste less time.
The entire floor removal process can take days, weeks, or in some cases, longer.
Removing flooring of any type takes a lot of prying and cutting in order to remove the materials. Not only that, but there are countless nails and staples that will need to be found and picked up to be sure the space is thoroughly clean and safe.
Professionals have the efficient tools and expertise to get a job done quickly and safely.
Not only will hiring a floor removal professional save you a ton of time, but it will also save you from lots of headaches, back pain, and potentially dangerous situations.​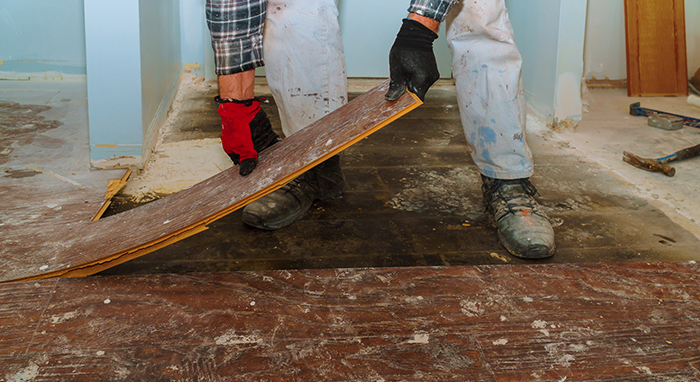 3. You don't have to struggle with messy glue.
Underneath all that flooring—especially vinyl, tile, or linoleum—is a bunch of glue or thinset that will need to be removed as well.
This messy step can't be avoided, and it requires specific tools and lots of time spent on all fours.
A floor removal specialist will have the tools needed to remove the glue, and they'll do all the back-breaking work rather than you.
4. There's no dust and dirt to manage.
Removing flooring materials, like tile and wood, creates a ridiculous amount of dust and airborne debris, and it can quickly spread throughout your house.
Cleaning up all that dust on your own can be nearly impossible to do, but a professional will be able to prevent the dust from getting loose in the first place.
Not only is this good for a clean house, but it's good for a healthy family, too!
---
---
Learn more: