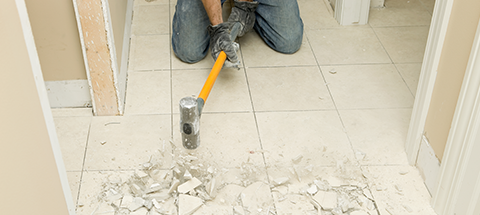 Updated June 6, 2023
Removing and replacing your floors can dramatically improve the appearance of your home as well as your home's overall value.
To give you a better idea of how much your floor removal will cost, we go over:
---
---
Average Cost to Remove Flooring
The national average cost to remove flooring is $0.25-$0.50 per square foot, with the total price for labor and materials falling around $1.50-$2.50 per square foot.
A typical 300 square foot project costs $325-$700 on average, including labor and debris removal.
Cost to Remove Flooring

| | |
| --- | --- |
| Average Cost per Square Foot | $0.25-$0.50 |
| Average Cost for Labors and Material | $1.50-$2.50 |
| Average Total Cost for 300 sq ft Project | $325-$700 |
Keep reading:
Factors Affecting Cost
While the average cost to remove a 300 sq ft floor is $325-$700, the price of your specific project will depend on your:
Location
Project size
Type of flooring
Method required to remove
Who you hire
For example, carpet is typically cheaper to remove than wood or tile floors because it's generally an easier and faster process.
To get a better idea of what your specific floor removal project will cost, reach out to multiple floor removal experts in your area for a quote.
How to Find the Right Contractor
We recommend getting at least three quotes to adequately contrast and compare the price and quality of the services offered in your area.
Compare more than just pricing. A fair price is important but so is attentive customer service, experience providing quality work, and the ability to accommodate your schedule (if necessary).
Hometown makes it easy to find qualified floor removal and interior demolition specialists and request free quotes from one place.
---
---
Learn more: