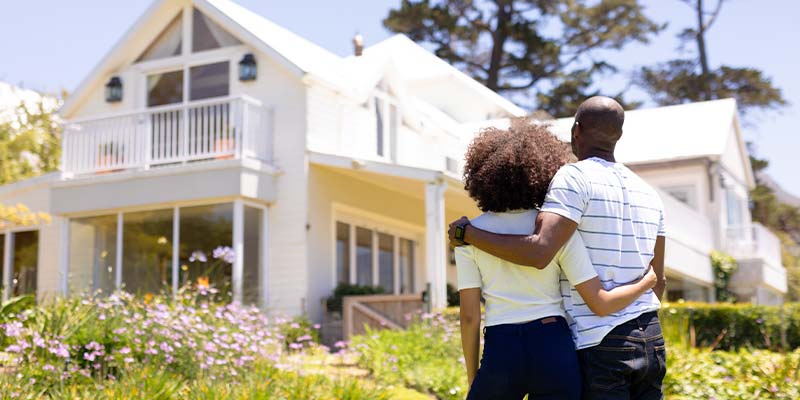 Updated April 1, 2023
Whether you have an older house and you want to find out how to update your old house on a budget, or you want to make your builder grade home look custom and appeal to your personal style, you can love your home, even if it's not your dream house. Your home can become your happy place, either again or for the first time since buying it, without making expensive or major whole-home changes.
Millions of Americans feel stuck in their homes or rental properties because of the low inventory and high interest rates of our current housing market. Perhaps you're living in a home that you purchased 4-5 years ago that you planned on living in for 5 years or less as your starter home, but since the house market fluctuations, you've decided it's smarter to stay in the home you're in and wait for the interest rates to drop and more houses to come on the market so you can move to a home that you love without being stuck in a high interest rate for the foreseen future.
Maybe you recently bought a brand new, builder grade home in an area that you love, but the character of the home leaves something to be desired, and you want to put your own touch on the home's design and decor. Whatever your reason may be, our guide will provide actionable solutions that can help maximize you and your family's enjoyment of your home.
Table of Contents: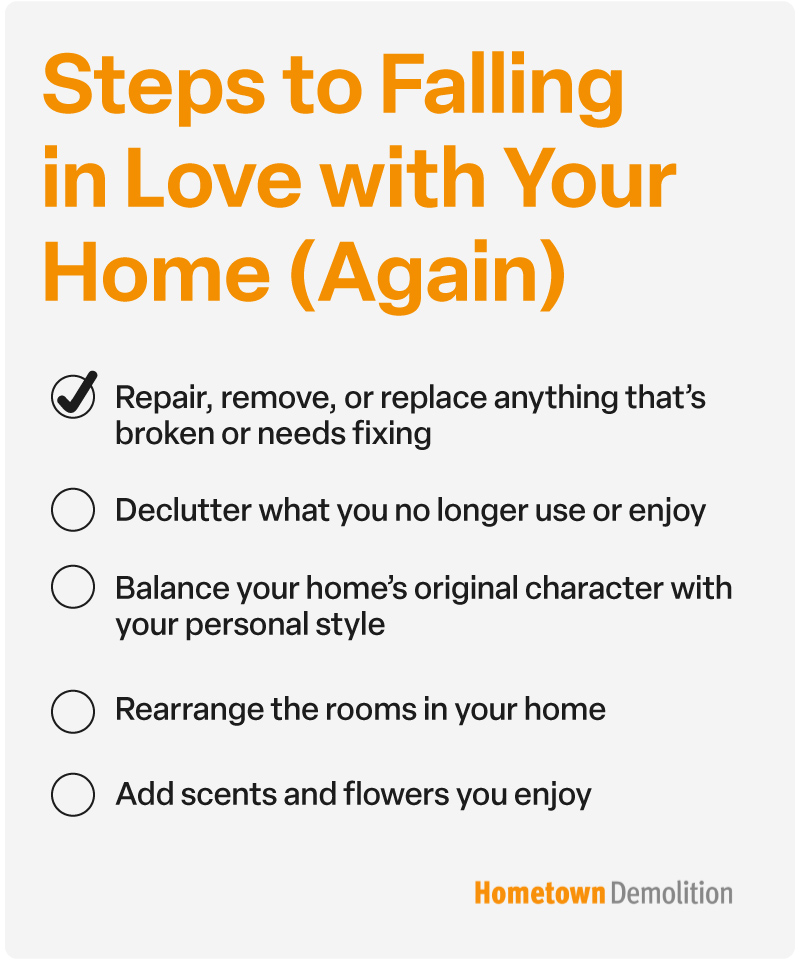 Repair, Remove, or Replace What's Broken
Repairing or getting rid of broken, non-functioning, or unused items is an easy way to add value to your home. Sometimes, repairs are inexpensive and easy to do, making them extremely worthwhile. Other times, the repairs will cost more than the item itself is worth, and in those cases, it's best to remove and replace the item rather than to invest the money and effort necessary to repair it. Oftentimes, you'll end up having to replace the item in the not-so-distant future anyway.
Appliances
Upgrading your appliances to newer models can increase your home's overall value by up to 7% in some cases. Not only do new appliances last longer, look better, and usually store more food, but they are also energy efficient, meaning they will save you money on your electricity bill every month.
If you have an old appliance that you're replacing, the company you bought your new appliance from may offer the added service of recycling your old appliance(s) for a fee. If you simply have an appliance you'd like to get rid of, or if the company you bought your new model from doesn't remove old appliances, then junk removal companies are a great resource for appliance removal. They specialize in bulky item removals, like appliance removal, so whether you have a refrigerator, stove, microwave, dishwasher, washer, dryer, or freezer to get rid of, they are pros at finding the safest way to get it out of your home without damaging any walls or surrounding property.
In addition to junk removal companies' ability to remove large appliances from upstairs, downstairs, and through narrow doorways, they also will recycle or donate any appliances that are still functioning. Junk removal services prioritize keeping appliances and everything they take from being dumped at landfills whenever possible. There are a number of other ways to get rid of appliances, like hauling them to a local charity or appliance recycling center yourself, but hiring a junk removal company is arguably the fastest, easiest, and safest option.
Professional appliance removal by a junk removal company costs $75-$200 on average for each appliance. We recommend getting quotes from multiple junk removal companies near you to see what they charge for appliance removal. After you've received different quotes from local junk removal pros, compare their pricing, availability, and customer service, and choose the company you want to handle your appliance removal.
Plumbing
Do you have a leaky, old fashioned toilet? Is your bathtub chipping or an ugly color? Is your standard stainless steel kitchen sink ready for an upgrade? These plumbing fixtures need to be repaired or replaced at a certain point, and doing so can have a huge effect on how much you like your house and a decent boost in home value, too. Replacing your plumbing fixtures and upgrading your bathroom can give you a 60-70% return on investment (ROI) on average. There are a number of handymen who can handle these types of projects, and many of them offer to haul your old toilet, sink, or tub to the dump for you. However, some require you handle the old fixture removal yourself, in which case junk removal companies can be a solid choice.
Professional plumbing fixture removal, like toilets, bathtubs, sinks, etc., by a professional junk removal service costs $75-$200 for each item. If you're replacing multiple fixtures at once and have 5+ to dispose of, then a dumpster rental may be the more cost-efficient choice. Dumpster rentals cost $250-$550 on average for a 10 or 20 yard dumpster—the dumpster sizes most suitable for plumbing fixture replacement or bathroom and/or kitchen remodel debris. Dumpster rental periods average 5-7 days, making them a helpful ongoing debris management solution.
Furniture
Furniture is the unsung hero of any beautiful, loved home. It's where you and your family sit, relax, and put your feet up after a busy or stressful day. It seats your friends and guests when they visit, making them feel comfortable and welcome. Your furniture is the setting for the memories made in your home. Over time, our beloved furniture becomes worse for wear and can start looking dingy and tattered or even become broken and rickety. When your furniture has become an ugly eyesore or uncomfortable to sit on, it's time to consider getting rid of it. Professional furniture removal costs $150-$300 on average. Your exact furniture removal cost will depend on the type of furniture, the number of pieces you're getting rid of, how much space the furniture takes up in the junk removal company's truck, where you live, etc. Just like appliances and other bulky items, there are other routes to take when getting rid of furniture, i.e. hauling them to a local charity or appliance recycling center yourself, but hiring a junk removal company is arguably the fastest, easiest, and safest option.
Furniture removal and replacement can have a dramatic effect on how you view your home as well as how you feel inside it. Consider staging a home for sale: Staging can help increase the sale price of a home by up to 20% on average. The same goes for people who don't plan on selling their home in the immediate future. Look at your home like you're staging it for yourself. What type of furniture makes you feel the most at home? What type of furniture makes the space look and feel bigger? Consider adding these types of furniture pieces to your space to not only increase your overall enjoyment of your home but also your home's overall value should you decide to sell.
Doors
If you have uneven doors, squeaky doors, or doors that don't open or close easily, repairing them doesn't have to be overly difficult. Oftentimes, the door hinges simply need to be tightened in order to hold up the door properly and evenly. Other times, the door or door jamb may need to be sanded down slightly to address any warping or bulging that's happened to the wood over time. This is especially common in bathrooms or other humid environments.
Perhaps you live in a home that has hollow core slab doors that you'd like to upgrade to solid core doors or barn doors. Sometimes you can get away with repairing the hinges and painting a door to completely transform it to suit your style. Other times, you may need to completely remove and replace the doors altogether. If you are getting rid of multiple doors, a dumpster rental is a convenient way to manage them. Dumpster rentals cost $250-$400 on average for a 10 yard or 15 yard dumpster—the container sizes most common for door removal projects. If you only have a few doors, a junk removal company may be the better option. Professional junk removal services range from $75-$500 depending on how many doors (or other junk) you have. With professional junk removal, you can trust that your doors will be donated and repurposed or recycled whenever possible.
Floorboards
Old houses come with an innate, unique character that is somehow valuable and priceless at the same time. Crown moulding, built-in shelving, and original hardwood floors bring beauty and personality to a home, but original—or just plain old—floors can become worn, uneven, damaged, and squeak over time. To some, this might be part of the charm of the home, but to many, these things can wear on how you feel in your home and affect how you feel anytime you're moving around your house.
There are a number of ways to fix a squeaky floor, from lubricating it (if it's hardwood), to cleating the subfloor or adding carpeting. In some cases, floor removal and replacement is necessary. Professional floor removal companies know how to safely and efficiently remove all types of flooring. Floor removal costs roughly $0.25-$0.50 per square foot on average. The cost to replace your floors will range anywhere from $1,500-$4,500 on average for 500 square feet. However, this cost can go a long way in the overall enjoyment of your home and has a high ROI of 50-65% on average.
Read more:
Windows
Drafty, leaky, painted over, or broken windows are frustrating to deal with and an ugly sight for the homeowners living inside. If you're replacing a single window or multiple windows, it's typically best to hire a professional unless you have experience with this type of work. Professional window replacement costs $200-$600 per window on average but can easily cost as much as $2,000 or more for bay windows or floor-to-ceiling windows. Replacing your window(s) can provide an average 50-70% ROI and increases your home's value, but it also has a multitude of other benefits as well, like improving your home's security and safety, better temperature control which increases home comfort and energy efficiency, reducing outdoor noise, enhancing curb appeal, and even reducing dust and allergens in the home, all of which can have a huge impact on the joy you experience in your home.
To handle window removal yourself is virtually free, but you will likely have to pay for the proper disposal of the windows. Your best options for window removal and disposal is a dumpster rental or junk removal service. If the windows can be reused or recycled, they can be donated to a nearby donation center or recycling facility, and junk removal companies can haul them to the nearest donation or recycling center for you. Window removal and hauling by a junk removal company costs $100-$600 on average but could be more for a whole-home window replacement. For large window replacement projects, renting a dumpster is smarter from a financial standpoint. Dumpster rentals cost $250-$400 on average for a 10 yard or 15 yard dumpster—the dumpster sizes most common for window removal projects.
Driveway
If your home was built in the 1980s or earlier and you haven't replaced the original driveway, it's likely cracked, crumbling, and in need of removal and replacement. This is not only a pain to look at but often a pain to drive or walk over as well. Every time you come and go from your home, you have to drive over an old, bumpy driveway. If you have kids or elderly people living in your home, the safety of an old driveway gets called into question. Replacing a driveway instantly makes your property look newer and fresher and increases your home's safety as well as your overall enjoyment of it.
Professional driveway removal costs $1,500-$3,000 on average, but this is highly dependent on the size of the driveway and whether or not the driveway was built with reinforced concrete, in which case the cost to remove it will increase. Complete driveway replacement costs $6,000-$12,000 on average. While this is an investment upfront, you can expect an average of 50% ROI should you decide to sell and an uptick in your home's value even if you don't.
Deck or Patio
There's nothing quite like sitting out on your home's deck or patio, whether it's in the morning with your cup of coffee and the birds or on a weekend evening laughing and talking with loved ones. If your wood deck is splintering and falling apart, if your concrete patio is sunken or chipping, or if your deck is simply boring and empty, this is an easy and inexpensive way to boost your home's value and maximize your home enjoyment.
If your deck is beyond repair or you want a fresh start, deck removal is affordable and fast to complete. Professional deck removal is the best option for people who don't have the experience, physical strength, or the safety equipment needed to rip up boards and nails. The average cost of deck removal by a professional is $600-$1,000 including disposal.
DIY deck removal is an option for people with some home improvement experience and all the right tools and safety equipment, like a pry bar, hammer, safety goggles, safety gloves, thick work boots, and maybe a reciprocating saw to help things along. DIY deck removal also takes longer, sometimes multiple weekends to complete unless you have help, and will require you rent a dumpster to manage the debris, hire a junk removal company to haul away the deck debris for you, or haul it to the nearest landfill yourself. Renting a small dumpster for a small to medium size deck removal project costs $250-$450 on average. Hiring a junk removal company to handle your deck removal can range from as low as $300-$600 for debris removal alone, or as much as $600-$1,000 for disassembling, hauling away, and disposing of the deck.
If you have a concrete patio that's cracked, sunken, crumbling, or you're just sick of looking at an ugly concrete patio, professional patio removal is quick and not that different from the cost of deck removal in many cases. The average cost of patio removal is $300-$2,400.
Many people opt to replace their deck or patio with a new and improved version. One of the most popular options among homeowners and the one that offers the best ROI (70-100%) according to experts is decks made of wood with a unique yet functional design and durable stain or finish. Wood is the preferred deck option among homeowners because it's longer lasting, more attractive, and easier to maintain and restore than composite decking, giving it longterm value.
Another popular option with a high ROI (70-80%) is a paver patio. Both of these options are beautiful and can provide a safe and attractive setting for your mornings, evenings, and get-togethers.
Learn more:
Fence
Did you buy a house with a fence that you always planned on tearing down or has become worse for wear over time? Removing a fence that is damaged or broken in some way or doesn't suit your home's style or the neighborhood's style can instantly make you love your yard again as well as increase your property value. On average, professional fence removal costs $600-$800. In some cases, fence replacement is the best option for your home's overall value as well as your ability to enjoy your entire property thanks to the privacy and security that a newly built, attractive fence provides. Fence replacement costs $4,000-$8,000 on average, including fence removal and installation. Fence replacement can also recoup up to 50% of these costs, which is enjoyable in itself to know.
Read on:
Pool
Whether you moved into a new house that had an old pool when you bought it or your once-loved pool has since become an old eyesore, upgrading or removing your pool could be just what the doctor ordered when it comes to your mental health in your home. If you upgrade it, you'll have a beautiful pool that you can enjoy for years to come. And if you live in an area where pools are common, then having one is definitely going to increase your home's value and give you a great return on investment. If you live in an area that freezes in the winter or pools aren't that common in your area, then removing it may be the best option from a property value standpoint. However, at the end of the day, you should replace it if having a pool is something you love about your home.
Inground pool removal costs $5,000-$7,500 on average, with inground pool replacement costing $20,000-$30,000 on average. Above ground pool removal costs $1,000-$3,000 on average, with above ground pool replacement costing $3,000-$5,000 on average.
Shed or Barn
Nothing ruins a beautiful yard or spoils a backyard view from the kitchen window faster than an old, chipping, and cluttered shed or barn. If you have an old shed sitting on your property, remove it with the help of a professional shed demolition company for an average cost of $600-$2,000. An old barn that has no historic significance can be a safety hazard as well as an eyesore. Professional barn removal costs $1,500-$6,000 on average but can be much more than that depending on the size and complexity of the barn. With a freshly cleared yard, you can utilize the space for even more enjoyable things, like lawn games, a fire pit, or a garden.
If your shed or barn is still in good condition but just needs a little love, take the time to organize and declutter it, give it a little paint, or add lighting for functionality to the inside and for added "curb appeal" to the outside of your shed. Though it may be in rough shape now, it could look like a whole new shed or barn with a little effort.
Keep reading:
Landscaping
Your landscaping may not be "broken" per se but it can become overgrown, messy, and unsightly in general over time due to lack of attention and consistent yard maintenance. It's hard to enjoy pulling up to your house with a weed-filled front lawn, or spending time in your backyard with your family when the lawn is uneven and overtaken by weeds and dry patches. There are a wide range of easy-to-use services that make caring for your lawn a breeze, from professional services like TruGreen to DIY options like Sunday. Similar to caring for your grass, it can also be hugely rewarding to spend time improving your landscaping, whether it's adding hearty perennials to your raised beds that will last for years or planting flowers you love to look at in your window boxes. A beautiful, well-maintained lawn and landscaping is enjoyable for you and has a positive impact on your home's value, too.
Declutter Your Existing Items

Studies have shown that more than 55% of Americans confess to feeling overwhelmed due to a cluttered and disorganized house. So if you catch yourself looking around the rooms in your home and feeling like you're drowning in your stuff and the constant upkeep of it, know that you're not alone.
The good news is that scientific data shows that decluttering and organizing your space has dramatic, positive effects on our mood. For example, decluttering releases dopamine, improves your physical health, sharpens your focus, energizes you to be productive, and relieves anxiety. On top of that, the visual impact that decluttering can have on a space and a person's home is often underestimated. Simply by removing unnecessary clutter and organizing the existing items, a home can appear larger, newer, and more valuable.
Dumpster Rental
Temporary dumpster rentals are a convenient and relatively inexpensive way to get rid of a large amount of junk or debris at once. When you're doing a full house cleanout or decluttering your entire home, you'll likely have a huge pile of items—some items that need to be trashed, some recyclables, and some things that can be donated. If you have a large amount of trash or items that can't be donated or recycled, then renting a dumpster for your home cleanout is the best option. Dumpsters come in multiple sizes, allowing you to get rid of as little or as much junk and waste you have. Most dumpster rental durations are 5-7 days, making it easy to toss or carry in items as you come across them in your home cleanout.
Junk Removal
If you have a mixture of trash, recyclables, and donations, then junk removal services may be the best option. Junk removal companies are experts at removing junk, whether it's a few bulky items, a big pile, or an entire house-full. On top of being efficient and experienced in removing all types of junk, professional junk removal companies also make it convenient to get rid of junk responsibly. They can easily separate items so they go to the most environmentally responsible place: a donation center, a recycling facility, or the landfill as a last resort.
Learn more:
Balance Your Home's Character with Your Personal Style
Whether you live in a builder grade home that you want to breathe life into or you recently bought a 1970s ranch house in need of a remodel, most homeowners struggle to find that perfect balance between their home's original character and their own personal style. There are a number of ways to strike that balance, from minor and inexpensive changes that you can do yourself, like painting or swapping out lighting and plumbing fixtures, to professional interior wall demolition, bathroom remodels, and kitchen renovations.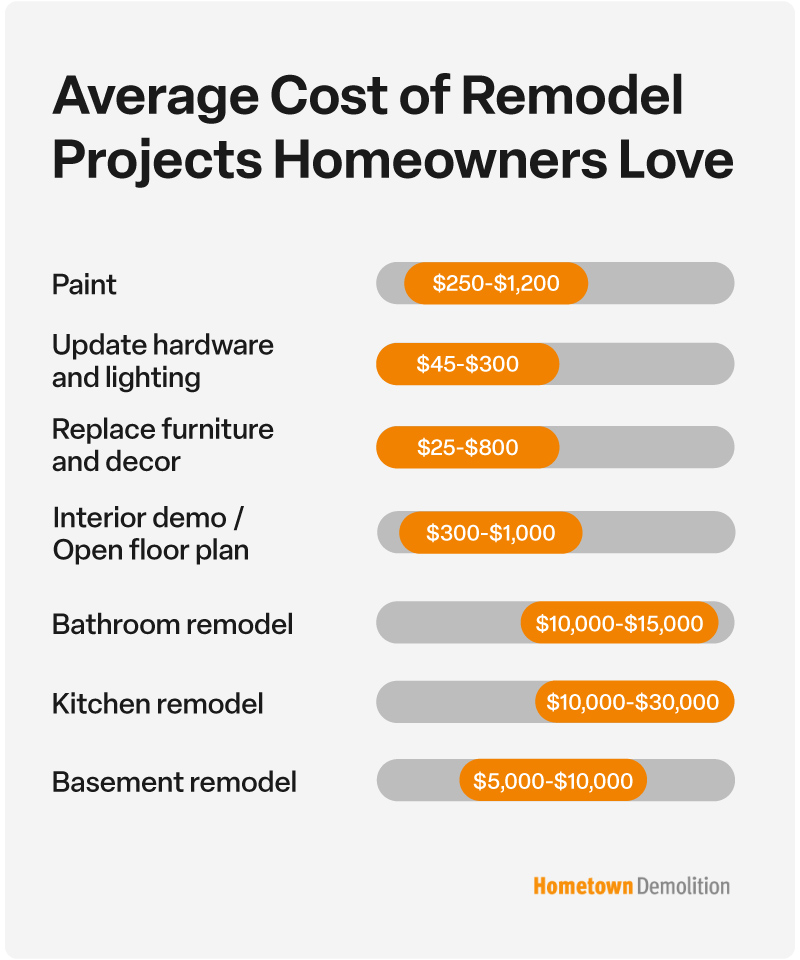 Paint
Painting your house—whether it's the home's interior or exterior—is an excellent way to transform its overall look and feel without breaking the bank. Paint can transform a space, but it's also inexpensive and almost anyone can do it. You can paint one room or your whole house, the front door or the entire exterior—how much or how little you paint is entirely up to you, and even painting just a little bit can have a big effect on how you feel in your home.
The paint color you choose can set the tone for your day-to-day life. Light shades make rooms feel bigger and more relaxing. Bold colors make a statement and can make an otherwise bland room feel exciting again. On top of that, painting can increase your home's value as well as protect it from the effects of everyday wear and tear, dust, mold, and environmental effects.
Painting requires minimal equipment. The average cost to paint a home's interior is $250-$1,200. To have your home professionally painted, you can expect to pay $1,500-$5,000 on average. The ROI for interior painting is a whopping 107%, with the ROI for exterior painting being a still-substantial 55%.
Hardware and Lighting
Hardware in a home includes the metal finishes that exist within it, including lighting fixtures, plumbing fixtures, door knobs and handles, cabinet pulls and knobs, etc. Updating these can make your home feel like an elevated version of itself, and the different styles available mean you can choose the hardware that suits you and your style, not just the style of the time your home was built. Every time you open or close a door, turn on the water, or flip on a light switch, you could be seeing a fixture you love or a fixture you hate. Picking the former is a subtle way to make a big impact on the style in your home. All these little touches contribute to an overall vibe in your home that you get to decide and put into effect.
Similar to hardware, the lighting in the home sets the tone too and can really transform how you feel when you're in it. Do your window treatments let the light in while still allowing privacy? Do you have multiple points of light in the living room or just one off-putting overhead light? If you don't have multiple light sources, including natural light from your windows, in the main rooms of your house, you could be missing out on a bigger feeling, more relaxing, and more enjoyable ambience in your home.
The cost to replace light fixtures ranges from $45-$200 on average per fixture but can be much more expensive statement lighting. The cost to swap out other hardware in your home averages $20-$300 per piece but can also be significantly more depending on the materials you choose and how many hardware fixtures you're replacing. Upgrading your lighting can recoupe as much as 200% ROI, while hardware fixtures average a 75-100% ROI.
Furniture and Decor
Decor is arguably the most inexpensive way to transform the look and feel of your home. Household decor includes decorative accents, like pillows, artwork, rugs, etc.—the items that one might argue make a house a home. Furniture, albeit more expensive than decor in most cases, is just as transformative when it comes to adding your personality to the home.
If you have a personal style that's drawn to natural, comfortable, yet modern fabrics, then opting for a neutral-colored deep-seated sectional filled with down or a similar alternative material will bring those aesthetics into your home. For decor, adding wicker table lamps, jute rugs, wood accent furniture, and marble coasters will further capture your personal style and make it impossible not to love your home.
The average cost of a new piece of furniture is $700-$800, with decor averaging anywhere from $25-$500 per piece on average. Of course, you can reduce these costs by purchasing items second hand or repurposing what you already have.
Interior Demolition
The popularity of open floor plans arguably stems from the open, casual, free-flowing feel and accessibility they provide. Whether you're entertaining guests or dealing with day-to-day life with kids, an open floor plan has many benefits. Tearing down interior walls in a home to open up the space is not always overly complicated, especially if the walls are not load-bearing. If the walls are load-bearing, there will be some additional work (and costs) involved, but the pay-off can not only do wonders for how you view and enjoy your home but also its value. A newly remodeled home with an open floor concept is reported to have an ROI of approximately 70%.
On the other hand, roughly 40% of people report missing privacy and separation of space with an open floor plan. More people work from home—at least partially—than ever, and unless you live alone, you typically need some separation and quiet to get work done and create that work-life separation. An open floor plan can be too open in some cases, making it hard to get that necessary peace and quiet you need, especially if there are kids or other people who work from home living there. Knocking down a wall or two is desirable and functional in most cases, but more than that could potentially limit privacy, so keep this in mind.
The average cost of interior non-load bearing wall demolition is $300-$1,000 per wall in a single-story home. The average cost of interior load-bearing wall demolition is $1,200-$3,000 per wall in a single-story home. The cost to remove a wall in a multi-level home will cost closer to $3,200-$10,000 on average. In addition, factors like electrical work, plumbing, or HVAC ductwork will affect cost. Interior wall demolition contractors will be able to assess your exact expectations and provide you with an accurate project estimate. The more quotes you get from local companies, the better you'll be able to confirm you're making the right decision and hiring the person most qualified without overpaying.
Read on: Residential Interior Demolition Cost Guide: Factors That Affect Your Final Bill
Bathroom Renovation
On average, Americans spend at least 30 minutes of their day in the bathroom, adding up to more than two years and one month of their lives. That's a lot time spent in a room that doesn't always get prioritized in terms of design and room enjoyment. If your bathroom is dimly lit, disorganized, or otherwise not aesthetically pleasing, it's time to seriously consider a renovation. A modest bathroom remodel can achieve a 50-60% ROI and boost your mood anytime you're in your bathroom.
The average cost of a professional bathroom remodel is $10,000-$15,000 but can be as low as $3,000 or as high as $100,000+. It all depends on the size of your bathroom, how involved the remodel is, the materials you use, the cost of services in your area, etc. The best way to know how much your bathroom renovation will cost is to reach out to bathroom remodel companies near you.
Kitchen Remodel
Similar to the bathroom, most people spend a lot of time in their kitchen, so going to the effort to make it more enjoyable to be in will improve your mood and increase the chances of you cooking from home, which in turn saves you money and promotes healthy eating habits according to the American Institute for Cancer Research.
A kitchen renovation boasts a 60-80% ROI, making it one of the most financially worthwhile projects in this article. The average cost of a professional kitchen remodel is $10,000-$30,000 but can be as low as $1,000 or as high as $100,000+. It all depends on the size of your kitchen, how involved the remodel is, the materials you use, the cost of services in your area, etc. The best way to know how much your kitchen remodel will cost is to reach out to kitchen renovation companies near you.
Basement Renovation
The basement is a versatile space—it can be used as storage, and laundry room, a guest bedroom, a gym, a bar, and all of the above in some cases. Remodeling your basement can increase your home's value, increase the amount of usable and enjoyable space in your home, and recoup 50-60% of your investment in most cases. However, sometimes just cleaning out your basement and giving it a minor makeover is all it takes to make a big impact.
The average cost for a basement remodel is $5,000-$10,000 on average but can be as much as $80,000 or more. Your exact basement renovation cost will depend on the size of your basement, how involved the renovation is, the materials you choose, the cost of services where you live, and more. The easiest way to know how much your basement renovation would cost is to contact basement remodel companies near you.
Read more:
Home Additions
Studies have revealed that 1 in 4 Americans report feeling like they have outgrown their living space within two years, with that number jumping to more than 2 in 4 believing they outgrew their space in 5+ years. In today's fluctuating housing market, it's more common that people are living in homes they've outgrown simply due to a lack of options. The number of affordably priced homes on the market has dwindled and interest rates have skyrocketed, so more people are choosing to adjust the home their in to suit their needs rather than waiting out the housing market in a home that makes them feel cramped and overwhelmed.
Adding living space to your home by demolishing an exterior wall and adding onto it can increase a home's value by an average of 5%. The cost to demolish an exterior wall is anywhere from $1,200-$10,000. Overall, a home addition costs $90-$200 per square foot on average. Local demolition companies will be able to provide an accurate estimate for your specific project.
Rearrange Your Home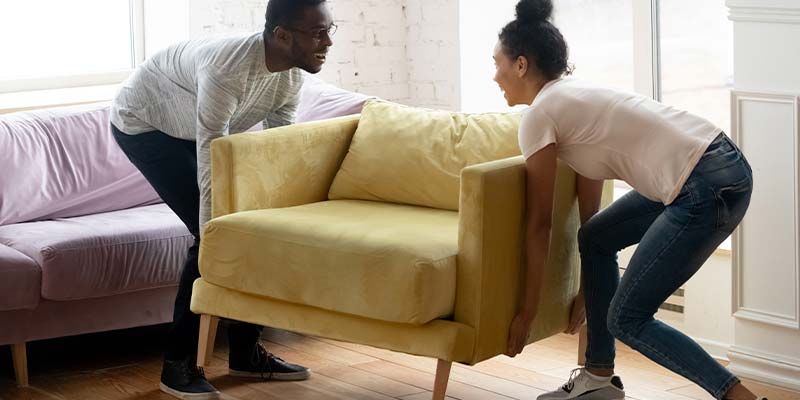 A less invasive and less expensive way to freshen up your home and make you love it again is by rearranging the furniture. Doing so can enable you to see your rooms in entirely different ways, increasing joy and focus levels.
Many people have long recognized the power of rearranging a room. Rearranging can have a big impact, even in small corners of your home. You could rearrange the entire living room or just the counter in your bathroom. Rearranging even a little bit can make your home feel new and fresh again.
Add Nice Scents and Flowers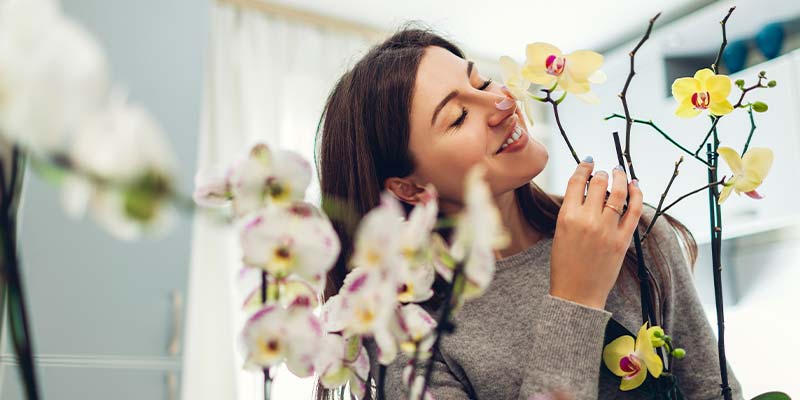 Studies show that scent has a dramatic impact on our mood and how we feel within our own home. Scents we enjoy elicit positive emotions, which lower stress and anxiety levels and improve our overall mental, emotional, and physical wellbeing. You can add fragrances you enjoy to your home through essential oil diffusers, candles, plug-ins, simmering pots, and bouquets of flowers.
There are many benefits to bringing natural touches, like flowers and greenery, inside the home. Having flowers in your home can positively effect your mood and emotion just like scent does—and for similar reasons—but it also improves creativity and productivity, boosts our sense of comfort, improves memory, gives us energy, and increases our ability to emotionally connect.