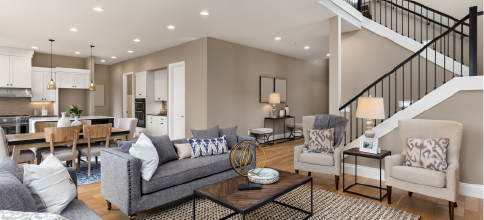 Updated January 23, 2023
Redesigning your home's floor plan is a great solution when you want to stay in your current home but you don't love the layout.
In today's housing market, it can be almost impossible to find your ideal home for a reasonable price.
Oftentimes, it's more cost-effective to upgrade your current home rather than sell it, buy a new home, and pay to relocate.
If you're considering the possibility of changing your home's floor plan within your existing footprint, you're probably wondering what needs to be done to make it happen and how much it will cost.
In this guide, we'll break down the various aspects that come into play when changing a floor's home plan, the most popular ways to do so, and the average costs involved.
Jump to:
---
---

What It Takes to Change Your Home's Floor Plan
Of course, each home has a different footprint and floor plan and each homeowner has different tastes and goals for the home.
Because of this, the changes each project will need will vary.
However, with that said, there are some general steps to changing a floor plan that exist regardless of the work you plan on doing.
The most common steps to changing your floor plan include:
Removing or adding interior walls
Adding beams to compensate for the removal of load-bearing walls
Getting the necessary permitting
Potential electrical and plumbing adjustments or updates
Interior finishing work (trim, flooring, windows, painting, etc.)
Most Popular Ways to Adjust Your Home's Floor Plan
One of the most popular ways homeowners prefer to adjust their floor plan is opening it up by removing walls and/or adjusting the location of interior walls to be more functional.
For example, having a kitchen separate from the dining area or living area can make those in the kitchen feel separate from those in the rest of the home.
This is not ideal for a family or anyone who enjoys entertaining guests.
Opening up the kitchen so that it extends into the dining and living areas of the home usually involves removing non-load bearing walls and/or load-bearing walls.
Removing a non-load bearing wall is relatively simple. It involves disconnecting and removing/rerouting wiring and plumbing and then removing the walls.
Removing a load bearing wall is more complicated. It involves removing the wall and the electrical wiring and plumbing like a non-load bearing wall removal, but it also involves installing a beam to support the weight of the structure now that the wall is being removed.
Read on:
Average Costs of Adjusting Your Home's Floor Plan
The total cost of changing a home's floor plan can vary a great deal.
The average cost of remodeling a home and adjusting its floor plan is $200-$700 per square foot.
As you can see, the total possible range is quite large because demolition and remodeling project pricing depends on the complexity of the demolition work and the quality of the upgrades.
Let's consider a floor plan remodel example to look more closely at average costs...
Obtaining all permits needed to do the work: $350-$1,000
Removing a non-load bearing wall: $350-$1,200 per wall
Removing a load bearing wall: $1,500-$3,000 per wall
Rerouting electrical/plumbing: $1,000-$5,000
Demolition and removal of existing kitchen materials: $15-$30 per square foot
Finishing costs/Adding upgraded materials: $150-$600 per square foot
While these costs can add up, it's important to consider the potential return on investment (ROI) associated with your potential floor plan remodel project.
Typically, updating your home to be in line with the surrounding neighborhood's standards is the most cost-effective option.
In some areas, that means using mid-range materials that suit the home's architecture as well as the surrounding area.
In other areas, that means using lower or higher grade materials.
When done properly, a floor plan remodeling project can have as much as an 82% ROI.
Learn more:
Selecting the Right Contractors for Your Floor Plan Remodel
With a change in a home's floor plan, you'll need to reach out to a contractor and/or a structural engineer.
Because some of the walls in a house are load bearing (and likely contain plumbing and electrical wiring), removing them improperly can quite literally be deadly.
This is why an engineer and an experienced remodel contractor are invaluable during this type of project.
Hometown makes it super simple to find expert remodeling contractors in your area.
You can browse contractors that service your zip code, read customer reviews to get a better understanding of their quality of service and overall experience, and easily request quotes from multiple contractors to ensure you pay a fair price for the best service.
Similarly, having an HVAC contractor look over your remodel plans can steer you in the right direction when it comes to efficiently controlling temperatures in the newly opened space.
We also recommend getting the advice of a real estate appraiser who has arguably the best insight into the potential ROI of various floor plans and can help you decide the best course of action.
Home designers are another great asset to have in your corner during a major remodel like a floor plan adjustment.
They can accurately and quickly mock up multiple ideas for adjusting your floor plan and even walk you through it in 3D so you can clearly envision the space.
---
---
Learn more: