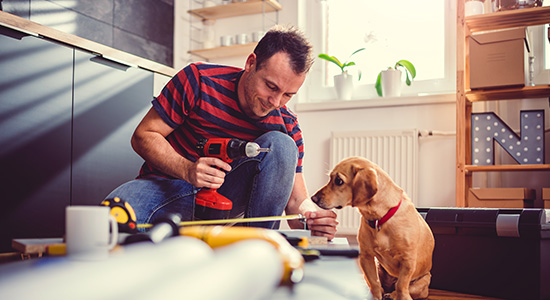 Updated April 14, 2023
If your home is in need of a remodel, but you don't want to break the bank, don't worry! You can remodel your home on a budget and maximize your house's value without minimizing your wallet. The key to remodeling your house on a budget is planning out your remodel, determining what needs to be done to achieve your goals, and then determining how you can get those done in a high-quality way while spending the least amount of money possible. Below, we outline the basic process of planning and budgeting your home remodel so that you can save as much money in the process as you possibly can.
Table of Contents:
---
---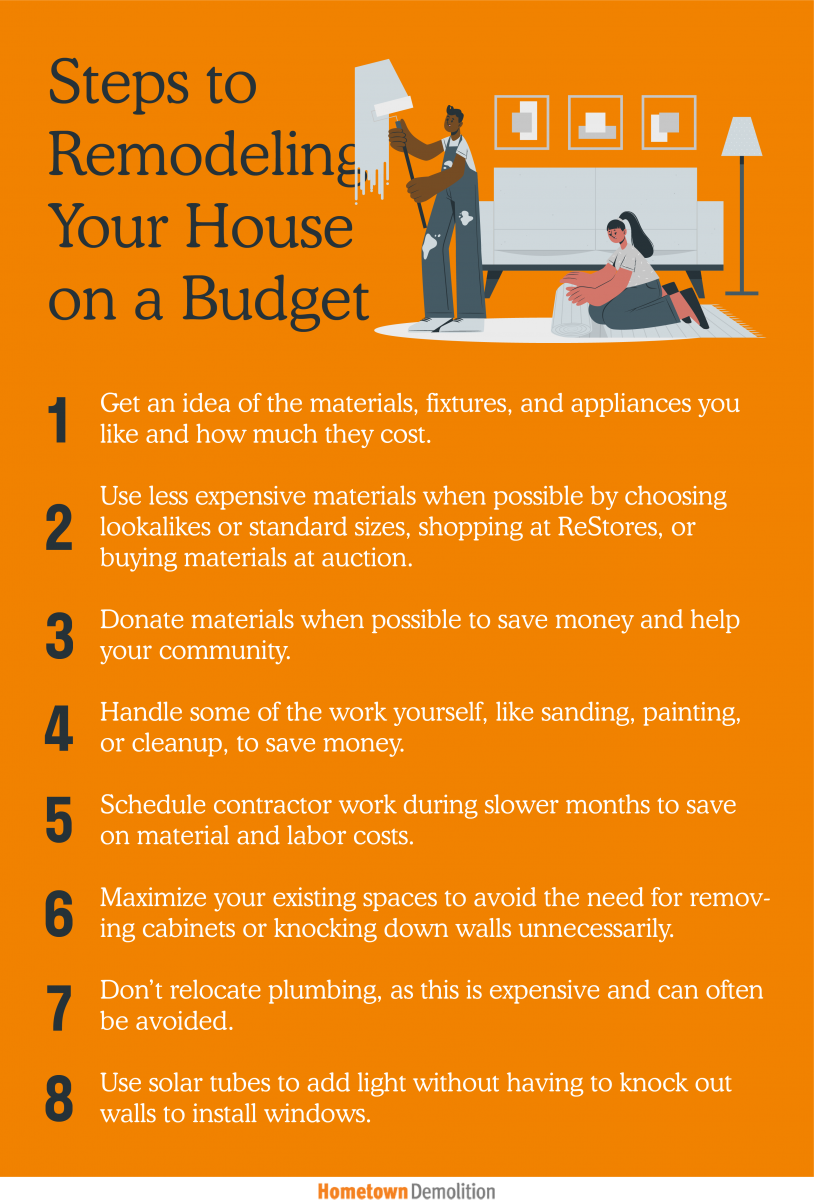 How to Save on Remodel Material Costs
Understand What You Like and How Much It Costs
Start browsing the aisles of your local hardware stores and/or home centers well in advance of when you anticipate beginning the work. Get an idea of what materials, fixtures, and appliances you like and what they typically cost. Approaching a remodeling contractor with minimal information about what you're looking for will make it harder to get an accurate estimate. In addition, materials vary greatly in cost. If you aren't specific upfront about what you want, your contractor may choose materials that are more expensive than other, perfectly satisfactory materials.
Keep reading:
Use Less Expensive Materials Whenever Possible
Salvaged/Recycled Materials
Using salvaged, lightly-used fixtures or building materials can save you a ton of money. There are 400+ Habitat for Humanity ReStores nationwide, offering salvaged building materials for a fraction of big box store prices. The downside is that most contractors won't work with salvaged items, or even with homeowner-supplied materials in general, because they don't want to assume the liability should something go awry in the future. However, if you're performing that aspect of the work yourself, you could save up to thousands of dollars by using gently used materials.
Standard Size Materials
Manufacturers offer off-the-shelf dimensions of various building materials, and taking these dimensions into consideration during your design process could save you a boatload. Custom fabricating anything drastically increases costs, so we recommend avoiding doing so whenever possible.
Look-Alikes
Going with less expensive imitation materials is a smart choice in a lot of cases. Hardwood is beautiful, but there are countless options that look and feel like the real thing for a much smaller price tag.
Auctions
Building-supply auctions are excellent places to look for materials. The inventory at auctions typically includes overstock supplies, mis-ordered custom materials, or items with minor signs of wear. Most have anything you could want, and you can save hundreds or even thousands in some cases.
---
---
How to Save On Labor and Disposal Costs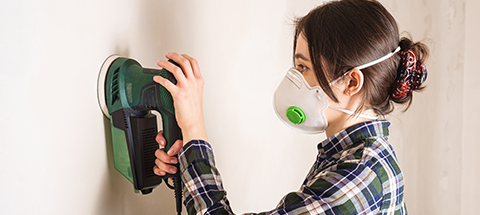 Donate What You Can First
Before you start a remodeling job, whether it's your kitchen, a bedroom, your basement, or the entire home, reach out to your local Habitat for Humanity to see if they'd be interested in coming to your home to remove any materials or fixtures they'd like for resale. A vast majority of a home's materials are reusable, so there's likely a variety of useful items in your home a charity could benefit from. Cabinets, tubs, sinks, and more—all of this is valuable to others, even if you no longer are using it.
Find out more:
Handle Some of the Work Yourself
A majority of interior demolition work is best left to the pros, but if you have some light demolition that needs to be done, you may be able to handle it yourself and save some money. For example, if you plan to replace your cabinets or even an outdoor feature, like a deck or fence, you likely can demolish and remove these items yourself. To prevent adding to project costs by making costly and potentially dangerous mistakes, hire a professional to assist you with interior demolition work. If you're uncomfortable or unable to handle any of the demolition, use Hometown to help you find the right local, qualified contractor for your project. Luckily, demolition isn't the only part of the job that can often be done yourself to save money.
Other common aspects of a remodeling project that you can do yourself:
Insulate
Light demo
Sand
Paint
Material pick-up
Material cleanup
Remember: There are a number of things you can help with in order to save money, but if you doubt your abilities to successfully do any aspect of the work yourself, we recommend erring on the side of caution and hiring a professional.
Learn more:
Do Your Research When Hiring a Contractor
Remodeling your home is a big investment, and choosing the right person to assist you is important. Choosing the wrong contractor could be extremely costly. To minimize this risk, we recommend reaching out to at least three different contractors to get quotes. Ask contractors for line item bids so that you can closely compare how contractors price their work, and ask for references to see what they've done in the past. Getting multiple quotes can save you hundreds, if not thousands, of dollars in the long run, so don't skip this step!
Schedule Your Work During Slower Months
Many pros will argue that winter is the best time to remodel because it's the time of year when labor prices are often at their lowest. Contractors aren't as in-demand during winter months, which equates to lower labor costs for homeowners looking to remodel. Not only do you tend to pay less for materials and labor in the winter, but your remodel project tends to be completed in less time, too. Winter months are less busy for contractors which means the local departments that issue permits are also less busy, saving you time.
Maximize Efficiency Before Expanding the Space
Oftentimes, our kitchens or baths feel cramped and like they need to be increased in size. While this is the case sometimes, in certain situations, you can get away with reorganizing the layout of your kitchen and equipping it to maximize it's functionality. For example, adding additional shelving in your existing cabinets may be a better option than ripping them out and replacing them with new, bigger ones. Doing this could save you thousands while still meeting all your needs.
Don't Relocate Plumbing
Moving plumbing is one of the biggest causes for remodeling cost increases. If you absolutely need to move a toilet or sink, take advantage of the opportunity to upgrade the pipes at the same time to save money in the long run.
Keep reading:
Add Natural Light Without Installing Windows
Cutting a large hole in the side of your home and adjusting the framing to accommodate it is invasive and expensive. Luckily, there are less expensive ways of capturing light. For example, solar tubes, or light tubes, are like a small skylight designed to go between roof rafters and funnel sunshine into your space. However, skylights cost $2,000 or more in some cases, while a solar tube costs less than half that on average.
---
---
Find out more: