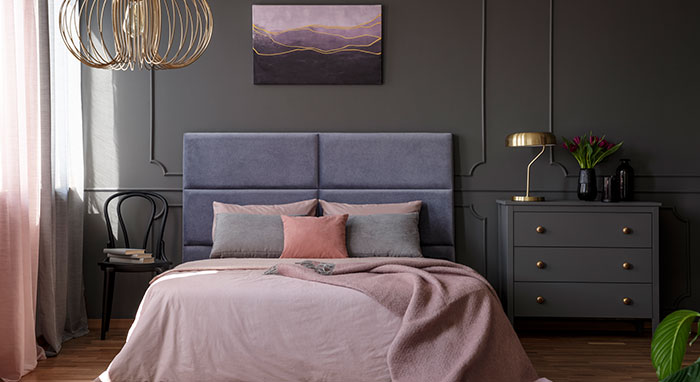 Did you know that the average person spends roughly one-third of their life in their bedroom?
Your bedroom is one of the most-used rooms in your home—it should be a place you enjoy spending time.
Updating or remodeling your primary bedroom can create a personal oasis to enjoy, and it can also add value to your home.
Taking on this type of project may seem intimidating, but we're here to help!
The best approach to home remodeling is to be organized, and our step-by-step guide will help keep you that way.
This guide is a great jumping-off point, but adapt it as needed to fit your specific remodel.
Jump to:
---
---
Return on Investment
Giving your primary bedroom a fresh look makes the room more enjoyable and can give you a return on your investment (ROI) of 40-80% on average.
Expanded closets or a new bathroom in your primary bedroom are highly desirable features and will increase your home's value.
Even aesthetic changes as simple as new furniture, bedding, lighting, window treatments, or built-in storage in your closets can add interest to your primary bedroom and increase the overall value of your home.
Similar articles:
---
Keeping It Simple
Updating your bedroom doesn't have to include a total renovation.
You can oftentimes create a beautiful bedroom without intrusive construction or a big budget.
Sometimes, all it takes is a few minor changes to completely transform a room.
Common types of aesthetic changes:
Painting or installing wallpaper
New carpeting or area rugs
New window treatments
Rearranging or purchasing new furniture
New bed frame and/or bedspread
Hang wall art
All of these options can create a completely different look and feel in a primary bedroom for much less money than a total remodel.
However, if you decide that small aesthetic changes are not enough, a total remodel may be the best option for you.
Bedroom remodels do not always involve structural changes, though they certainly can.
---
---
Increasing Bedroom Size
If you want to add space to your primary bedroom, there are a number of options (though your specific options will depend on your property and budget).
The most common ways to increase the space in a primary bedroom:
Remove interior walls
Increase the home's footprint
Add another story to your home
Which option works for you and your home will depend on various factors.
For example, if you have the existing yard space and your local zoning laws allow it, you could create the space you need by knocking down an exterior wall and expanding your home onto your lot.
If you are unable to expand your home outward, removing interior walls to create one large room out of two smaller rooms may be an option. Another option could be repurposing another space to be your new primary bedroom.
If you decide to expand your home, be sure your contractor checks with zoning regulations and deed restrictions to guarantee your project complies with any and all rules where you live.
---
Preparing for the Future
If you are in your "forever home" and are planning an extensive bedroom remodel, be sure to consider your needs as you grow older and plan for all ages.
For example, a new statement tub might be beautiful and enjoyable now, but as you age, will you be able to enjoy it?
Likewise, if you are getting older, you may want to think about repurposing rooms on the lower level rather than the second floor. Having the primary bedroom on the first floor is convenient and good long-range planning. Or perhaps you should consider widening any narrow doors.
These are all options worth taking into consideration when doing a primary bedroom remodel.
Find out more:
---
Planning Your Primary Bedroom Remodel
Make a good demolition/remodeling plan before beginning your project to save yourself the time, money, and stress.
A solid plan can take months to get right, so be sure you don't rush the process. (Isn't planning half the fun anyway?)
Things to think about as you plan your bedroom remodel:
Why are you remodeling—for looks, function, or both?
What about your current bedroom is not working anymore?
What style are you going for?
What do you want to use the space for?
How much are you able and willing to spend?
Once you have a plan, determine what you need to make your remodel happen. This could be anything from paint to window treatments, new flooring, area rugs, etc.
This will minimize any delays and allow your project to finish as quickly and smoothly as possible.
While you're assembling materials, you or your contractor should check to see if you need to obtain permits for the work you're going to be doing. Your local building department will be able to tell you what demolition permits you may need.
Then, make sure the rest of your home is ready for your remodel:
1. Determine alternative sleeping arrangements.
2. Clear a path leading from the bedroom outside.
3. Put down floor/wall protection to minimize damages.
Interior Demolition
Demolition day is when you tackle any demo work that needs to be done. Sometimes, it's taking your bedroom down to the studs and floors. Other times, it may involve tearing out an interior wall.
However extensive, interior demolition sometimes exposes problems that were hiding under the floors or behind the walls.
Once the demolition is complete, any structural work, electrical work, painting, and flooring can be done (typically in that order).
Then, it's simply a matter of finishing touches: hanging doors, replacing furniture, and installing window treatments.
---
---
Learn more: