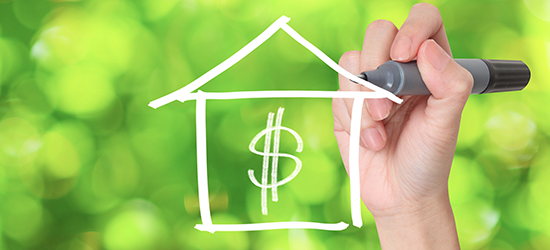 Updated March 14, 2022
Whether you're considering selling your home in the near future, or you're just looking to freshen up your current living situation, there are a number of things you can do to increase your home's appeal and overall value, including both interior and exterior updates.
In this guide, we make a few suggestions for some of the easiest ways to boost home's curb appeal.
Here's what we recommend:
---
---
Increase the Curb Appeal
When it comes to making a great first impression and starting your home off on the right foot, you can't beat curb appeal.
We're talking a well-groomed lawn, landscaping that fits the home's aesthetic, your style, and the environment, and a nicely painted exterior.
Many potential home buyers are in search of that "wow factor" when looking for a home. Fortunately, amping up your curb appeal is easier—and less expensive—than you might think.
The first step to a more eye-catching home is going outside and taking a look at what you're really working with.
What do you like about your home? What features would you like to enhance or minimize?
Start making a list of ways you can improve the overall look of your home's exterior.
One of the easiest and quickest ways to liven up your entrance is by painting the door an eye-catching shade, like blue, red, or yellow.
Basic landscaping projects, like reseeding bald spots in the lawn, trimming bushes and hedges, and planting new life are too often overlooked.
The best part about these projects? They can be completed in just one weekend.
Get ideas to liven up your yard:
---
Wake Up the Walls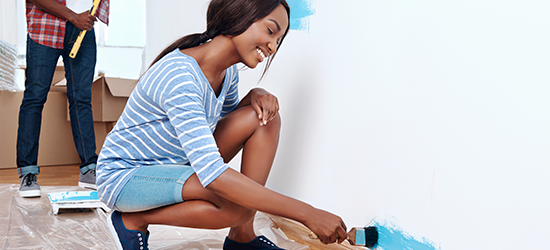 Everyday life can leave our walls looking dingy and washed out.
Fingerprints, paint scratches, wallpaper tears, and wrinkles—all of this can leave your walls looking worse for wear.
It's amazing what fresh walls can do to the overall look and feel of a home, especially when the color is right.
While neutral color schemes are always a safe bet, sometimes it's fun (and fitting) to add a pop of color in the right place.
However, keep in mind that lighter colors tend to make small rooms feel bigger.
Adding a fresh coat of paint is another way to spruce up the interior of your home in a short time for not a lot of money.
Learn more about remodeling your home:
---
---
Refresh Your Kitchen Cabinets
You don't have to get brand new custom cabinets to give your kitchen a serious facelift.
Oftentimes, adding a new stain or paint to your existing cabinets is enough to completely transform the space.
This is especially true for oak wood cabinets that are in good shape, just simply outdated.
Is your kitchen on the smaller side?
Make it appear bigger while also brightening and modernizing the space by painting or staining your cabinets white.
Another easy upgrade is swapping out your old faucet for a new one and/or replacing your cabinet hardware with modern options.
Keep reading about kitchen remodels:
---
Upgrade the Bathroom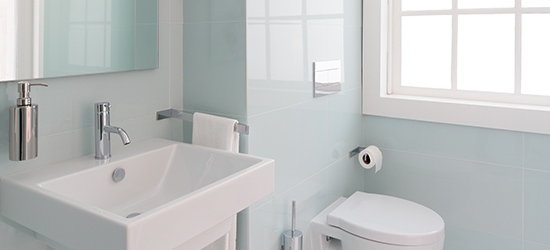 You can update your bathroom in many of the same ways you can update your kitchen.
New cabinet faces, hardware, and fixtures—like new eco-friendly toilets, modern shower heads, and chic faucets—make a huge difference.
The same goes for new paint, wallpaper, or flooring, like fun patterned tiles.
Changing just these few things can make a radical difference to a space you use every day, and therefore, should enjoy!
Not to mention, bathrooms can make or break it for potential homebuyers.
Learn more about bathroom renovation:
---
Update the Window Treatments
Basic blinds and paper shades are fine, but they don't do much for giving 'life' to a space.
Replacing basic window treatments with wooden blinds, shutters, or pretty drapes makes a home feel more welcoming and complete.
On top of that, many window treatments help keep your home cooler in the summer and warmer in the winter, which is always a good thing.
---
---
Learn more about hiring the right contractor: