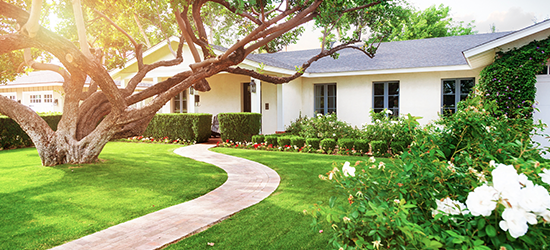 Updated February 22, 2023
Getting your dream home doesn't have to cost you an arm and a leg; you can make simple updates that, over time, add up to make a big difference.
Tackling just one or two of these projects can have more of an effect than you may think, so take a closer look at these $500-or-less home improvement projects.
Here's what we recommend:
---
---
Low-Maintenance Landscaping
One of the easiest ways to add instant curb appeal to your home is by upping your landscaping game.
Colorful plants and shrubs are always great, but more than anything, your lawn shouldn't have any bald spots, any bushes or shrubs you have should be trimmed appropriately, and the plants you choose should be native to your region.
And on top of that, your landscaping choices should pair well with the aesthetic of your home.
According to a study done by Virginia Tech's Department of Horticulture, adding a sophisticated landscape with color and big, healthy plants can increase a home's value by 10 - 12%.
A $150,000 home with a plain lawn could be worth $15,000-$18,000 more by simply adding the appropriate landscaping.
Save even more money and time by choosing plants that require minimal water and maintenance.
Whether you are planning to sell your house in the near future or not, you should not only plan your landscaping around what looks good and works well now, but also what will look good and work well in the future.
Well-placed trees that offer shade, grass that is well-suited for the environment, and hearty perennial plants are excellent options.
Similarly, landscape lighting, stone accents, and walkways, etc. are more ways to accentuate your home's exterior, adding dimension, intrigue, and your home's value.
Increase the Perceived Size of Your Home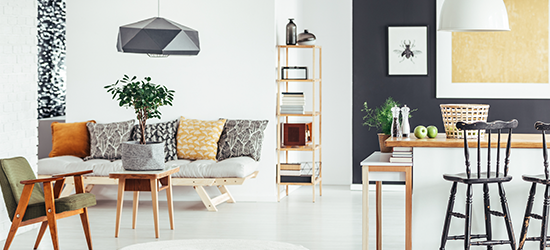 Square footage isn't the end all be all when it comes to home size. In fact, how big a home feels is just as important as how big it actually is.
Each room in your house should be designed to maximize space while creating depth without weighing the space down.
If your windows are covered with drapes, swap them out for light-filtering blinds or shutters that allow the sun to illuminate the space.
Get rid of any clutter that's collecting dust on tables.
Add a large mirror to virtually double the space in size.
You could even tear down some non-load bearing walls if you have the bound-tos.
Hire a local professional to handle the job, or if you have any experience, you could do the job yourself.
Before handling any project yourself, learn more:
---
---
Fresh Coat of Paint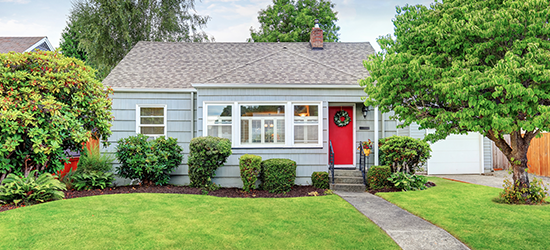 Painting is an inexpensive and relatively easy way to give your home a facelift, increasing your home's value without breaking the bank.
Most would agree that painting your house—whether it's the interior or the exterior—is a great way to breathe new life into a home.
There are countless advantages to painting the inside and/or outside of a home, including:
Changing the color of your home's interior/exterior can change its entire look and feel.
The color you choose can set the tone for your day-to-day life. Light shades make rooms feel bigger and airier. Bold colors make a statement, and soft colors have a calming effect.
Protects your home from the effects of everyday wear and tear, dust, and environmental effects, like water damage.
A fresh layer of paint increases the overall value of your home!
You can paint as much or as little as you see fit! Don't feel like you have to paint your entire home to reap the benefits. Painting your front door can have a huge effect on your home's aesthetic, and in turn, its overall value without spending an arm and a leg.
Energy-Efficient Upgrades
While most energy-efficient upgrades aren't obvious improvements to the naked eye, these updates will tap into extra savings for you and be a point of interest for potential future buyers, too.
Installing a water filtration system in your kitchen makes drinking purified water convenient, eliminating the need for bottled water or clunky pitchers.
Water filtration systems are a simple luxury that homeowners love.
Likewise, ceiling fans are an excellent choice for reducing cooling costs and bringing light and breeze to areas where it's needed most—patios, bedrooms, and living areas are some of the best places.
Spicing Up the Kitchen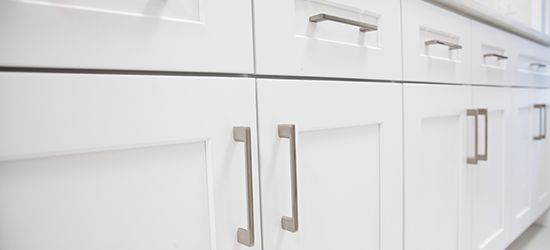 Kitchens are #1 on the list when it comes to maximizing a home's value. Luckily, updating your kitchen doesn't have to mean starting from scratch.
Swap out that old sink for a newer version, or better yet—a farmhouse sink.
These are hugely popular among homeowner and homebuyers alike.
Likewise, replacing appliances for modern, stainless steel models are another—albeit more expensive—option to makeover your kitchen.
The same goes for re-facing cabinets with a fresh stain or coat of paint, updating cabinet hardware, and flooring—all of these little changes make for a major upgrade that will pay off.
Keep reading about kitchen renovation:
---
---
Tweaking the Bathroom
Along with the kitchen, the bathroom is one of the rooms that benefits from upgrades the most, and luckily, there are a hundred ways to make small changes to your bathroom that make a big impact.
Is your bathroom blessed with tacky, fading wallpaper?
Replace it with a modern textured finish.
Now, look up. Are those lighting fixtures dated or dingy?
Replace those with new fixtures with chrome or brass finishes—something that looks expensive, but doesn't have to be.
Likewise, make sure your bathroom is lit in a way that flatters and illuminates the space.
(Most people agree: The ideal 'color temperature' for a bathroom is daylight or cool white/bright white.)
Go even further, and replace that old vanity, any plumbing that's worse for wear, or the flooring. All of these little upgrades cost less than $500, and they can make a dramatic difference to a room you spend a lot of time in.
Learn more about bathroom remodeling:
---
---
Regular Maintenance, Repairs, and Organization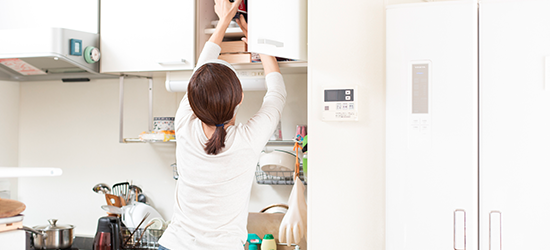 If anything in your home is broken or otherwise in need of repair, go ahead and tackle those projects!
Small repairs may not seem like a big deal at the time, but once you've tackled a few of them, you'd be surprised what a difference it makes.
Likewise, get organized! An organized, clutter-free home is a happy—and more valuable!—home.
Hiring a professional organizer for a day may seem unnecessary, but the knowledge they can bring could prove to be priceless, so don't be afraid to seek professional help.
The same goes for professional cleaning services! Find a local junk removal company today.
Carpets and Rugs
Are your carpets and rugs worn, stained, or fraying? Not only do dirty rugs look awful, but they contribute to poor air quality in your home, too. Old rugs can hide allergens and contaminants.
Start by replacing the carpet or rug that looks the worst, and continue from there as your budget allows.
Also, it's worth considering replacing carpeting with hard-surface floors, as they don't trap allergens, are easier to clean, look more modern, and are the average homebuyer's preference.
No More Popcorn Ceilings
Ah, popcorn ceilings...
They made their dreaded debut around the late 1930s and then (thankfully) fell out of style in the 80s and 90s.
They are a plague on many of today's homes, and few items are more popular on people's 'no-no' lists than the dreaded popcorn ceiling, and as such, should be on the top of your home improvement to-do list.
Typically found in bedrooms and hallways, it wouldn't take more than a weekend to ditch the popcorn.
All it takes is a quick trip to your local hardware store to get a spray-on solution that softens the texture of the popcorn, then you simply scrape away the popcorn. (Just be careful not to damage the drywall or joint tape.)
Caution: If your home was built before 1977, your popcorn ceilings may contain asbestos. You'll need to hire a specialist to have it safely removed.
---
---
Learn more about home renovation and increasing your home's value: