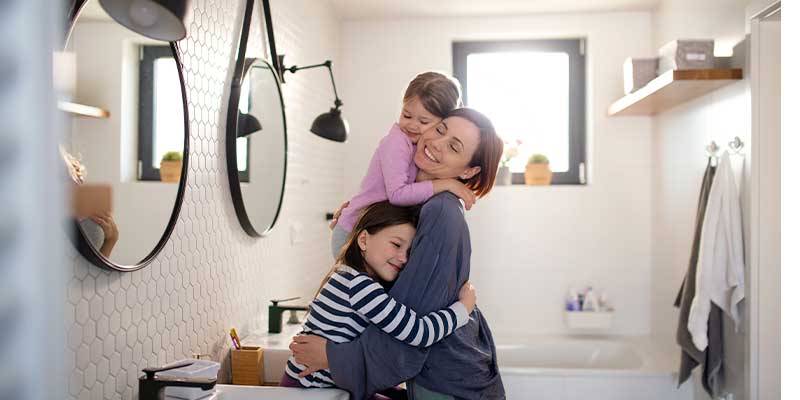 Updated April 26, 2023
With an average return on investment of 60-70%, a bathroom remodel is one of the most lucrative projects you can tackle in your home. Depending on the size of your bathroom and how much you're looking to change, the cost of remodeling it can vary significantly. If you hire a professional to assist with any interior demolition or remodeling work, the average cost typically ranges from $10,000-$20,000 or more. However, you can complete your bathroom remodel for much less than this with a little planning and ingenuity. Our guide will give you our top tips for remodeling your bathroom without draining your savings.
Jump to tip:
---
---
Know What You Want (and Don't Want)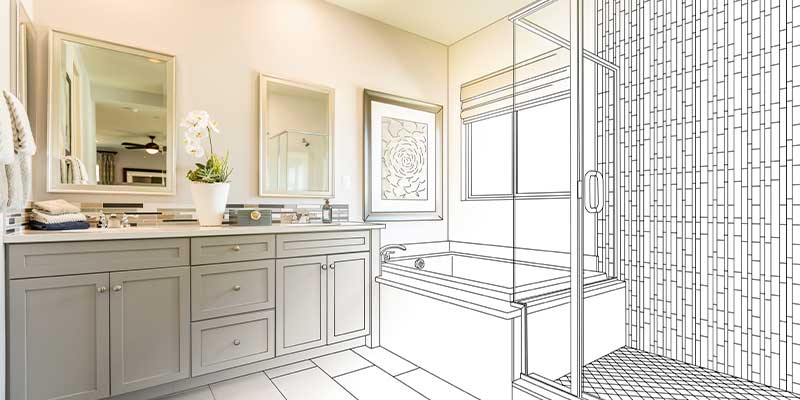 Before you even consider hiring a contractor or reaching out to local professionals for a quote on your project, you should—at a minimum—have a thorough understanding of your bathroom's layout, what you do (and don't) want done, and how much the materials you're interested in cost.
We recommend having a basic mockup of your current bathroom layout as well as your desired layout if you plan on changing it so that the contractor has a better idea of what to expect. Even if it's a simple sketch, this will make it easier for a contractor to provide an accurate bid and timeline for your particular project.
Knowing the amount of work and roughly how involved the remodeling process will be are key pieces of information for the contractor and for you. Maybe you're looking to make relatively minor cosmetic changes with no major layout adjustments, or perhaps you're looking to renovate your entire bathroom space and relocate the plumbing. Whatever your plans for your remodel, the more specific you can be about what you want to be done, the easier it will be for a contractor to accurately quote your project.
After you've prepared all the necessary information for your bathroom remodel, we recommend getting quotes from local contractors on HometownDemolitionContractors.com to find a qualified local interior demolition contractor in your area. We typically recommend getting quotes from at least 2-3 contractors, but the more contractors you talk to, the better.
When getting quotes, ask contractors for line item bids so you can closely compare how each contractor prices their work. Ask for references to see what they've done in the past. Similarly, the more materials and items you can assemble before the project begins, the easier it will be for the contractor to finish the work on time and within your intended budget. Take advantage of contractors' slow time of year if you can. The cold months of winter are typically slower for contractors, so they may offer discounted prices at this time. Also, be sure the contractor you hire is properly licensed and insured, and that they have the necessary permits needed to do the work.
Read on:
Keep Plumbing Where It Is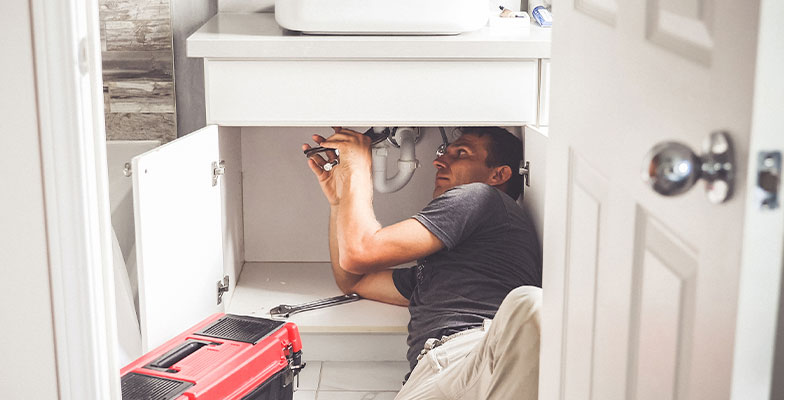 The fastest way to increase your bathroom remodel costs is to relocate your toilet, sink(s), or tub. Relocating bathroom fixtures requires a lot of additional labor and can quickly drive up costs. Whenever possible, avoid moving them and opt for upgrading them instead.
The same is usually true for electrical work, so whenever possible, we recommend simply upgrading your light switches, plugs, and lighting rather than relocating them.
Do the Easier Work Yourself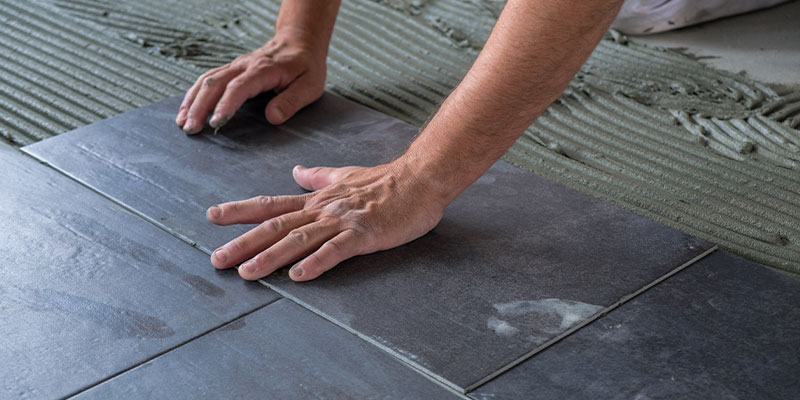 If you're willing and able to take on any part of the remodeling process yourself, you could save some money. As previously mentioned, even just handling the design process and gathering all your materials yourself can help keep costs down.
Remodeling a bathroom yourself doesn't have to be overly difficult, but some aspects of a remodel are better left to the pros. The average person can swap out old fixtures, replace flooring, and paint themselves, but upgrading a shower/tub or replacing a toilet may be a little too challenging for the average person. These aspects of a bathroom remodel can quickly go wrong and cause more labor and costs to repair any damage done.
You'll want to be cautious when removing any cabinets, vanities, or major fixtures, like a toilet. Damaging a load-bearing wall or the plumbing can affect the overall structural integrity of your house, which is not only expensive to repair but can be downright dangerous, which is why we recommend leaving interior demolition to the pros. Chances are, your bathroom remodel won't involve much major demolition work, but if it does, leave the hard work for the pros and take care of the easier stuff on your own.
If you do any of the work yourself, you likely will have debris to manage. A convenient solution is temporary dumpster rental. Costing $250-$550 on average, most dumpsters have a week-long rental period, making them an efficient way to keep your bathroom and the rest of your home clear of debris and waste. If you have a small amount of debris to dispose of, junk removal services may be a better, more cost-effective option. Costing $300-$1,000 on average, junk removal services can haul away your unwanted items and debris for you, whether it's a toilet and a sink or a huge pile of debris.
Find out more:
Get Multiple Quotes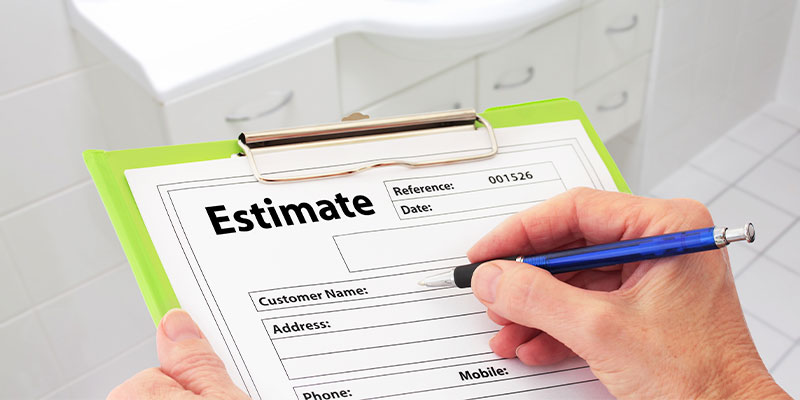 One of the easiest ways to save money on demolition is by getting an estimate from multiple local companies. Multiple estimates will give you a good idea of the average price range for the work in your area so you know you're not overpaying. Not only does it allow you to get the best possible price, but it may also help give you negotiating power with your preferred contractor.
We never recommend choosing a demolition company based on price alone. Quality services and experience are always more important than price, so first make sure the company is fully licensed and insured and has a good reputation with past customers before hiring them.
In addition to comparing pricing, we also recommend comparing the following:
Communication skills
Willingness to answer questions
Professionalism
Ability to do the work
Ability to be flexible and work with you to achieve what you want
Whether or not they are respectful and punctual
Choose a Contractor Who Can Do It All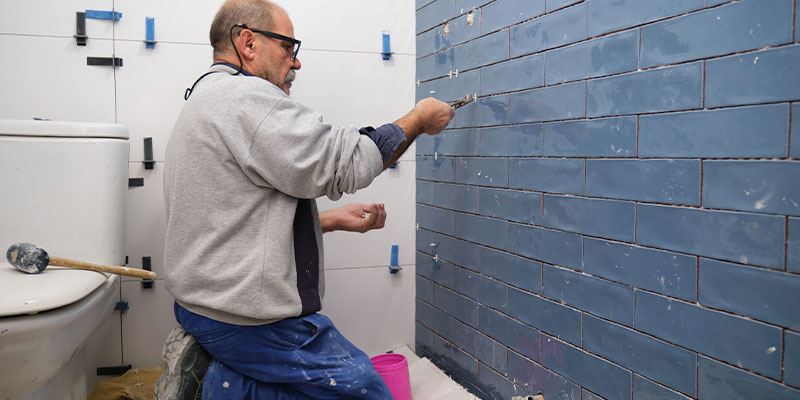 Another easy way to save money is hiring an experienced contractor who can handle the demolition as well as the new installation. Rather than hiring separate contractors for each individual job, you can likely find a contractor who is experienced in all the various aspects of a bathroom remodel; and if they can't, they likely know another contractor who can. (Don't just take their word for it, though, do your due diligence to ensure anyone they recommend is qualified to step in and help.)
Having one contractor handle the demo and installation/replacement can save you time, stress, and money in some cases. That said, we still recommend requesting quotes from multiple contractors that specialize in each service to get a better idea of all your options.
Keep reading:
---