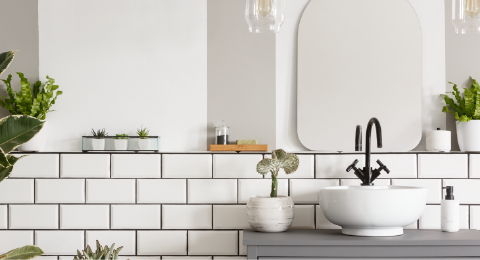 Updated August 11, 2022
If you're hoping to open up your small bathroom space, you've come to the right place.
Small bathrooms can really cramp the style of those who live there, which is why creating a more open and organized bathroom space is a high priority for millions of people.
In this guide, we'll go over our 5 favorite ideas for small bathroom remodel projects that make the space feel more spacious.
Jump to:
---
---
Opt for a Wet Room Design
Turning your bathtub and/or traditional shower into a wet room instantly makes your bathroom feel bigger, even if the footprint itself stays the same.
With a glass partition (or none at all), light flows more easily and the eye is able to freely move around the room without any obstructions, making it appear bigger.
They also make the room more universally accessible for people of all abilities, which is a major plus.
The seamless nature of wet rooms also allows you to create the exact look you're going for while blending it into the aesthetics of the surrounding room.
Raise Your Curtain or Choose Glass
Walk-in wet-room style showers are far from your only option when trying to achieve a more spacious feel in your bathroom.
Cloth shower curtains are easy to install and allow you to choose a color, pattern, and texture that suits your bathroom's aesthetic.
And by using an extra-tall curtain and raising your curtain rod, your walls will appear elongated and your room more elegant.
Glass doors are another fantastic option, and they don't have to be boring.
A barely-there glass enclosure or a French-inspired paned shower door are popular options.
Choose Light Shades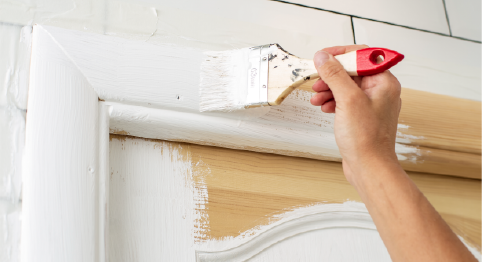 Choosing paint in lighter shades within a single color family will help a small room feel larger.
Matching the floor tile to the wall will further elongate the room and give the sense of more space.
Fill your bathroom with as much natural light as you can and utilize timeless neutral hues to maximize the space and future resale value potential.
On the flip side: You could opt for a bold, dark hue throughout the room. Some experts swear it has the same illusion as lighter colors.
Install a Large Mirror
To help with filling your space with natural light, it's not always easy to expand or install a new window or add a sunlight.
A quick fix is to add a larger mirror (or multiple mirrors) to the space to give the illusion of a bigger room.
Floor-to-ceiling mirrors are beautiful and can really make a small bathroom pop.
Upgrade (or Remove) the Hardware
Moving around in a tight bathroom is a pain, and protruding cabinet hardware can cause even more of an obstacle in an already cramped space.
A quick way to "open things up" is using cabinet drawers that spring open or have a subtle lip or pull.
If you want to stick with your existing cabinets, just swap out the hardware for something that is sleek and minimal.
Mix Materials to Add Depth and Interest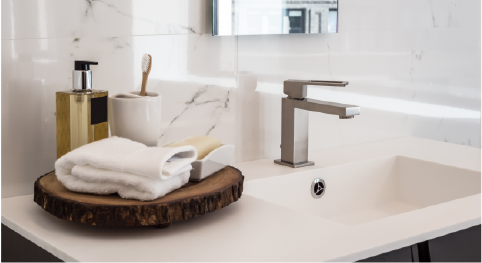 As previously mentioned, a neutral, lighter color palette tends to open up a bathroom space the most, but that doesn't mean everything has to be stark white and boring.
Mix up the classic white, cream, grays, and blacks with different materials, shapes, and textures that give the bathroom more depth and interest.
Glossy subway tiles paired with matte fixtures and eggshell walls really creates dimension in an otherwise small space.
Add a jute rug, wood accents, and fresh linens to bring natural elements into the space that complement one another nicely.
---
---
Find out more: