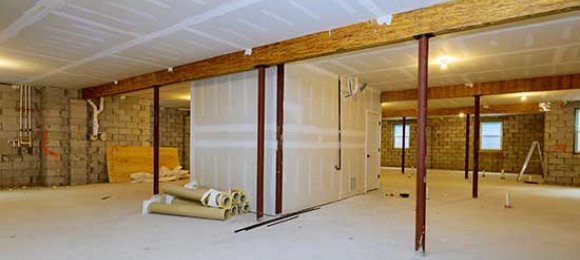 Updated July 24, 2021
During the pandemic, we're spending more and more time in our homes and looking for ways to maximize or refresh our space.
If your basement is unfinished or outdated, remodeling it is a great way to make the most out of the existing space in your home.
Not to mention that basement remodels are highly soughtafter by potential buyers, with a return on investment of 70-75%.
Learn what goes into this type of home improvement project, and start your basement remodel plan today.
Step 1: Planning
If you're reading this, then congratulations, you've already taken the first step!
Now is the time to look more closely at the basement remodel process and ask yourself the important questions.
Determine your budget, your desired timeline, any repairs that may need to be made first, and what features are or are not important to you.
Budget
Arguably the most important factor when planning a basement remodel is your budget.
Once you determine how much you can afford (and want) to spend on the project, stick to that number and plan your remodel within its constraints.
Prioritize what is most important to you and spend a majority of your money on those items.
Determine where you want to invest in quality materials and where you can afford to save.
Price shop everything, and don't forget to account for labor costs if hiring a professional.
Generally speaking, labor accounts for roughly 40% of your total budget, which is a big chunk.
Your budget should also include a 10-20% contingency depending on the size and complexity of your project. This is a safety net for those surprise expenses that you can't foresee.
If some or all of your contingency is still left at the end of the demolition and framing/drywall process—when common problems are typically discovered—you can spend it on whatever extra items you want.
Learn why remodeling in the winter could save you money.
Timeline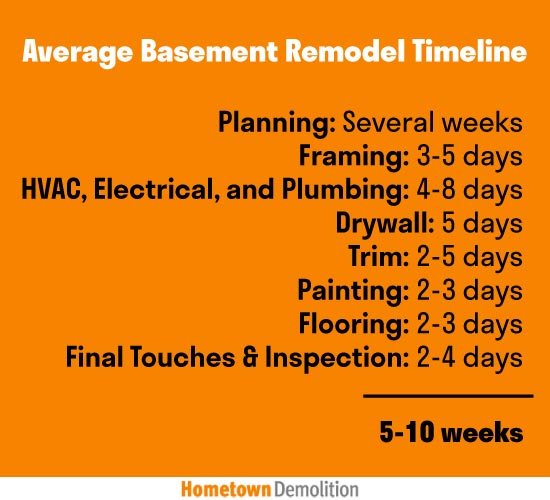 If you're in a hurry to remodel your basement, the contractors available when you need them will be limited.
You'll also be limited in the amount of time you have to prepare and the amount of price shopping you can do for materials.
The bigger your hurry, the less likely you'll be able to plan properly.
The amount of time your basement remodel takes will depend on the scope of your project.
On average, it takes 4-8 weeks& to finish a basement remodel, not including the planning phase.
However, there are several factors that affect how long it takes to finish a basement, so your project could take more or less time.
Let's look at how long each phase of the proccess tends to take so you can get a rough idea of how long your project will take...
Framing: 3-5 days
HVAC, Electrical, and Plumbing: 4-8 days
Drywall: 5 days
Trim: 2-5 days
Painting: 2-3 days
Flooring: 2-3 days
Final Touches & Inspection: 2-4 days
Note that this is just the physical work that a basement remodel requires.
The planning phase is arguably the longest part of any remodel project.
Repairs
Before beginning any work on your basement, check for and address any water leaks or humidity issues.
If your basement is prone to flooding or you regularly use a sump pump, address these problems before the remodel.
Features
When figuring out what features you want your updated basement to have, consider all your options but also be realistic.
First of all, you may have a furnace, hot water tank, or water softener system to work around.
You can reroute plumbing, duct work, or gas lines, but that will increase your project cost by thousands of dollars.
We recommend only moving those systems if you have to.
You also will want to consider how you want to use the basement.
Do you want your basement to house a 'school room' for the kids, a bar for the adults, or a theater for the whole family?
Take stock of what features matter to you and accommodate those features in your space.
Once you know what you want, the materials you want to use, and how much you're willing to spend, you can reach out to contractors or begin the work yourself if you're qualified and able.
Find out more: 7 Things You Should Know Before Starting a DIY Demo Project
---
---
Step 2: Demolition
Once you have your plan in place and you've chosen your contractor, demolition can begin (if needed).
If you have existing walls in your basement, you may need to tear those down before making way for the basement of your dreams.
This will also require debris disposal, and dumpster rental or junk removal services are great disposal options.
Proper waste management will minimize the mess and allow you to finish your basement remodel as quickly and smoothly as possible.
If you decide to handle any of the demolition work yourself, exercise extreme caution and follow all safety precautions.
Learn more:
Step 3: Framing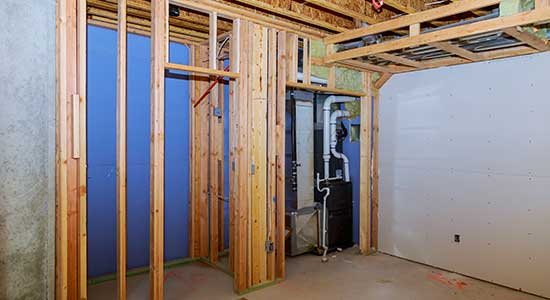 After everything that needs to be removed is removed, framing can start.
As mentioned above, framing the walls in your basement takes 3-5 days on average, depending on how much framing you need to do.
Step 4: Electrical, Plumbing, and HVAC
Once framing is completed, any work done behind the walls can begin.
This includes ductwork for central heating and air conditioning, new electrical, and plumbing systems.
We recommend always hiring a professional to install plumbing or electrical. This will ensure your systems are up to code.
Having a diagram of your remodel plans on-hand will help make the plumbers' and electricians' jobs easier.
Consider the following:
Where do you want your lighting to go?
Where should outlets be—and how many?
Do you want to have a sink relocated?
Do you want to have a toilet or shower installed?
These are all questions you need to be able to answer and should be discussed with your contractor.
Step 5: Drywall
After all plumbing, electrical, and HVAC is addressed and signed off on, it's time to install drywall.
This generally takes the most amount of time in terms of a basement remodel, averaging 5 days to complete.
Step 6: Paint
Once the drywall is dry and smooth, you can paint your walls.
This is easily something you can do yourself, but use caution not to scuff up your freshly painted walls when installing other items, like floors or cabinets.
Step 7: Cabinets & Fixtures
After walls are painted, the rest of your basement space can come together.
Cabinetry, lighting, sinks, etc.—have these items installed next.
Step 8: Doors & Windows
After large fixtures are installed, doors can be hung and windows can be installed.
Flooring, whether carpet, laminate, tile, or hardwood, is best installed after doors are in place so you can ensure they open and close freely.
Step 9: Deep Clean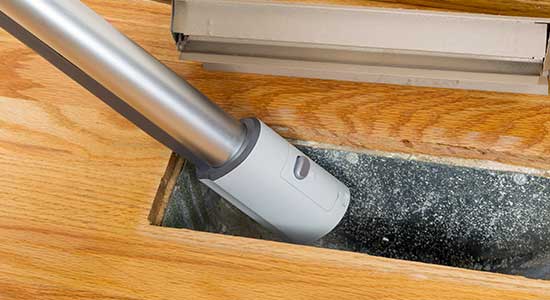 Sweep and vacuum up as much dust and debris as you can before installing floors.
This will keep everything nice and neat.
We also recommend having your air vents cleaned to remove any dust or grime that may have been sucked into them during your remodel.
Step 10: Flooring
Flooring is generally one of the last steps of any remodel process in order to avoid damaging them.
Generally speaking, it's best to hold off on flooring installation until the end of the remodeling process, so they don't sustain any scrapes, nicks, or damages.
Carpeting, laminate, tile, and any remaining flooring should be the next step of the remodel process.
Keep reading: Should I Handle Floor Removal Myself?
Step 11: Trim & Finish Work
Once flooring and everything else is in place, it's time to nail up all the finishes and trim.
This puts the finishing touches on your basement, and it's ready for your family to enjoy!
---
---
Learn more: