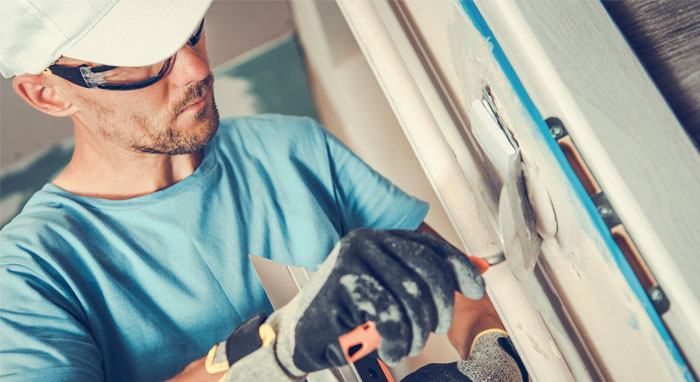 Updated October 2, 2023
Unless you are a qualified professional, taking on the framing, electrical, and plumbing work of a basement remodel is not recommended.
Hiring a contractor is the first—and arguably the most important—step in the basement remodel process.
We'll go over the steps to help you find a trustworthy basement remodeling contractor.
Jump to:
---
---

Read Customer Reviews
If previous clients have great things to say about a company and their service, chances are that you will be happy with their services, too.
Keep an eye out for reviews that describe a company as responsive, honest, fair, and good at communicating; these are the types of basement remodel companies you want to work with.
Hometown Demolition makes it easy to find local contractors, compare verified customer reviews, and get free, no-obligation quotes—all in one convenient place.
Confirm Licensing and Insurance
A contractor's license number should be readily available on their company profile or the estimate they provide you.
If a contractor is unwilling or unable to provide you with a license number, find another contractor, because it's likely that they are not licensed (i.e., the customer is less protected should something go wrong).
Once you have the contractor's license number, use it to verify that the contractor is in good standing with the state board.
You can determine if the contractor's license is up-to-date, whether or not they have any legal action filed against them, etc.
The contractor should also be adequately insured to perform the work.
Some states only require contractors to be licensed for residential projects that cost more than a certain amount, so research your region's policy to be sure.
Learn more:
Ask About Permit Requirements
For many projects involving alterations or additions to a property, it's necessary to obtain a permit from the local government before the work gets started.
Doing so helps the city keep track of your home's structure and integrity, while also allowing inspectors to check for issues in the future.
Permits also allow you to have proof of building code compliance when you go to sell or refinance your home. Buyers and lenders want to know that your remodels comply with local building codes.
Ask the contractors you speak with if the renovations you're planning for in your basement will require permits or not. Common examples of permit requirements for basement remodels include stair replacement or alterations to plumbing or electrical.
The contractor you hire should know which permits are needed for certain projects, but it's always a good idea for homeowners to educate themselves in order to avoid any issues.
Read on: Does My Project Need a Permit?
Request Quotes From Multiple Contractors
Reach out to at least 2-3 contractors for estimates on your basement remodel project once you've looked at company reviews and have confirmed that they are appropriately licensed.
Getting multiple quotes helps to ensure you don't overpay for the basement remodel.
You can use other prices as a negotiation tool or simply use the information to ensure you don't hire the most expensive option (unless they offer the best services).
When comparing, factor in the scope of work being done, the materials being used, and each company's experience when choosing who to hire for your basement remodel.
Sign the Right Contract
When moving forward with a contractor, make sure that you go over any contract they give you with a fine-toothed comb.
A contract should contain every foreseeable detail of the project, including (but not limited to):
Type and quantity of materials
Who will be doing the work
The project and payment schedule
Before signing, make sure that you don't have any questions about your project and that all of the project's information is carefully outlined in the contract.
Avoid paying more than 25% of the total project estimate upfront whenever possible, but be prepared to pay for some of the project upfront to cover the cost of materials.
Finding a reputable, trustworthy remodeling contractor is easy with Hometown. We publish locally-owned, licensed, and insured interior demolition contractors around the country. All reviews are verified and from real customers, so you can learn more about each contractor before hiring.
Request free quotes from multiple contractors to compare pricing, customer service, and availability.
---
---
Keep reading about finding the best contractor: