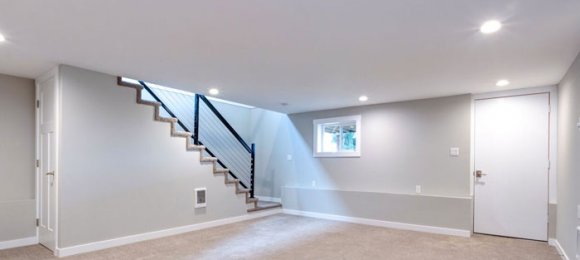 Updated March 31, 2023
A finished basement increases your home's value, provides you with additional living space and offers a great return on investment (ROI) when it comes to home improvement projects.
So, how much does it cost to finish your basement?
When it comes to remodeling a basement, the national average cost for a finished basement ranges a great deal (as much as $50,000 or higher in some cases).
Most customers pay an average of $5,000-$10,000 for their remodeled basement, unless you're adding in luxury features, like a home theater, or building in multiple rooms with high-end finishes.
Finishing a basement can cost between $25-$50 per square foot on average.
It can be difficult to estimate remodeling jobs based on square footage alone due to the various factors affecting each project. Likewise, larger basements may have a lower cost per square foot than very small remodel jobs.


Factors Affecting the Cost of a Basement Remodel
The average cost of remodeling a basement varies depending on several factors:
The square footage of the basement
Whether or not structural changes are necessary
Whether or not you are adding utilities, like electrical work or plumbing
If you have design plans already
The type and quality of finishes that you want
Whether any challenges come up
If there are special circumstances with the project
---
---
Learn more about interior remodels:
---
Take a Closer Look at Basement Remodel Costs
Cost of Basement Lighting and Electrical Wiring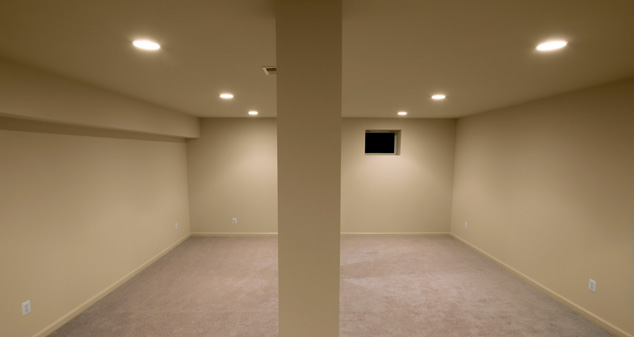 Installing electrical outlets and lighting in a standard basement costs $1,000-$1,500 on average, not including the costs of fixtures.
Because most basements do not have natural light sources, they require a bit of extra attention to artificial lighting sources.
The price to install lighting can vary depending on your zip code and the extent of the electrical work you need.
Cost of Basement Plumbing
Installing a bathroom in a basement costs more than installing a bathroom above ground.
Basement plumbing costs range from $2,500-$5,000 on average, depending on the number of fixtures and whether the plumbing must be installed from scratch or if it's roughed in already.
Basement plumbing requires special considerations to ensure proper drainage and tie-in with the main sewer line, which may not be deep enough to allow the basement bathroom plumbing to use gravity the way above-ground plumbing does.
Sometimes the toilet alone in a basement can cost up to $2,500 because sometimes homeowners need to invest in a toilet that does not use gravity but instead a macerating function to grind waste down to prevent clogging.
Each bathroom fixture in a basement costs an average of $800-$900, so for a new three-piece bath, you can expect to pay approximately $2,500-$3,500 for the fixtures alone.
Putting in a kitchenette or wet bar sink adds more to overall basement remodeling costs.
Also, some basements require a French drain with one or more sump pumps, which can cost up to $10,000 on average, depending on how much ground the drain covers.
Cost of Basement Framing
If the basement space is open with no separation of rooms, the contractor will need to do the interior framing needed to define the spaces you want.
A very rough estimate for basement framing costs is $1-$2 per square foot, but this can vary depending on the layout of the basement and any existing structural issues.
Cost of Installing Basement Flooring
Flooring in a basement may call for special considerations because it's underground.
Before the flooring goes down, the contractor may need to install a layer that acts as a moisture barrier.
Vinyl or carpet flooring can cost about $1,500 for an average basement and hardwood can cost up to $4,000.
Cost of Installing Doors and Trim
The average cost to install baseboards and trim is $1-$2 per linear square foot and $100 - $200 per door, not including materials costs.
Contractors will have varying prices based on where you live and the amount of work you want to be done.
Cost of Building Permits
City building permits and inspections may be required to ensure that a basement refinishing project meets building code requirements—especially if a bathroom or kitchenette is added.
Contractors should handle the permitting process and schedule inspections on your behalf, and add the cost to the final bill. If they are not willing to pull the permits for you, this is a potential red flag.
Permits for demolition projects cost anywhere from $100-$300.
---
---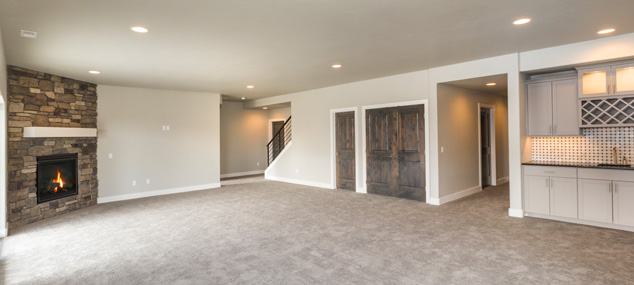 Find out how to find the right contractor: