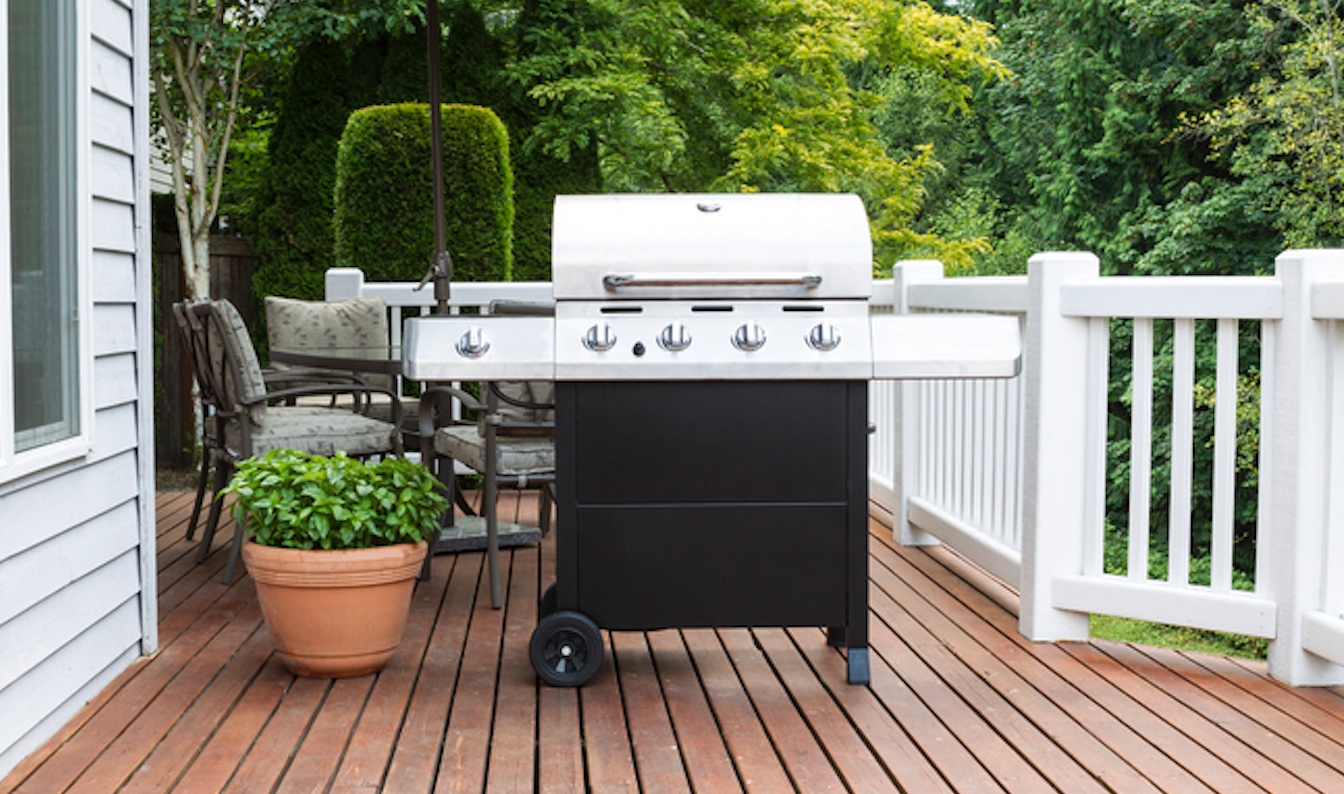 Updated January 23, 2023
Decks and patios can have a major impact on the appearance, functionality, and overall value of your home.
Create an outdoor living space that you love spending time in with the latest and greatest deck trends.
An old, ugly deck can negatively impact your home's value, so don't put off upgrading your backyard (and front yard!) any longer.
This list will help you get inspired to make small changes that have BIG impact.
Deck trends we love:
---
---
Sunken Hot Tubs and Stock Tank Pools
You don't need to have a big yard or an expensive pool to create an oasis in your backyard.
Jacuzzis and hot tubs are having a bit of a come back in popularity, and stock tanks have become a favorite among homeowners for their simplicity, small price tag, and versatility when it comes to customizing it.
Tuck a jacuzzi in a shaded corner of your yard for a home spa experience.
Place a stock tank on your deck—or build it into the deck itself for an "inground" feel—to stay cool on hot summer days while keeping the kids (and adults) entertained.
Another upside to an "inground" spa or mini pool is the openness it creates while utilizing the space, making it feel larger and more luxurious.
Combining Stone and Other Natural Materials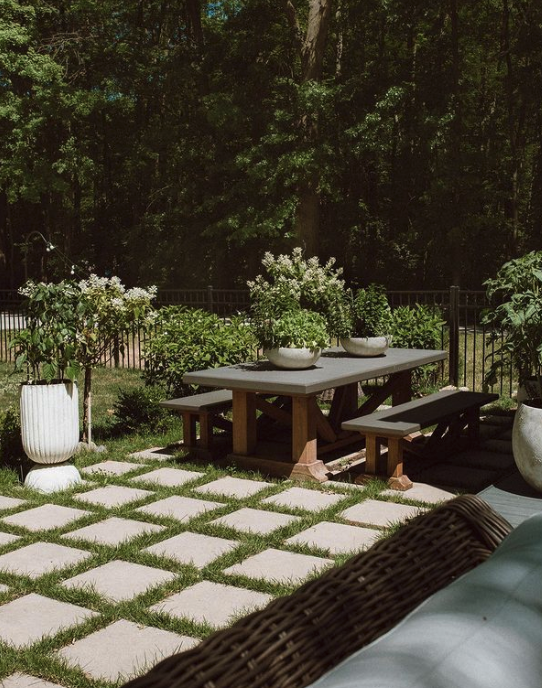 Mixing materials, like stone, greenery, wood, iron, wicker, and linen (as seen above in Christine Higgs' backyard design), adds dimension and interest to what could otherwise be a boring backyard.
The way these materials play off one another moves the eye throughout the space and gives your yard an elevated, natural look and feel that you and all your guests can enjoy.
Combining the stone pavers with natural grass creates a natural courtyard appearance, and goes beautifully with the grays and natural wood in the sturdy picnic table.
Mixing in wicker chairs with linen cushions brings the comforts of home outdoors, while the large concrete planters and iron fencing add an industrial spin that grounds and brings structure to the area.
We recommend picking materials that are built to last outdoors, like teak or composite materials designed to look like their natural counterparts.
Utilizing Paint to Transform the Space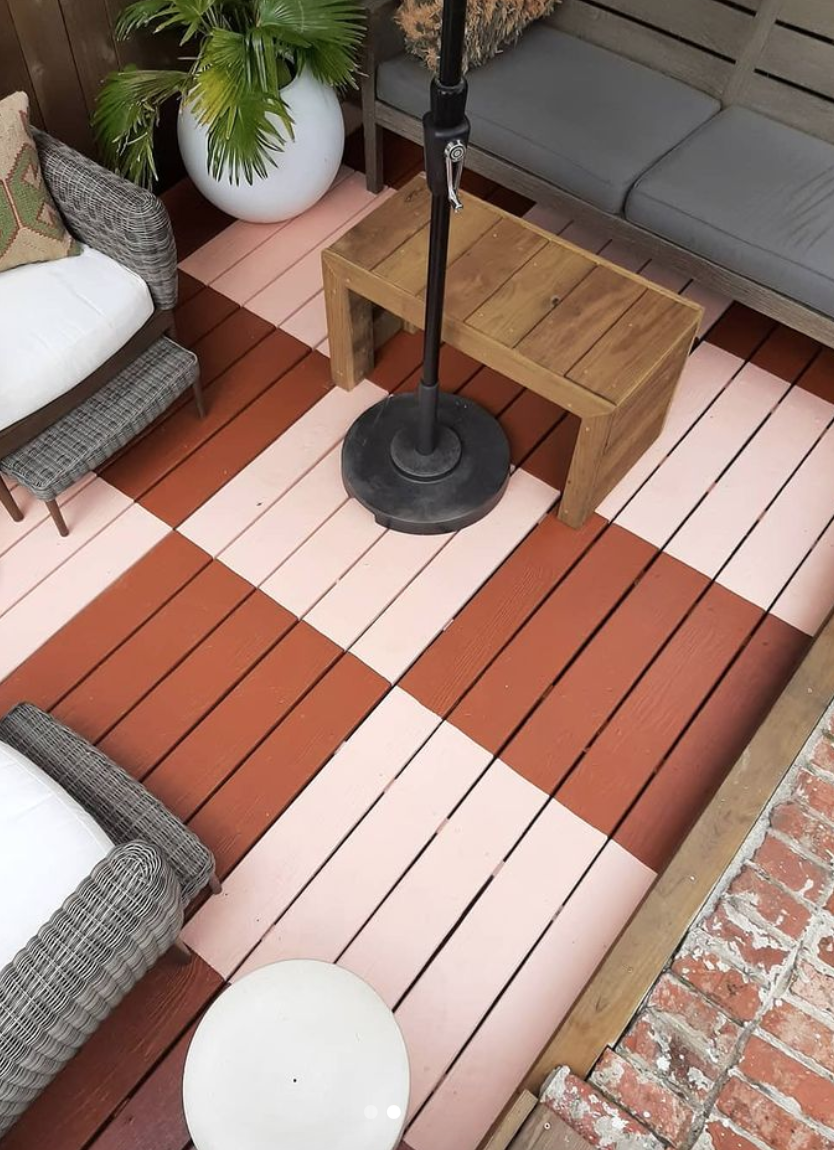 If you are looking to make your deck or patio look more modern, painting it is a simple and inexpensive solution.
You'd be amazed at the different looks you can accomplish by painting your deck.
For example, if you're looking for a classic but cool look, a simple checkerboard pattern is a beautiful choice, like Liz Kamarul's deck mural above.
If you want your outdoor space to be funky and fun, consider painting a mural on it that matches your home's decor as well as your personality.
Not only does painting your deck improve its appearance, but it also protects it from the elements as well, helping it to last longer.
Creating Zones to Maximize Functionality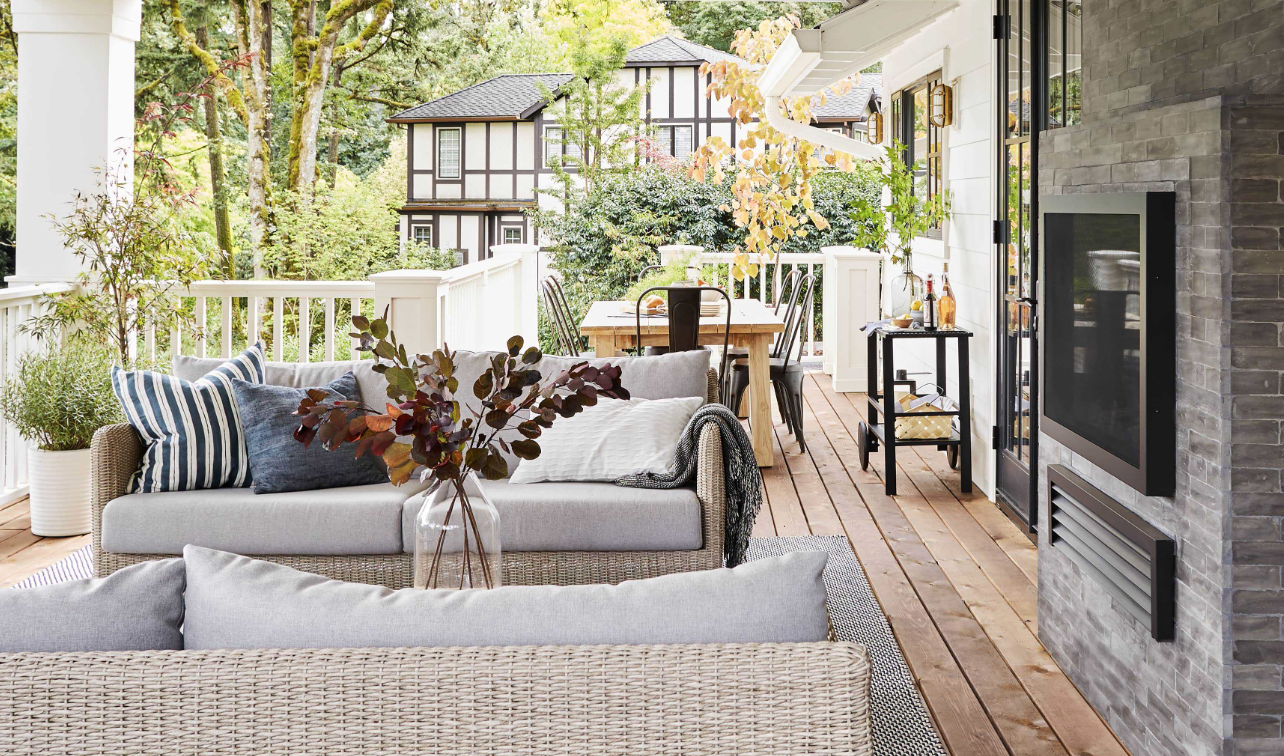 Gone are the days where an entire outdoor living space is contained in a simple 10 ft x 10 ft deck.
Certainly, a small deck can be just as beautiful and functional as a large deck, though potentially less versatile.
If you have a small deck that you'd like to make the most out of, start by assessing the entire area, not just the deck itself.
To create a beautiful outdoor living space, there's one key piece of advice most pros, like Emily Henderson who designed the space above, will give you: Create "zones."
First, consider how you'd like to use your backyard.
For example, do you like to entertain guests? Do you enjoy a cup of coffee outside in the mornings? Do you like to grill and enjoy dinner al fresco? Do the kids or pets need a place to run and play?
Determine how you want your exterior space to serve you, and then build your zones from there.
Conversation areas, spots for lounging and kicking your feet up, and cooking/dining/drinking areas are a few of the most popular backyard "zones" to consider.
If your deck is small, perhaps you want to designate it your dining/drinking area and put a nice rug, potted plants, lighting, and an outdoor table and chairs there.
From there, you can create additional zones in other areas of your yard, making it enjoyable to move throughout your yard and enjoy the entire space.
Pea gravel walkways and patios are relatively simple to create with some muscle, and they can connect your yard's zones to create a cohesive, cottage-like feel.
---
---
Learn more: