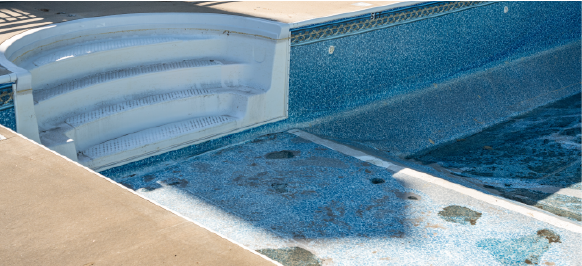 Updated September 2, 2022
If you have an old pool on your property that's gone unused for a long period of time or is simply starting to show its age, you may be considering replacing the pool or removing the pool altogether.
What's involved in the repair or replacement of a pool depends on the overall condition of your pool and what exactly you want to upgrade or change.
Pool repair and replacement costs vary depending on the complexity of the project, where you live, site accessibility, who you hire, and the materials you choose.
In this guide, we'll discuss:
---
---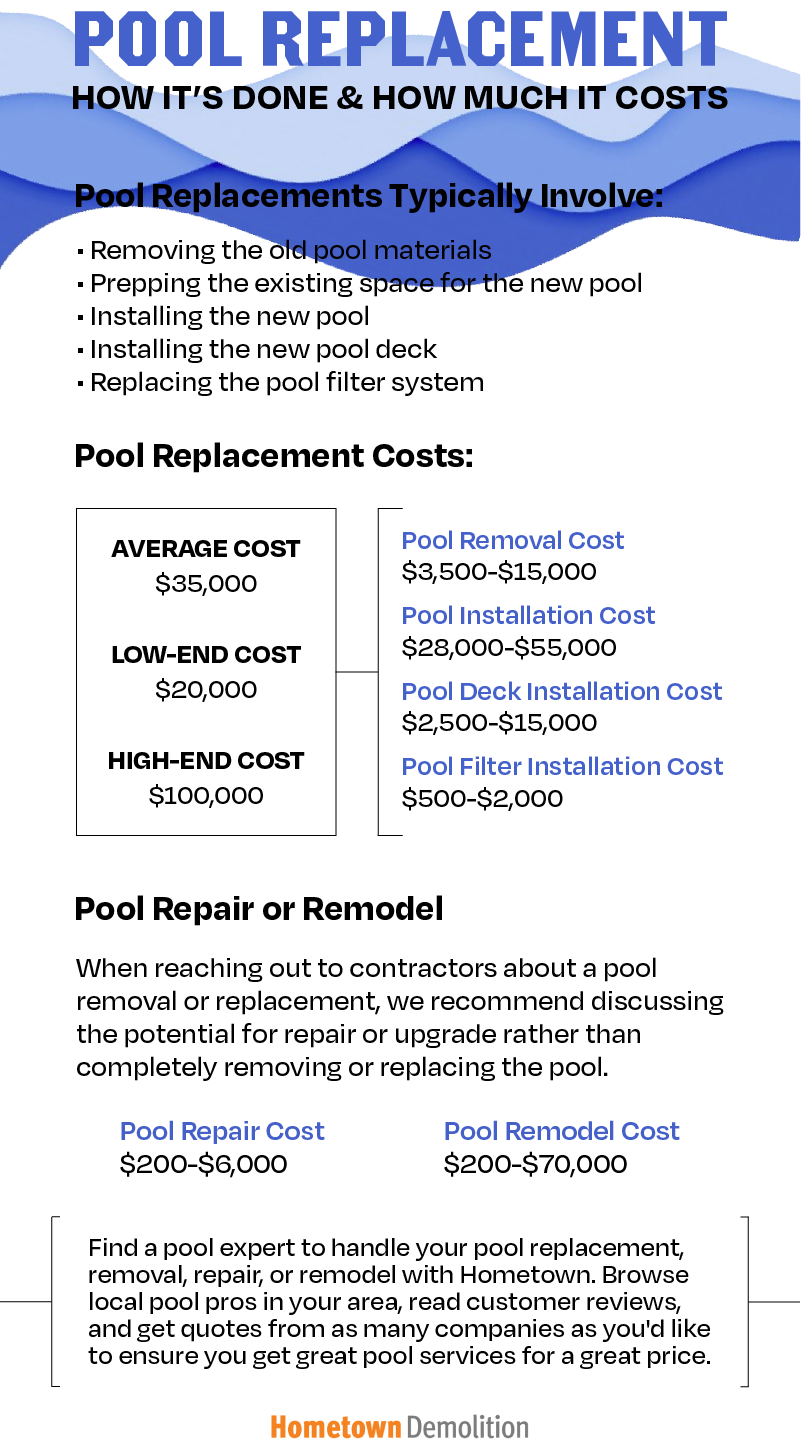 What's Involved in a Pool Replacement
Pool replacements typically involve:
Removing the old pool materials (often including the pool deck)
Prepping the existing space for the new pool
Installing the new pool
Installing the new pool deck
Replacing the pool filter system
Pool Replacement Costs
The cost to replace a pool varies depending on the condition of your existing pool, where you live, who you hire, and the materials you choose for your replacement pool.
The average total cost of pool replacement is $35,000 but can be as low as $20,000 or as high as $100,000 in some cases.
Let's break down the costs included in a typical pool replacement...
Pool Removal Cost
$3,500-$15,000
Pool Installation Cost
$28,000-$55,000
Pool Deck Installation Cost
$2,500-$15,000
Pool Filter Installation Cost
$500-$2,000
Keep reading:
---
---
Pool Repair or Remodel Options
Oftentimes, homeowners can get away with repairing their pool or upgrading it rather than replacing it entirely.
When reaching out to contractors about a pool removal or replacement, make sure you discuss with them the possibility for repair or upgrade rather than total removal or replacement.
A reputable pool contractor will be honest with you and recommend the best route for you and your specific pool.
There are countless types of pool repairs that may need to be done, so let's take a closer look at the most common types of pool repairs and how much they cost on average.
Cost to Repair a Pool
| Repair Type | Average Cost (including labor) |
| --- | --- |
| Leak | $200-$5,000 |
| Pump | $200-$1,000 |
| Steps | $200-$4,500 |
| Crack | $300-$5,000 |
| Plaster | $500-$5,000 |
| Main Drain | $800-$1,000 |
| Underground Pipe | $800-$1,000 |
| Screen | $800-$5,000 |
| Tile | $1,000-$6,000 |
| Deck | $2,000-$3,000 |
Cost to Remodel a Pool
The average cost to remodel a pool is $6,000-$30,000, with most homeowners spending around $15,000.
But just like pool repairs and replacements, the costs vary based on numerous factors.
The low cost to remodel a pool is around $4,000, and the high cost is as much as $100,000.
Replacing a vinyl pool liner will naturally cost much less than changing the shape or size of a pool, installing a new deck, and adding a new water feature.
| Project | Average Costs (Labor Included) |
| --- | --- |
| Repairs | $200-$6,000 |
| Conversions | $200-$90,000 |
| Additions | $450-$30,000 |
| Painting | $1,400-$1,800 |
| Resurfacing | $10,000-$20,000 |
| Expansion | $30,000-$70,000 |
| Reshaping | $50,000-$70,000 |
Whether removal, replacement, repair, or remodel is the right choice for your pool, Hometown can help you find a pool expert to get the job done properly. We make it easy to browse local pool contractors in your area, read customer reviews, and get quotes from as many companies as you'd like. This will help to ensure you get great services for a great price.
---
---
Learn more: