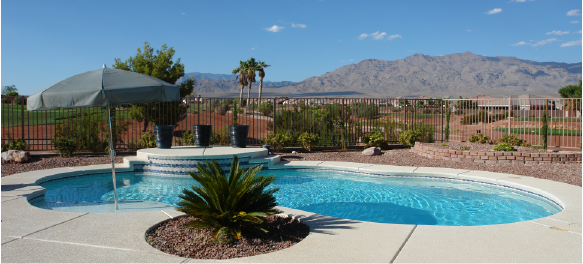 Updated January 23, 2023
A swimming pool's deck or surrounding patio has a dramatic effect on the appearance of the pool itself.
A good pool deck can be the difference between a backyard eyesore and a beautiful piece of landscaping.
It serves as the space for outdoor furniture and structural features that add functionality and style to your outdoor living space, so keep your pool deck in good shape to increase your backyard curb appeal and your home's value.
Jump to:
---
---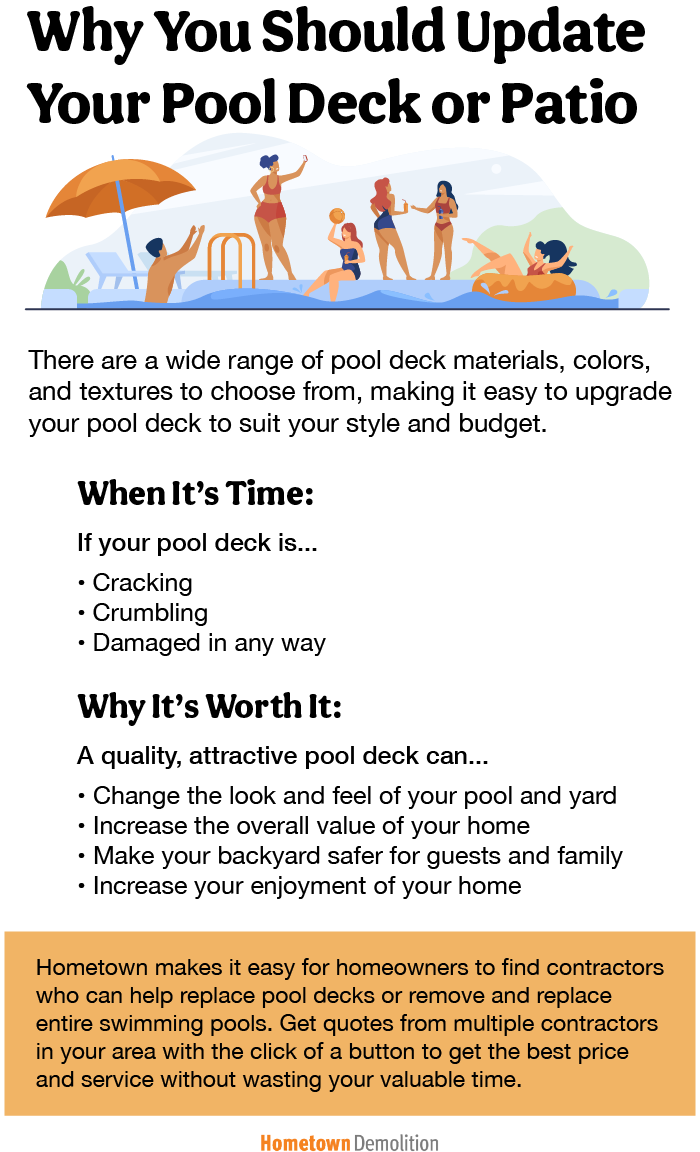 When to Update or Replace Your Pool Deck
Over time, pool decks need to be repaired or replaced.
If your deck has started to crack or crumble, it may be time to update or replace your pool deck.
If your pool deck is damaged, has cracks, or is worn out, your pool and surrounding landscaping could get damaged over time because of it.
If your pool deck is more than ten years old, we recommend scheduling an inspection to prevent said damage.
Replacing the pool deck is an excellent way to breathe new life into your pool and entire backyard.
With so many different pool deck material options available, you can have a pool that looks beautiful while being functional too.
Hiring a professional to handle your pool deck replacement is the safest and most efficient option. Whether you want an entirely new pool or you want to remodel the deck you have, Hometown can help you find the right contractor to get the job done properly.
Learn more:
Improve the Look of Your Pool and Yard
A good pool deck can change the entire look of your property, so when it comes time to update your old pool deck, consider any style updates you'd like to make as well.
There are a wide range of options to choose from when updating your pool deck, allowing you to completely personalize the look and feel of your entire backyard.
The pool deck material you choose should be:
Non-slip
Leveled
Heat-reflective
Resistant to mold, mildew, algae, frost, acid, and other chemicals
With this in mind, it's time to consider all your style options and how you want your pool deck, and as a result, your entire backyard, to look.
Some of the most popular styles of pool decking include:
Brushed Concrete
Brushed concrete is the simplest style of pool decking and one of the most popular.
The concrete is poured then a brush is used to run over the surface to create a more dimensional finish.
Stamped Concrete
Stamped concrete, or pattern concrete, is a textured, patterned, or embossed concrete designed to resemble more expensive materials, like brick, slate, stone, tile, wood, flagstone, etc.
Stamped concrete is popular among pool decks, patios, sidewalks, and even interior floors.
Tile Decking
Tile decking is beautiful, eco-friendly, and resistant to wear and tear.
Tile pool decking comes in a variety of materials, including stone and porcelain, and lots of patterns and colors.
Deck Coating
Quality pool deck coatings are a great, cost-effective option.
Certain deck coating options offer cooling, slip resistance, and mildew and stain resistance.
Belgard Pavers
Belgar paver pool decking is durable, slip-resistant, excellent for overlay options, and great for a wide range of design preferences.
They also come in a permeable or porcelain option.
Travertine Pavers
These pavers are one of the more popular choices for luxury pool decks.
Visually appealing, slip-resistant, and hard-wearing, travertine pavers have been used for centuries because they are so useful.
Flagstone Decking
Another popular pool deck material, flagstone is a paving slab with natural earth-toned textures and colors that make for beautiful pool decks.
Non-slip, moisture wicking, heat resistant, and hard-wearing, this type of decking is popular for a reason.
LimeCoat
A mixture of limestone and quartz, LimeCoat is an excellent material for resurfacing concrete, brick, stucco, and more.
LimeCoat provides a much smoother surface, making it look like stone.
Hand-Seeded Pea Gravel
This type of pool decking is a poured concrete decking with scattered pebbles on the surface.
These pebbles come in a range of sizes and natural colors, including gray, white, black, and transparent.
---
---
Keep reading: