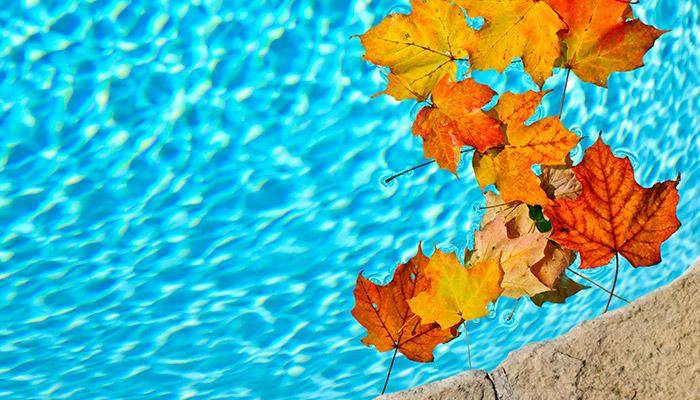 Even when it still feels like summer, it's only a matter of time before the leaves start to fall, many of which will land in your pool if given the chance.
Fall pool maintenance is key to keeping your pool issue-free through the winter.
Are you wondering how you can better prepare your pool for cooler months? We can help.
Before you close your pool this year, make sure it is ready so it can be up and running in no time next summer.
Jump to:
---
---
General Cleanup
Start by removing all pool toys and debris. Follow this by running the pool vacuum.
Next, clean the pool deck and give tiles a good brushing to remove any mildew.
If the pool deck has lots of cracks or surface damage, dirt, rain, and snow may be able to penetrate the slab, leading to discoloration, mold, and further damage.
Overlays and coatings for pool deck concrete can instantly disguise damage and protect the slab from damaging weather.
Ensure the pool itself is in good general working order, as well and have any issues repaired.
Leaves & Debris
The fall season generally means plenty of leaf removal, and the same goes for your pool.
If leaves are given the chance to accumulate in the pool, algae begins to grow, and any leaves that sink to the bottom will stain the pool's floor.
Plant debris can lead to problems, that's why it's important to clean your skimmer baskets and use a leaf net to skim leaves off the top of the pool on a daily basis.
Just as you clean anything before putting it into storage, you want to be sure your pool is clean and ready for winter storage, too.
Winterizing pool chemicals are another great option for controlling dirt, bacteria, or algae growth in your pool until you reopen it next summer.
Pool Cover
If your pool is surrounded by trees, pool covers are especially helpful.
Covers keep leaves, dirt, bugs, and snow out of the pool water and help to improve safety as well.
Even if your pool isn't surrounding by leafy trees, pool covers are still recommended for keeping out general debris, animal droppings, bugs, etc.—all of which can cause issues down the line.
Pool Filter
If you used your pool a lot this summer, it's a good idea to clean the pool filter before shutting the system down for the fall and winter.
How to Clean Your Pool Filter:
Blow out any water inside the lines
Check every part of the system
Make sure that each piece is in good working order
Replace whatever needs to be replaced
This will help to ensure the pool will be good to go when started up next season.
We also recommend draining all equipment (e.g. filters, heat pumps, chlorinating equipment, etc.) to prevent freezing and/or cracking of components.
Chemicals
When water and air temperatures drop, fewer chemicals are needed to maintain proper levels.
As temperatures drop, be sure to adjust your chemicals as needed.
It's advised to change your water balance roughly five days before closing your pool:
pH: 7.2-7.6
Alkalinity: 80-120 ppm
Calcium Hardness: 180-220 ppm
Use a chlorine or non-chlorine shock to shock the pool (roughly 1 lb of chlorine/non-chlorine shock for every 10,000 gallon of water).
If adding winter algaecide, wait until the chlorine level reaches 1.0-3.0 ppm before adding it.
Water Level
The water level needs to be addressed, too.
You want the level to be a bit lower than usual so that your pool cover fits properly
Consult with an expert to determine the proper level for your exact pool type; there are a number of factors that affect what your pool's water level should be.
With that said, mesh covers generally call for reducing the water level by about a foot to a foot-and-a-half. For floating covers, reducing the water level six inches or so below the tile. Aquador skimmer covers generally don't require that you lower the water level.
Be Ready
If you live in the Midwest, North or another area of the country that experiences cold months, winter's first freeze of the season can happen unexpectedly, so make sure your pool is prepared.
The fall leaves are beautiful, but not when they're floating in your pool.
Pool Removal
If you didn't use your pool this summer or summers in the past because it's too old, you don't enjoy swimming, or you simply don't want the hassle of maintaining it, pool removal is a great option.
Hometown Demolition has countless pool removal contractors to choose from in your area that are capable of getting the job done right.
---
---
Learn more about finding the right pool removal contractor: