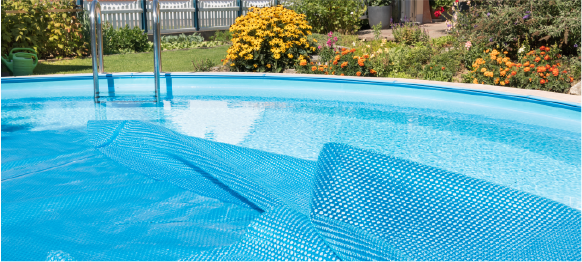 Updated January 23, 2023
Above ground pools are an inexpensive pool option that's fun for the whole family, but oftentimes, these pools can negatively impact your home value.
If you're considering removing an above ground pool, Hometown can help you come to the decision that's right for you.
In this guide, we'll discuss:
---
---
Benefits to Removing an Above Ground Pool
Removing your above ground pool will save you time and money on swimming pool maintenance.
Not to mention, if you plan to sell your home in the future, removing an above ground pool will increase your home's overall value.
Above ground pools are typically considered undesirable by the average homeowner, so they will usually calculate the cost of the pool's removal into their offer on your home.
Removing the pool will also likely increase the number of potential buyers, making your home easier to sell, too.
Another benefit is the elimination of the hazards and liabilities that come with pool ownership and the additional yard space you'll have for other activities or landscaping opportunities that can further increase your home's value.
If you have young children, removing your pool eliminates the potential safety hazards associated with pool ownership.
If you and your family love your above ground pool and you get a lot of use out of it, then you should hold off on removal until the pool needs to be replaced or you are getting ready to sell your home.
Keep reading:
How Much Above Ground Pool Removal Costs
The cost to remove an above ground pool varies considerably—just like inground pool removal—ranging from a few hundred dollars to thousands of dollars in some cases.
Above ground pool removal cost depends on several factors, like...
Size of the pool
How the pool is built
Accessibility of the pool area
Who you choose to remove it
Additional services (laying grass seed, etc.)
Read on:
---
---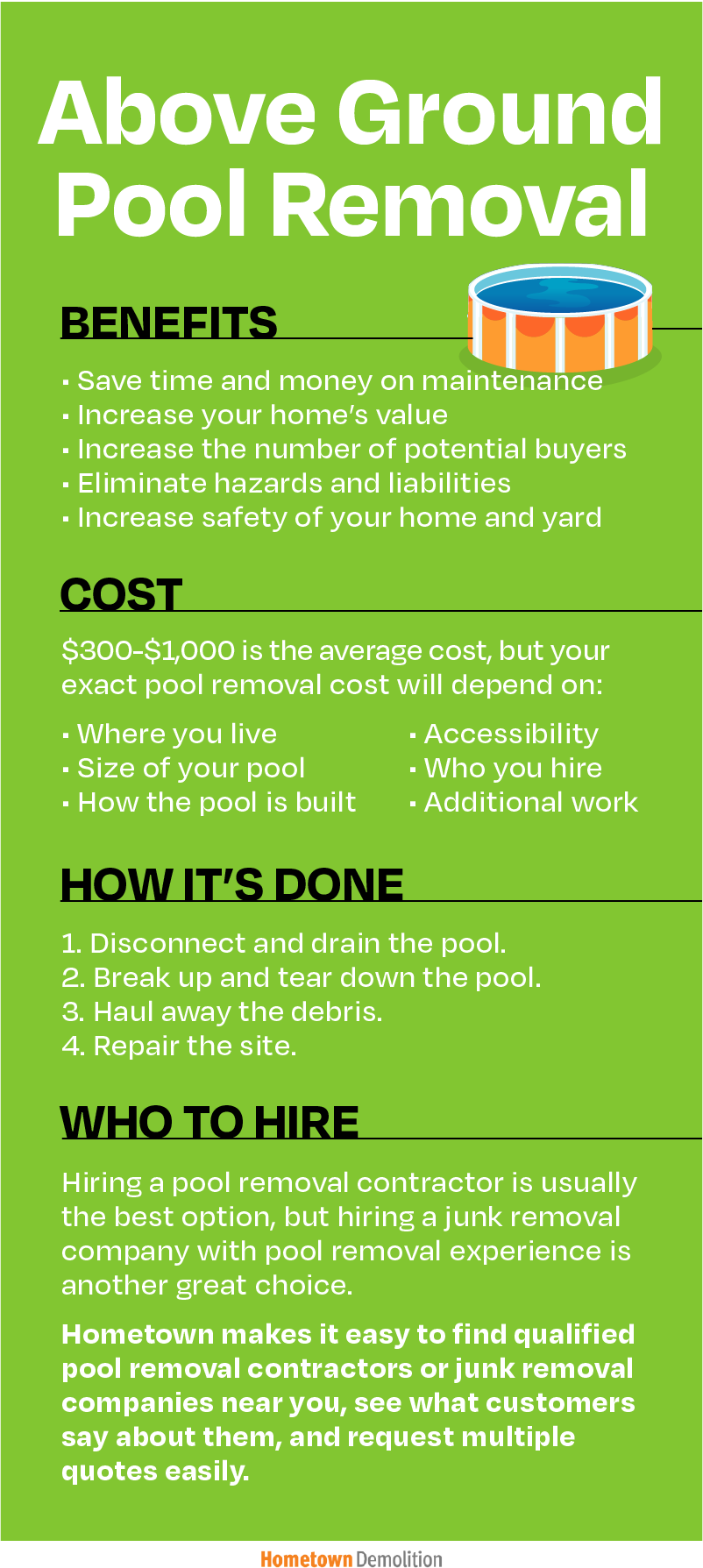 How Above Ground Pool Removal Works
Step 1: Pool Is Drained
After disconnecting any electrical connections, the pool is drained with the help of a submersible pump.
Step 2: Pool Is Torn Down
Once fully drained, the pump and hoses are disconnected, pool filters are drained, and any sand or silica is removed if necessary.
Depending on the type of pool you have, this process will vary a bit, but it typically involves cutting the liner into manageable sections, unscrewing bolts, disassembling the wall posts around the pool, and ripping out the wall panels.
Step 3: Pool Is Hauled Away
Once disassembled, the pool debris can be hauled away, typically by renting a dumpster or hiring a junk removal company.
Recycle any debris you can to save on costs and help keep debris out of landfills.
Step 4: Site Is Repaired
Once the pool is hauled away, there's going to be a patch of dead grass where it once stood, or a layer of sand or stone in some cases.
If a new pool is replacing the old one, this won't matter. But if you want to have grass in its place, your contractor might be able to assist in repairing the grass for a fair price, so be sure to discuss this with them.
Find out more:
Who to Hire for Your Above Ground Pool Removal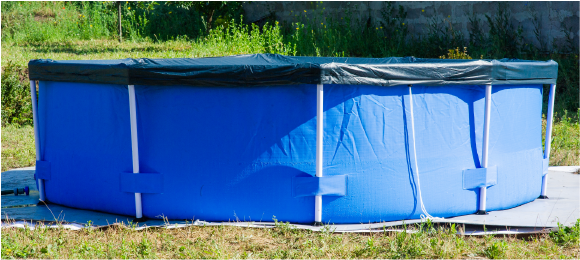 Hiring a pool removal contractor to handle an above ground pool removal is usually the best option, but hiring a junk removal company with experience removing above ground pools is another great choice.
The company you hire to handle your pool removal should have experience doing the work, knowledge of the best ways to gain access and take it apart, as well as the ability to handle any potential issues that may come up during that type of project.
A qualified contractor will carefully consider how to gain access to the pool, and what size/type of equipment is best for your particular swimming pool and yard.
For your own home's protection, be sure you hire a company with the proper licensing who is insured to do the work.
Hometown makes it easy to find pool removal contractors or junk removal companies that can help you with your above ground pool removal. You can browse local companies near you, see what their customers have to say, and request quotes from as many people as you'd like.
---
---
Learn more: