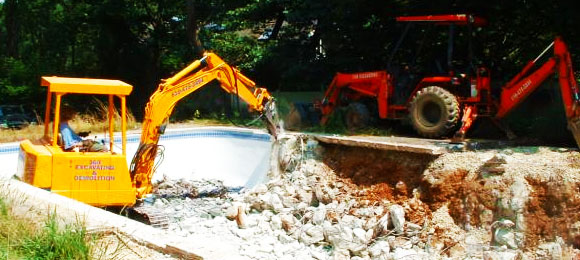 Updated August 10, 2021
Removing your outdated or unwanted inground swimming pool basically comes down to two choices: partial inground pool removal or full removal.
In many cases, a backyard swimming pool can be removed most affordably through a partial collapse and fill.
However, depending on your cities specific guidelines and the potential future uses of the land, full pool demolition and removal may be your only option.
We walk you through each pool removal method below.
Partial Swimming Pool Removal
For many people, a partial swimming pool removal is the more desirable option simply because it costs less. It is also the most common method used among swimming pool removal contractors.
How it's done
The partial inground pool removal process, or a pool fill-in, involves 3' deep holes being drilled at the bottom of your pool so it will not collect water in the future.
The holes enable it to drain properly.
Then, the sides of the pool are broken down at least 18' from the top, and the broken concrete is gathered in the bottom of the pool.
The pool is backfilled and compacted.
Getting the backfill and compaction process right is important so that you don't end up with a big sinkhole in the middle of your backyard.
Depending on your city requirements, the skills of your pool removal contractor, and your budget constraints, the backfill process can be done with or without the oversight of an Engineer.
If employed for supervision on your pool backfill, the Engineer will guide the process and perform density testing on your soil.
The engineer will submit a letter to your city's appropriate office once the job has been completed.
Engineered backfills are typically only necessary when required by your city.
An experienced swimming pool removal contractor will know how to get the backfill process right without oversight from an Engineer.
But an engineered pool backfill is also a good idea if you intend to remove your swimming pool yourself or if you have any doubts about the skill set of the contractor you have hired.
So, if you've hired your cousin Larry to remove your inground pool because he thinks he can do it with a rented mini-excavator, it might be a good idea to also hire an engineer to oversee the backfill process.
---
---
Advantages of Partial Inground Pool Removal
Fastest way to remove your pool
Inground pool removal can typically be completed in a two to five days (not counting prep time).
If an Engineer is hired for backfill and compaction, that can add time, but the whole process can usually be completed in under a week.
Most affordable
Partial removal requires less concrete breaking, less debris removal, and hauling costs, and less fill dirt, and less time. Add it all up and it can cost significantly less than a full removal.
Disadvantages of Partial Inground Pool Removal
Non-buildable land
The main disadvantage of partial removal is that the land is deemed 'non-buildable'. If you ever want to sell your home, the existence of the pool would have to be disclosed to any potential buyer. If they had plans to rebuild on the land, this might affect their decision to buy. The presence of a former pool could also be any issue if you or anyone else living on the property should ever decide to install a new swimming pool. In this case, the old pool would have to be dug up, removed, and re-compacted to accommodate the new pool.
Potential for soil shifting
Another disadvantage of partial removal (especially with non-engineered backfills) is the potential for sinkage and swelling to occur if the concrete is not layered properly and the backfill and compaction process is not done correctly.
Impact on Future Land Use
All landscaping and gardening is considered acceptable on the area of a former pool.
However, the location of your former pool will be designated as 'non-buildable'.
So if you or a future homeowner ever wanted to place a building over the old pool or install another pool, it would typically not be possible without first digging up the old pool and re-compacting.
For further information about how it works in your city, contact your local government.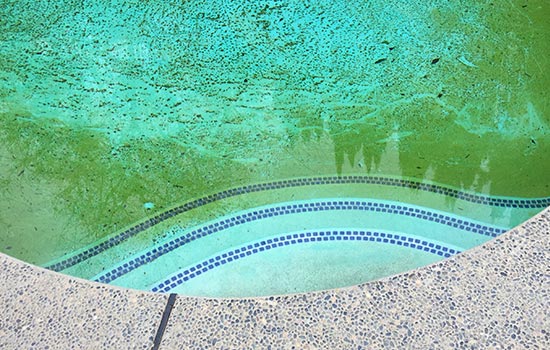 Full Inground Pool Removal
While this option is more costly than a partial pool removal, it comes with the convenience of being able to do whatever you want with your land after your swimming pool has been removed.
So If you would like to rebuild on the location of a former pool, a full pool removal is your best bet.
In addition, inground pools with vinyl liners are built with walls made of steel, cement, or wood, and the floors are typically made using sand or vermiculite—a type of cement.
If your vinyl-lined pool has steel walls or a steel collar, the steel must be removed first, so a full inground pool removal is necessary.
How it's done
Everything goes with a full removal. All of the concrete, gunite, fiberglass, steel, and vinyl lining is broken up and removed from the pool cavity using specialized equipment.
Once completed, it is hauled off-site for proper disposal.
The area is then filled in and compacted.
Once again, the backfill and compaction process may be done by your contractor alone or with the oversight of a state licensed Engineer.
Your city may require you to turn in a demolition and compaction plan before declaring the area as 'buildable.'
Advantages of Full Pool Removal
Less impact on home sale
If you ever intend to sell your home, a full pool removal will have less of an effect on your buyer's decision than a partial pool removal would.
This is due to the fact that there are no limitations associated with building on the area where the pool once was. It's as if the pool was never there.
Less chance of backfill errors
A full pool removal means there are no chunks of concrete that need to be properly accounted for during the backfill and compaction process.
Compacting just soil is simpler and less prone to the seepage that can occur from partial removals when the concrete hasn't been layered properly.
Disadvantages of Full Pool Removal
Cost
The major downside of full pool removal is cost. This method involves more time and more disposal costs, so this is the most expensive option.
Impact on Future Land Use
Depending on your cities specific guidelines, you can likely build on the area of a former pool that has been fully removed.
---
---
DIY Pool Removal
Unless you're removing an above ground pool, DIY pool removal isn't recommended.
If you have an above ground pool, removing it simply involves draining the pool, tearing down the pool, and hauling it away to be disposed of properly.
However, if you have an inground swimming pool, hiring a qualified inground pool removal contractor is the best way to go.
Regardless of what pool removal method you decide to go with, it is important to make sure that your site is properly prepared prior to starting any work.
This should involve draining your pool if it still has water in it, removing the pump, and making sure all gas and electrical lines are secured.
All necessary permits must be obtained.
If you hire a pool removal contractor for your job, they may handle some or all of these details for you.
Be sure the contractor spells out in writing what tasks they will be responsible for and what process they'll be using to demolish your pool.
---
Learn more: