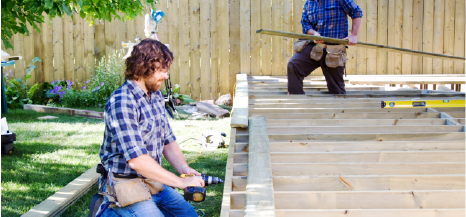 Updated January 23, 2023
If you have a deck that is looking old and rough, it's time to consider having the deck removed and/or replaced.
If your deck is beyond repair, or you are ready to make a change, having the old deck torn down and replaced with a newer, more suitable option can have a big impact on your property value.
In this guide, we'll discuss:
---
---

How Deck Replacement Improves Property Value
Replacing a deck has a number of benefits to consider.
It's a relatively quick way to improve your home's curb appeal; this alone can increase your home's potential value, as it makes your home more visually appealing and inviting.
It also lends to that feelings of an outdoor living space, which makes your property drastically more attractive to families or those who enjoy hosting or spending time outdoors.
Many people are often willing to pay a premium for an attractive outdoor living space.
In addition, a chipping, splintering deck can be dangerous, and old decks often become a home to unwanted pests, like skunks.
It's no surprise that a new deck adds value to your home, but exactly how much will depend on the specific deck material you choose, your home and neighborhood, and what potential homebuyers expect from—or are willing to pay top dollar for—the typical home in your area.
Learn more:
How Deck Replacement Works
The first step to deck replacement is to start looking for deck removal and replacement contractors in your area that can do the job. We recommend getting quotes from three or more contractors before hiring.
A contractor will come out and take measurements of your deck, determine your expectations of the new deck, and assess the property for pertinent information that might affect costs.
They then will typically email you a quote for the job.
We recommend requesting a by-line quote breaking down how much it will cost for the removal of any existing deck, the disposal costs of the old deck, cost of the new decking materials, cost of labor for the removal and replacement, permit fees, etc. This will allow you to compare contractors' pricing as well as their customer service.
Be sure to thoroughly read all the information in the quote, including any fine print, before signing anything.
Once you've compared and contrasted quotes, select the deck company you'd like to work with.
After you've signed the contract, you typically have a short waiting period while the company gathers the materials and permit(s).
Next, your deck replacement is scheduled and a portion of the payment is paid upfront. (We recommend that you do not agree to pay for more than 50% of the deck replacement cost upfront. A qualified contractor will rarely ask for more than this.)
The contractor will show up at the agreed upon time to remove any existing decking materials if necessary and to mark out the location of the new deck.
The location of the new deck is then double and triple checked, and any holes for the new deck posts are dug.
Then, concrete is mixed and poured into the holes, and the deck posts are then placed directly into the concrete at a 90-degree angle.
Once all the posts are properly placed, the rest of the deck is built.
When the work is completed, the final payment is made, and it's time to enjoy your new deck and more valuable property.
---
---
Keep reading: