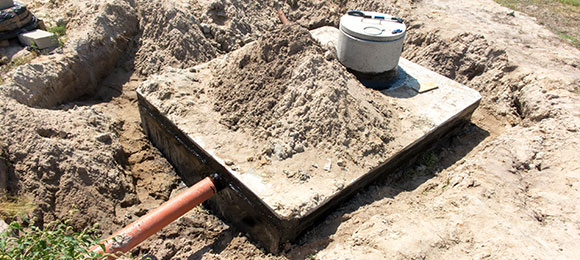 Updated June 2, 2023
There are a variety of reasons why you might need to have your septic tank removed, but no matter why you're looking to have it done, you're likely curious how much it will cost.
At Hometown, we understand that getting the best price and great customer service for your tank removal is important to you, and want to help ensure you get that.
This cost guide will cover:
---
---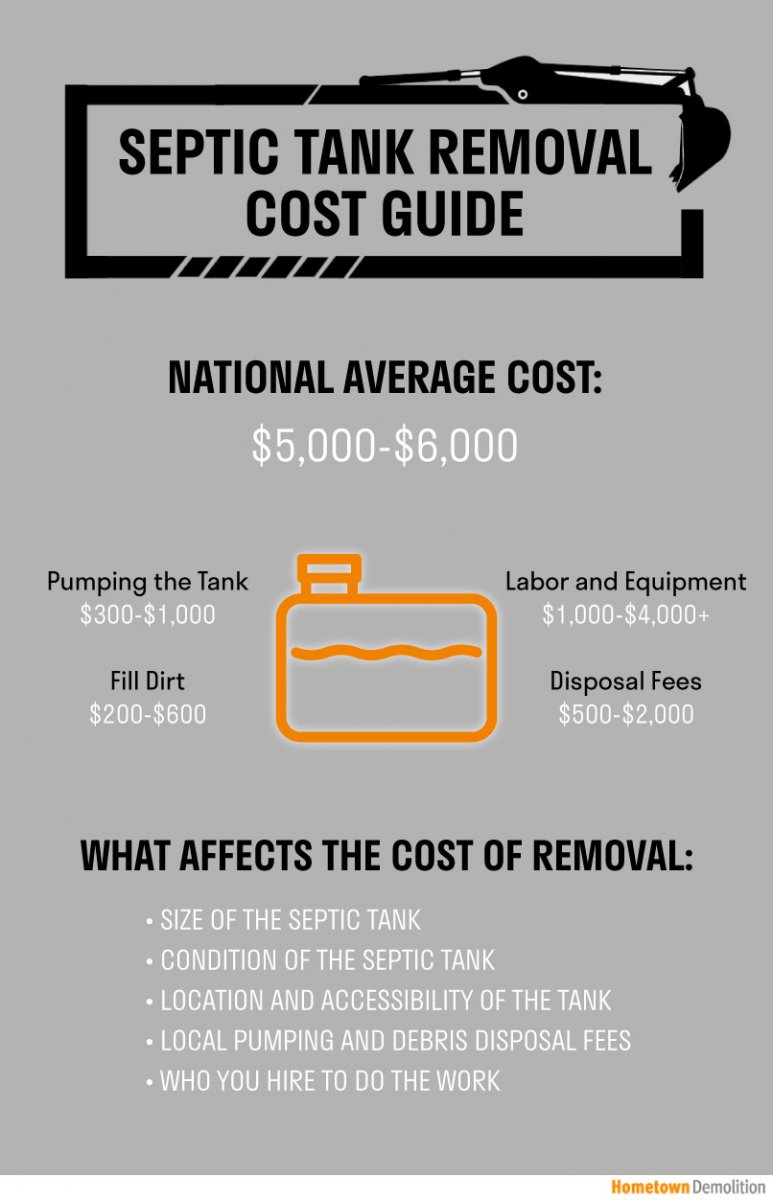 Septic Tank Removal Average Cost
The cost to remove a septic tank costs $5,000-$6,000 on average, including disposal of the tank.
Septic tank removal costs can vary a great deal, from as low as a couple thousand dollars to as high as $10,000+.
Your tank removal project could be more or less than this average depending on various factors.
Learn more:
Factors That Affect Septic Tank Removal Pricing
The cost to remove a septic tank varies so much due to the various factors that come into play.
When a contractor writes up an estimate for septic tank removal, they take multiple factors into account.
The most common factors that affect the total cost of septic tank removal include:
Size and type of the tank.
Condition of the tank.
Location and accessibility of the tank—underground vs above ground.
Local pumping and debris disposal fees.
Who you hire to do the work.
The larger and heavier your tank is, the more it will naturally cost to remove it.
Likewise, if your tank is underground, it will cost more to remove it than it would for an above ground tank removal.
Underground tank removal requires much more work to safely remove, and this added labor costs more.
Damaged or compromised septic tanks must be emptied and properly prepared for excavation before they can be dug up.
Similarly, your local disposal and pumping fees will play a roll in cost.
These all may seem pretty obvious, but a less-obvious factor that affects septic tank removal costs is the contractor you hire to do it.
Each contractor offers different levels of customer service and different prices, and not all contractors are created equal.
Because of this, we recommend reaching out to multiple contractors for quotes to compare them.
This will help you get a great price for your septic tank removal project and great customer service, too.
How to Find the Right Septic Tank Removal Contractor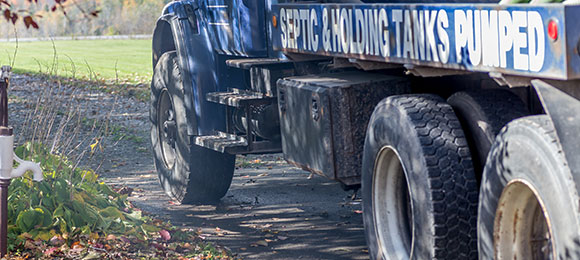 Moving storage tanks is dangerous, and you should always employ a qualified contractor to handle it.
Because septic tanks and the mishandling of them can result in pollution, a registered professional should be hired to safely dispose of any remaining liquids and remove the tank properly.
Hiring an experienced tank removal contractor to handle your septic tank removal project is important for a number of reasons, but more than anything, it's for your protection and protection of the environment, too.
If the tank removal is not handled properly, serious damage can be done to your property.
A qualified tank removal contractor will carefully consider the best way to remove the tank without causing any damage.
Likewise, when it comes to tank removal, doing so improperly is not only dangerous and terrible for the environment, but it can also cost you a great deal to rectify.
This is why we recommend hiring someone you know is licensed and insured to handle the septic tank removal.
​We recommend getting a quote from at least two or three tank removal contractors.
This allows you to get a better idea of what's a good deal and who is the best contractor for the job.
Be aware of what is included in each quote, and make sure you get answers to all your questions.
Hometown helps make it easy to find contractors in your area, read customer reviews, and request quotes from as many contractors as you'd like.
---
---
Learn more: