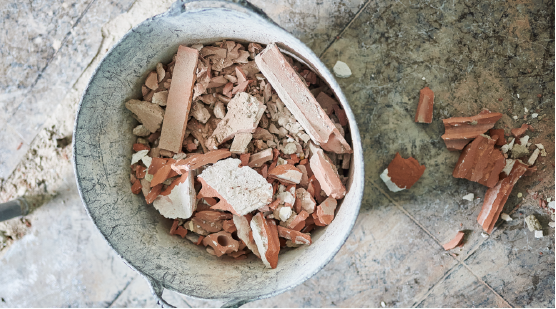 Updated October 25, 2021
Bricks are beautiful and used in a number of ways around a home or business, but they don't last forever.
Whether you have a brick driveway, brick chimney, brick mailbox, or other brick feature, it's important to know how to maintain and replace bricks as needed.
In this guide, we'll discuss when and how to do the work yourself as well as when it's best to hire a professional (and where to easily find one in your area).
Jump to:
---
---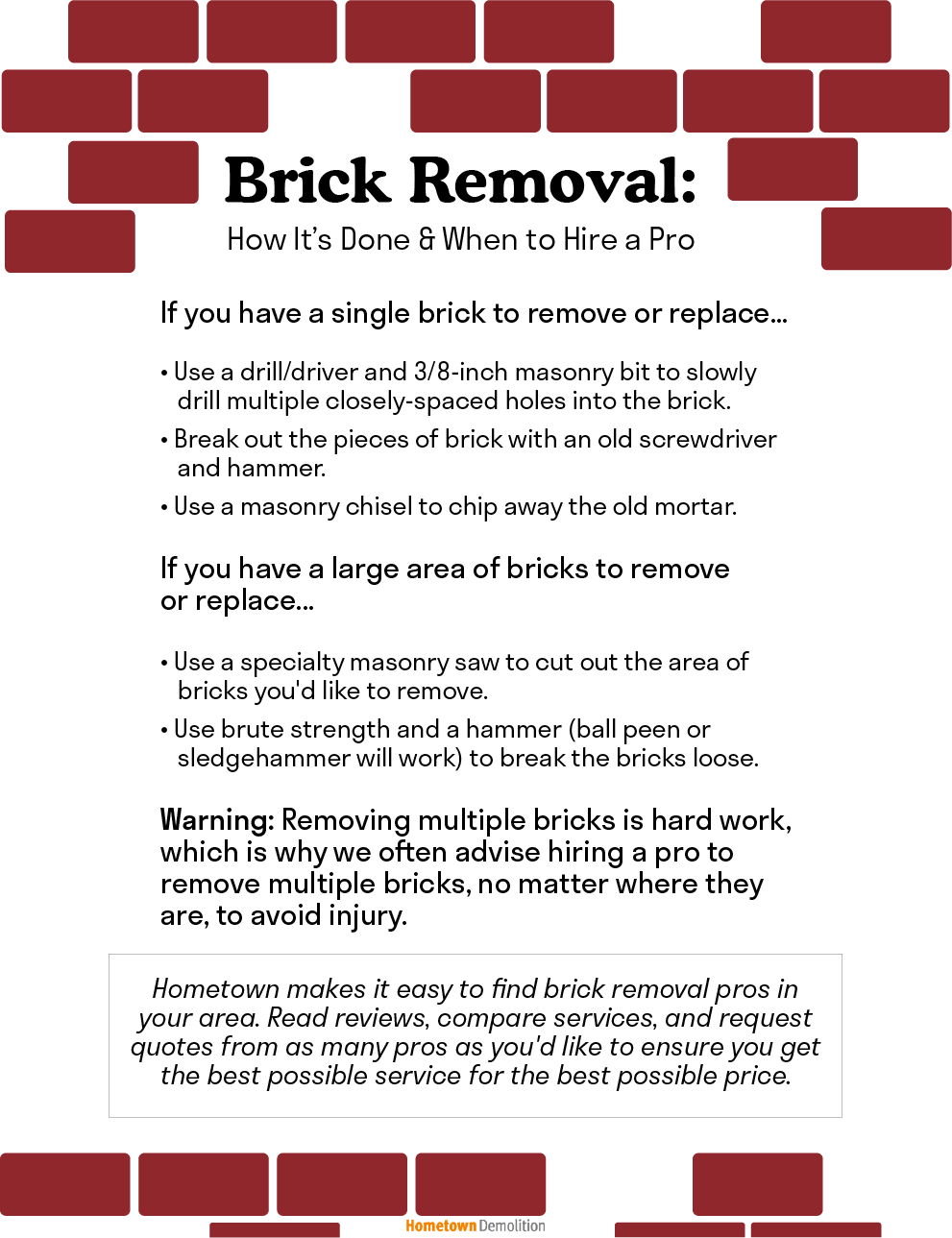 DIY Brick Removal
Equipment You'll Need to Remove Bricks
Removing a brick is not complicated, but it requires patience and time if you don't want to do any unnecessary damage and give yourself additional work.
Removing bricks can also be messy and potentially dangerous, which is why we recommend you wear the appropriate safety gear.
Here's a short list of the equipment you'll need to remove bricks:
Safety glasses
Particle mask
Work gloves
Closed-toe shoes
Narrow masonry chisel
Drill and 3/8-inch masonry bit
Ball-peen, claw hammer, or sledgehammer
Old screwdriver
Heavy tarp (if brick is located indoors)
Safety Note: There is no structural risk involved with removing a single brick so long as the wall, fireplace, etc. is in decent condition. If you have a wall or chimney with serious cracks, there's visible bulging of the wall, or you doubt your ability to do the job properly, contact a brick professional to evaluate the structure and make any repairs.
How Brick Removal Is Done
There are a number of ways that bricks can be removed, whether from a wall, a chimney, or other location.
If you have a single brick to remove or replace...
You can use a drill or driver and 3/8-inch masonry bit to slowly drill a series of closely-spaced holes in the clay of the brick.
From there, you can use an old screwdriver and hammer to break out the pieces of brick.
Once the brick is removed, use a masonry chisel to carefully chip away the old mortar.
If you have a large area of bricks to remove or replace...
You can use a specialty masonry saw to cut out the area of bricks you'd like to remove.
This is ideal when you want to keep bricks intact or need the brick removal to be relatively exact, whether for a window or door installation or a landscaping feature.
From there, use brute strength and a hammer (ball peen or sledgehammer will work) to break the bricks loose.
Removing multiple bricks is hard work and requires quite a bit of upper body strength.
Because of this, we often advise hiring a pro to remove multiple bricks, no matter where they are, to avoid injury.
Learn more:
---
---
When to Hire a Brick Removal Pro
Brick removal pros have the know-how, the equipment, and the ability to remove or replace bricks in a timely manner without damaging surrounding property.
Brick removal is a tedious and often back-breaking job. Because of this, we recommend hiring a brick removal pro when you need to remove more than a brick or two.
Likewise, if you have any doubts about your ability to safely remove even a single brick, turn to a pro to help you get it done properly.
Hometown makes it easy to find brick removal pros in your area that are qualified to do the work.
You can also request quotes from as many pros as you'd like to ensure you get the best service for the best price.
Read more: