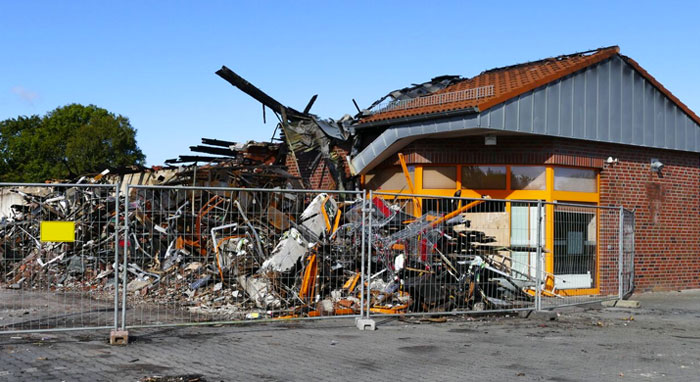 Updated January 23, 2023
Commercial demolition involves tearing down commercial properties.
This includes structures like stores, factories, office buildings, hotels, churches, and more.
Commercial demolition is typically more complex than residential demolition and requires greater caution and scrutiny because of it.
How It's Done
The most common method for tearing down commercial structures is mechanical demolition.
Mechanical demolition involves heavy equipment, such as excavators, bulldozers, and wrecking balls.
Another popular method for getting rid of commercial structures is deconstruction.
Deconstruction is a more manual process involving de-constructing the building from the top down in order to salvage as much of the building materials as possible.
How Much It Costs
The average cost for commercial demolition is roughly $4 - $8 per square foot in the U.S.
The larger your commercial building, the lower the cost per square foot.
Learn more about commercial demolition costs:
---
---
Who Does It?
Commercial demolition contractors must be conscientious about the safety of their employees and the environment.
Like general contractors, commercial demolition experts must follow OSHA standards for employee safety.
There are also EPA standards regarding environmental safety and proper techniques that must be followed, too.
Hazardous materials, such as asbestos or lead, must be safely removed according to guidelines before demolition can begin.
Because of the complexities and potential dangers involved, commercial demolition should be handled by a trained, licensed, and insured professional.
Learn more about hiring the right contractor:
Where It Goes
There are countless materials that can be reused or recycled from a commercial demolition project.
To save on disposal costs, it's worth separating and recovering as much material as possible:
Concrete
A single commercial demo project can yield hundreds of tons of concrete.
The good news is that concrete can be crushed into gravel—a material in high demand for new construction projects.
Steel
With the right equipment and proficiency, steel and similar scrap metals can be processed and recycled to create new products.
Interior doors and beams
Salvage companies are very interested in materials in decent condition, from wood doors to beams, posts, and more.
Sinks and toilets
Likewise, if there are any sinks or toilets in good condition, they can probably be reclaimed and reused.
If they aren't reusable, porcelain can typically be recycled with the concrete, and stainless steel fixtures can be recycled with other scrap metals.
Learn more: How to Properly Dispose of Demolition Debris
---