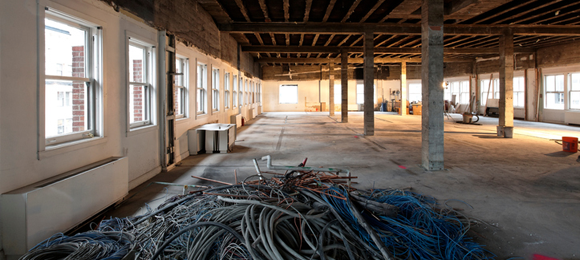 Updated January 23, 2023
Whether you're a business that needs to build out a brick-and-mortar or a hotel owner that wants to update your building, you're likely wondering how to get it done and how much it's going to cost.
Our cost guide will outline all the details you need to know before shopping around for an interior demolition company near you.
This cost guide will cover:
---
---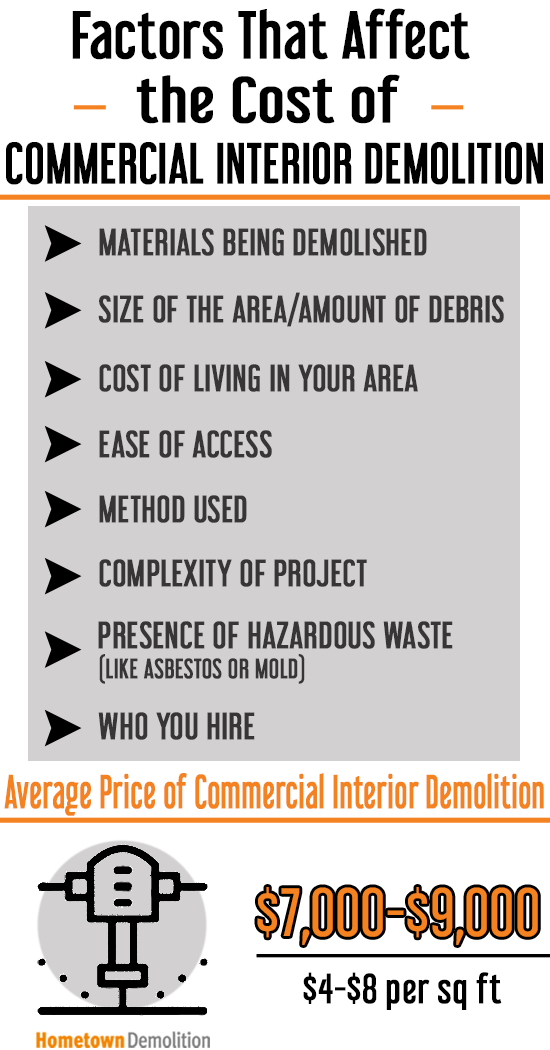 Commercial Interior Demolition Average Cost
The national average cost of commercial interior demolition is $7,000-$9,000, including debris disposal.
The final bill you receive, however, will vary based on a wide range of circumstances that will ultimately determine the total cost of your project.
Below, you'll find examples of what others have paid for their commercial interior demolition projects across the U.S. to give you an idea of what to expect.
Commercial Interior Demolition Cost Examples
| | | | |
| --- | --- | --- | --- |
| State | City | Project Description | Project Cost |
| California | Santa Fe Springs | Interior demolition of 2,900 sq ft cell phone store, including walls, floors, and offices | $6,000 |
| Florida | Deltona | Interior demolition of a restaurant in a strip mall | $7,750 |
| Michigan | Ann Arbor | Interior demolition of two floors in a three-story building totaling 1,500 sq ft of interior demolition, including mechanical and electrical | $9,000 |
| Michigan | Detroit | Interior demolition of a 1,500 sq ft hair salon | $9,500 |
| New Jersey | Cherry Hill | Interior demolition of a 24,616 sq ft building, removing all interior | $1,000,000 |
As the examples above show, commercial interior demolition can range from as low as $6,000 to as high as $1,000,000.
Your particular project could cost more or less depending on a variety of different factors.
Keep reading: Interior Demolition Cost Breakdown
---
---
Factors That Affect Commercial Interior Demolition Pricing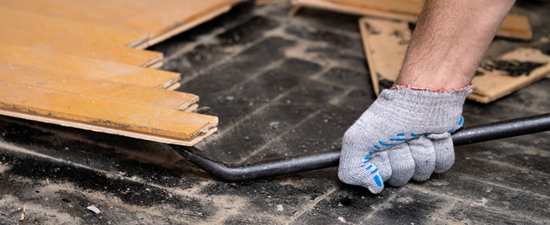 There are a number of things that can affect the cost of your specific interior demolition project.
Common factors that influence the total cost of commercial interior demolition include:
Type of materials being demolished
Total square footage being demolished
Cost of living in your area
Accessibility of the work site
Demolition method used (by hand or with heavy machinery)
Complexity of the project
Presence of asbestos or other hazardous material
Who you hire
The biggest factor that will influence the cost of your commercial interior demolition is the type and amount of material being removed.
A wall made of brick, for example, will produce much heavier debris than a wall of the same size made of drywall, and will typically cost more due to higher disposal fees.
The location of your project also plays a large role in the price your contractor will charge you for your project.
The cost of living in your geographic location will be reflected in the going rates for demolition.
As an example, a 1,000 sq ft interior demolition project will likely cost much less in Gary, Indiana than it would in Naples, Florida.
Every circumstance is unique and every contractor has their own way of calculating prices, so we recommend contacting at least three contractors in your area to get an idea of what is a fair rate for your project.
Learn more:
How to Find the Right Commercial Interior Demolition Contractor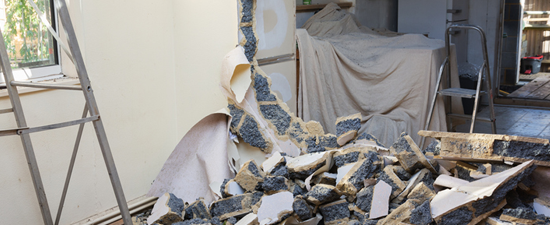 While interior demolition may be tempting to do yourself, we highly recommend hiring a professional for a number of reasons.
In the case of commercial buildings that service companies and the public, the liabilities associated with demolition job sites should be reason enough to leave it to the professionals.
In the unfortunate event that someone is injured or property is damaged as a result of the interior demolition project, professional contractors have licensing and insurance to protect you, your tenants, and their employees.
With the presence of electrical or plumbing, one small mistake during DIY demolition can lead to an array of expensive problems to correct the issue.
In addition to making sure your contractor is licensed and insured, we also recommend contacting a minimum of three local commercial interior demolition companies to ensure that you are getting the best price and customer service.
Hometown's search engine helps make it easy to find contractors in your area, see customer reviews, and request quotes from as many contractors as you'd like.
---
---
Find out more: