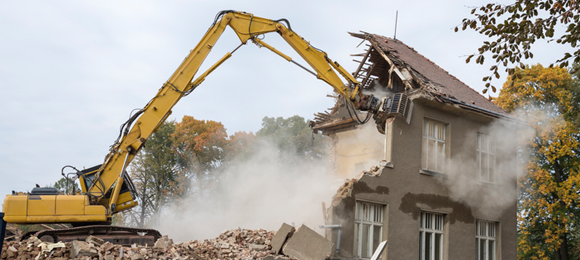 Updated October 5, 2021
If you're interested in saving some money on your house demolition project, the tips below will point you in the right direction.
Not only are they simple to do, but they help the environment, too.
Demolition is a big job, and starting a demo project before you have a clear strategy in mind can lead to significant time and financial strains down the road
---
---
1. Deconstruct as much as possible on your own.
The amount of material in your home that is considered reusable, even after years of wear and tear, might surprise you.
Not only that, but your ability to deconstruct your own house might surprise you, too!
Even if you're a beginner, all it takes is the right attitude, a little muscle, and a few basic tools to tear out cabinets, windows, flooring, and more.
The chart below does a great job of explaining what materials in your house should be reused, recycled, or simply disposed of. It's a great reference tool for making sure you don't leave behind any valuable materials before final demolition.
The basic process of
deconstructing a home
isn't complicated, and you can salvage as much or as little as you want. But remember: Before you start ripping things out of the wall, shut off all utilities!
2. Invite others to help themselves (and you).
If you're comfortable with the idea of having neighbors or a crew of trained volunteers come into your home and remove items/materials for you, then this is a great way to gut out your house while also helping others.
You get the house deconstructed, and they get the salvaged building materials—it's a win-win!
Any old appliances you were planning on replacing, windows, doors, plumbing fixtures—all of these could be of great value to a neighbor.
Even molding and flooring could be reused by someone in need, so letting friends and charities know you're planning on demolishing your house—and that its contents are up for grabs—is an easy way to spread the love.
If you predict salvaging $5,000 worth of materials or more, schedule to have an IRS-approved contractor or company come evaluate your home.
They'll perform a quick property inspection and give you an initial quote for your home's value.
If you decide to have a charitable organization, like Habitat for Humanity or The ReUse People of America, do some of the deconstructing and salvaging, be sure to get the necessary tax forms from them. Typically, this is Form 8283.
3. Donate the house to your local fire department.
If you're looking to demolish your house to the ground so that you can rebuild—or maybe you just want clear, empty land—sometimes local fire departments are willing to offer a tax write-off for the opportunity to use your home as a burn exercise.
During a burn exercise, your local fire department will come in and perform various training exercises.
The result? A pile of rubble and ash that can be loaded into a dumpster and hauled away.
Burn exercises are great, but fire departments don't perform them every day; and oftentimes, a home isn't a good candidate due to nearby properties, trees, etc. So, if you're interested, be sure to ask your local department if this is a possibility for you.
Wait! Don't forget a dumpster!
At the end of the day, no matter how you decide to tear your house down, you're going to need to get rid of a lot of debris.
A great solution to demolition debris is dumpster rental.
There are a number of dumpster sizes to choose from and several price factors to take into consideration, but don't worry, we can help.
Hometown Dumpster Rental makes it easy to learn about various local dumpster companies and contractors in your area, read verified customer reviews, and get a quote.
---
---
Keep reading to make sure you get the best dumpster for the best price: