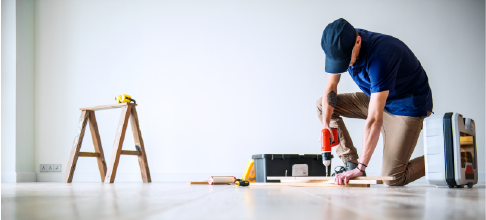 Updated March 15, 2023
Home remodel projects can be hugely beneficial to your home's overall value and increase a homeowner's overall enjoyment of their home.
Most homeowners will face a remodel project at some point during homeownership, and regardless of how big the project is, everybody wants to save money when they can.
This guide will discuss the 4 main ways you can save money on a home remodel project:
---
---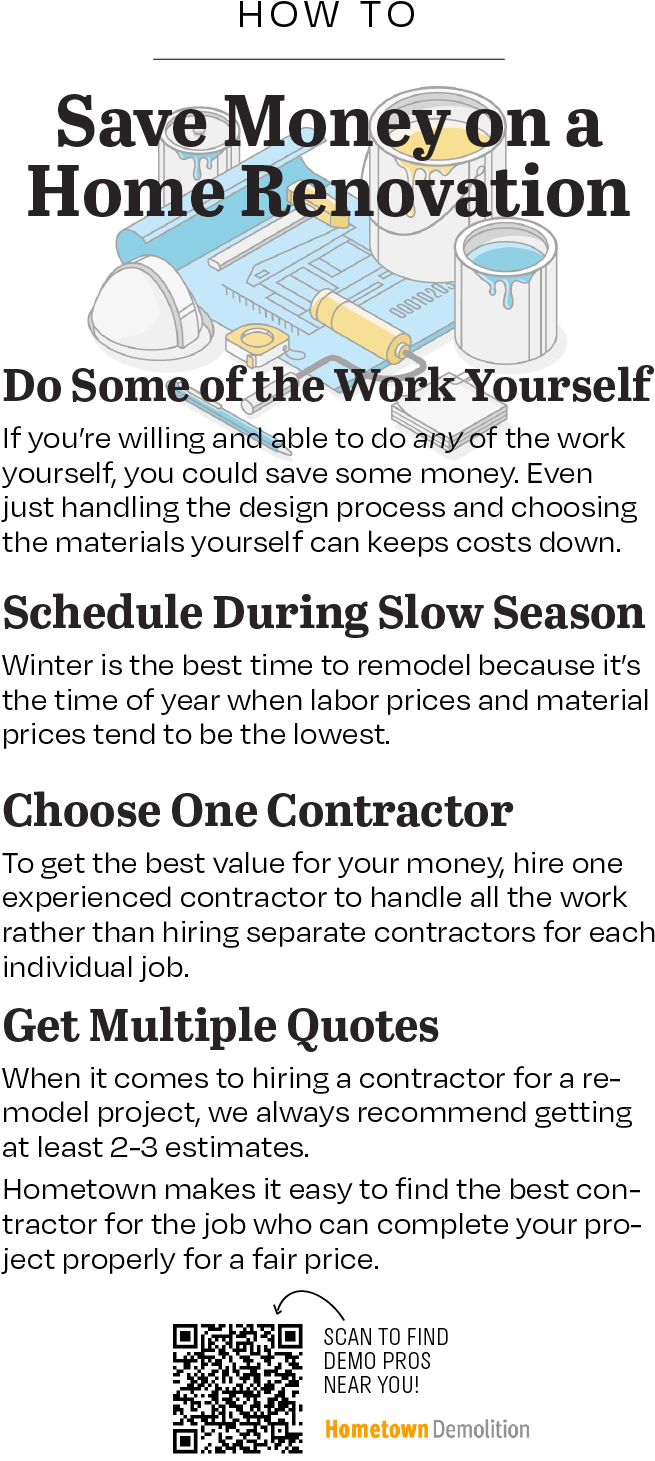 DIY When Possible
A home remodel can be complicated, but there are some aspects of the process that are DIY friendly.
If you're willing and able to take on any of the remodeling process yourself, you could save some money.
For example, even just handling the design process and gathering all your materials yourself can help keep costs down.
Utilizing gently used secondhand or surplus items, like what's sold at ReStores, can save you money. Likewise, discounted home improvement stores, like Menards, offer rebates at various times throughout the year that can add up to significant savings with even a modest remodel.
Similarly, painting and replacing cabinets, doors, and floors are other potential DIY jobs that could save you some money.
Keep in mind that although doing work yourself is a great way to save money in some cases, it doesn't always mean you should choose to DIY. Only handle the work you feel completely comfortable doing yourself and leave the more complex work to the professionals.
Find out more:
Opt for Completing Your Project During Contractors' Slow Season
If you can, take advantage of contractors' slow time of year—the months that fall between the holidays and the first signs of spring.
Contractors appreciate indoor work during this time and may be willing to do it for a more reasonable price.
Winter is the best time to remodel because it's the time of year when labor prices and material prices tend to be the lowest.
Contractors aren't as in-demand during winter months, which equates to lower labor costs for homeowners looking to remodel.
The spring shows a large price increase in materials costs due to market demand, too, so any project that requires lumber, tile, or another typically in-demand material would benefit from a winter schedule.
Learn more:
Choose One Contractor Who Can Do It All
To get the best value for your money, hire one experienced contractor to handle all the work rather than hiring separate contractors for each individual job.
Chances are, you can find a contractor who is experienced in all the various aspects of a kitchen remodel; and if they can't, they'll know who to sub the work out to someone else more qualified.
Having one contractor handle the demo and excavation can save you time, hassle, and even money in some cases. That said, it's a good idea to request quotes from multiple contractors that specialize in each service to get a feel for your options.
Always make sure the contractor(s) you choose is licensed, insured, and have the necessary permits needed to perform the work.
Make sure you ask to see these certifications; don't just take their word for it.
Keep reading:
Get Quotes from Multiple Contractors
When it comes to hiring a contractor for a home project, we always recommend getting at least 2-3 estimates.
The goal is to find the best contractor for the job who can complete your project properly for a fair price.
We understand how difficult it can be to get one quote from contractors at times, let alone three, but spending a bit more time to find the right contractor is worth it when it means avoiding expensive, stressful, and time-consuming issues down the road.
Regardless of how big or small your project is, educate yourself enough to understand what goes into your specific project and make the right choice when hiring.
Don't make a quick decision based on just one or two quotes; it could end up costing you time and money.
Even if the first contractor you talk to seems competent and professional, you won't know if they're charging a fair price until you speak to other local contractors.
Most people who have a bad contractor experience—whether it be they were overcharged or the contractor didn't do a good job—could have avoided the trouble if they had gotten multiple bids before starting their project.
It pays to get a second, third, and fourth opinion, and doing so can save you thousands upon thousands of dollars in some cases.
Multiple estimates will give you a good idea of the average price range for the work in your area.
Then, using price as one of your considering factors, you can choose your contractor based on:
Communication skills and willingness to answer questions
Professionalism and their ability to do the work
Ability to be flexible and work with you to achieve what you want
Whether or not they are respectful and punctual
Manage your financial risk by taking the time to get multiple estimates from contractors before hiring. It can end up saving you a lot of money and stress.
---
---
Read on: