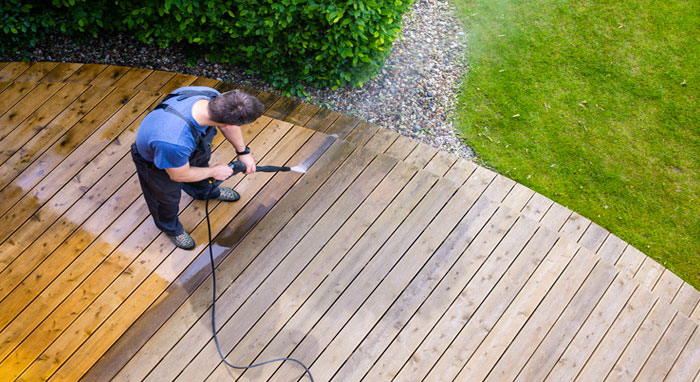 Updated January 23, 2023
Wood decks are a beautiful addition to any home, but just like any natural material, they can take a beating from the weather and regular wear and tear.
Hire a deck professional.
While cleaning and treating a deck yourself is an option, we recommend hiring an expert.
Even if the deck is structurally intact, wood deck restoration or replacement is a big project that can take a long time for the average homeowner to accomplish.
Not only can a professional recommend the best solutions for your deck, but they can get it done quickly and safely.
Find an experienced deck removal/renewal specialist to get a quote for your project.
Most decks require regular cleaning and maintenance, and we recommend doing so at least once a year.
Whether your wood deck needs a quick cleaning or total restoration, our guide will help you get started on your way to a younger-looking, longer-lasting deck.
---
Find out more: Demo 1-2-3: How to Remove a Deck
---
Scrape the deck.
Scrape down damaged areas to bare wood, removing any loose paint or opaque stain with a paint scraper.
Sand each area to feather the edges of remaining finish material down to bare wood.
Next, use a brush with very stiff bristles to remove flaking paint remnants, stain, dirt, etc.
*If your deck is cedar or redwood, don't use a metal bristle brush because it may mar the soft wood.
Clean the deck.
Apply a deck brightening/refinishing product to wood surfaces.
Mix the product according to manufacturer's directions.
Work the brightener into the wood with a stiff bristle brush. Use an extension handle on the brush if necessary.
Next, power wash the deck on a low setting using a fan spray nozzle to wash away the brightener solution and any remaining residue.
Give the deck the chance to dry thoroughly before moving on to the next step.
Seal the deck.
If the deck hasn't been sealed in a while and moisture no longer beads up on the surface, you will want to reapply a deck sealer.
Consult a paint supplier or an expert at your local home improvement store to choose a finish that is best for your wood deck.
It should contain either oil or paraffin to prevent moisture from seeping into the wood and UV blockers if you want to prevent the wood from fading in the sun.
If your area falls victim to wood-eating bugs, choose a deck finish that contains an insecticide, too.
There are several options to choose from, like clear sealants, semi-transparent stains, opaque stains, and paint.
Generally speaking, finishes that soak into the wood offer the best protection. Those that simply coat the surface show wear and tear more quickly and are more prone to peeling.
Leave it to the pros.
Wood deck restoration requires all of the standard carpentry tools, like a circular saw, screw gun, large level, and carpenter's square, plus tools for the demo work, like a sledgehammer or pry bar(s). A power miter saw is almost mandatory for clean, accurate cuts on railing parts.
Not to mention the time and knowledge it takes to do the work properly—leave the wood deck restoration to the experts.
---