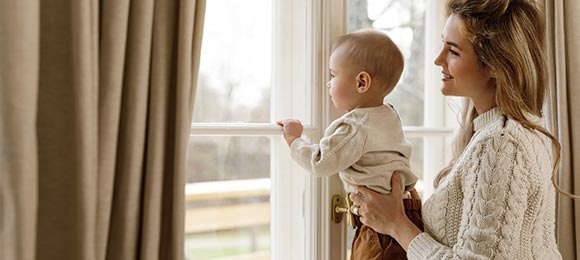 Updated February 9, 2023
Most contractors would agree that their busiest seasons are spring and summer.
Because of this, contractors' schedules tend to be more flexible between October and March, and building materials and labor costs are typically cheaper, too.
Tackling projects during the offseason can save you money and time, and is a great way to make good use of your time during the slower, colder months.
Update your home and get small projects done this winter to make the most of your time indoors.
Here are our top 8 picks for the best home improvement projects to tackle this winter:
---
---
1. Maintain Heating System

Be sure you're keeping up with your furnace's general maintenance during colder months.
With windows closed up and the heat pumping, it's important to replace your heating system filters at least every three months.
If you have pets, smoke, use your fireplace, or have allergies, then you should replace your filters as often as once a month.
2. Change Out Batteries and Bulbs

Make sure all your smoke alarms and carbon monoxide detectors have working batteries.
Replace any alarms that have a built-in lithium-powered battery and have outlived the date listed on the back.
Likewise, the winter is a great time to swap your existing lightbulbs with LED options if you haven't already done so.
3. Add a Fresh Coat of Paint

Paint is one the most inexpensive ways to transform a space, and it can transform nearly anything.
Your walls are just the beginning.
You can paint cabinets, paneling, garage floors, basement floors, and everything in between.
Because there is less moisture and humidity in the air during the winter, paint dries faster and bonds to surfaces better and stronger.
Use a fan to ventilate the area you're painting in and encourage air circulation.
Keep reading:
4. Replace Door and Cabinet Hardware

Another easy way to take advantage of being indoors is replacing the hardware on doors and cabinets.
Purchasing in bulk can give your entire home a new look and feel without breaking the bank.
Another nice thing about this project is it can be done little by little whenever you have free time.
And when it's all said and done, the difference can be remarkable.
Learn more:
5. Seal and Insulate as Needed

Sealing leaks around your home's windows, doors, vents, and in the attic where air seeps in and out can reduce airflow by 25% and save you 11% on total energy costs.
Not only does this save you money as a homeowner, but these eco-friendly improvements appeal to new homebuyers, too, now more than ever.
For roughly $400, you can have a home energy auditor out to your home to assess each room and identify solutions for making it as energy-efficient as possible.
However, you can easily do your own energy audit of sorts to check for drafts, air leaks, gaps, etc.
Seal cracks with caulk or insulating spray foam to eliminate drafts and keep out moisture.
Likewise, if you live in a cold region, an uninsulated attic is the fastest way to allow warm air to escape.
An insulation contractor can help you determine where your home could benefit from insulating material and which type.
The attic, foundation, and duct work are the most common areas.
6. Prep Your Landscaping

If you live where temperatures drop, winter is typically too cold to fertilize your lawn, but it's a great time to assess your trees and shrubs.
February and March are the two months when tree removal is the least expensive.
Not only are companies less busy during this time, but the frozen ground makes tree removal less disruptive to surrounding areas and vegetation.
7. Remove Old Structures

Similar to prepping your landscaping, the winter is a great time to remove exterior structures that are worse for wear.
Pools, fences, decks, barns, garages, and concrete can all typically be removed in the winter.
Doing so can increase your property value and save you money on project costs.
Find out more: Will Demolition Increase Your Property Value?
8. Tackle a Small Remodel
Interior demolition contractors' costs are typically lower in the winter, and they can help you get a head start on whatever your ultimate vision is.
---