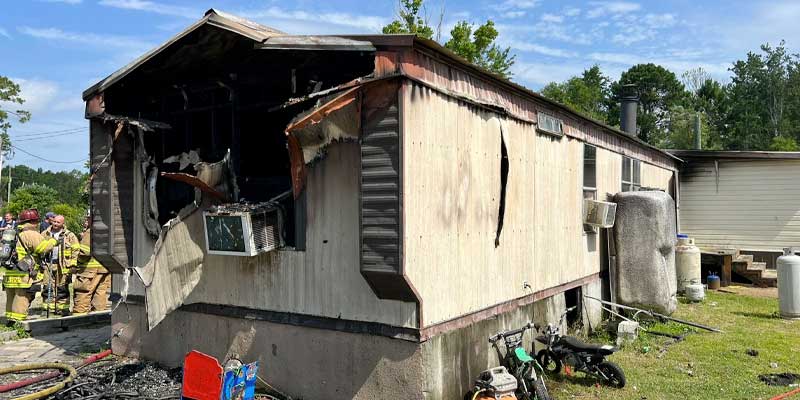 Updated July 19, 2023
Image via WBTW
If your mobile home was damaged or destroyed by a fire, demolition may be the best option.
Tearing down a mobile home that was damaged by a fire is not only the safest option, but it's often the most affordable option as well.
In this guide, we'll discuss the average cost of tearing down a fire-damaged mobile home, what goes into the process, and who to hire to get it done.
Jump to:
---
---
Fire-Damaged Mobile Home Demolition Cost
The cost to demolish a mobile home that was fire-damaged is $3,000-$7,000 on average, including debris disposal. However, prices can be more or less in some cases.
Your exact mobile home demolition cost will depend on a number of factors, including how big the mobile home is, materials used to build it, whether or not any of the materials are salvageable, the contents inside the mobile home that will also need to be disposed of, where you live and the average cost of living and disposal fees, as well as who you hire.
Common factors that influence the total cost of mobile home demolition include:
Size of the mobile home
Location and accessibility of the mobile home
Materials used to build the mobile home
Whether or not the foundation needs to be removed
Whether or not hazardous materials, like asbestos or lead paint, are present
Amount of salvageable material
Who you hire to do the work
As we've already mentioned, getting multiple quotes from different contractors in your area is key to getting a good price and good customer service, so don't skip this step.
Not doing your due diligence when researching contractors could cost you hundreds if not thousands of dollars.
Fire-Damaged Mobile Home Demolition Process
Many demolition contractors with experience handling fire-damaged mobile home demolition will assist with the insurance process, but that isn't always the case.
After you've spoken with your insurance company and sorted out coverage, here's what you can expect from the demolition process...
Get a Permit
Qualified, licensed, and insured contractors will pull permits for you in most cases, but double check with the contractors you speak to. This is a necessary step to ensure the work is done properly, safely, and up to code.
Secure and Protect Property
Ideally, no people will be around who could be harmed in the process. If there are any items in the surrounding area that can't be relocated, cover up those surfaces to prevent damaging them during the demolition process.
Turn Off Utilities
Make sure you turn any gas, electricity, or water off properly before any demolition work takes place.
Demolition
Mechanical demolition is the most common form of fire-damaged structure demolition—the mobile home is ripped down with the help of hydraulic excavators and other heavy machinery.
Debris Removal
The resulting debris is then hauled away via dumpster.
Who to Hire
Mobile home demolition, especially when the mobile home is fire-damaged or structurally unsound, can be dangerous work when done haphazardly. Because of the risks involved with handling the work yourself, we always recommend hiring a qualified professional.
Mobile home demolition experts can have your mobile home safely removed in a matter of hours in most cases, leaving you with a clean, freshly graded space.
Luckily, Hometown makes it easy to find contractors in your city or town, read verified customer reviews, and request quotes from as many contractors as you'd like.
---
---
Keep reading: