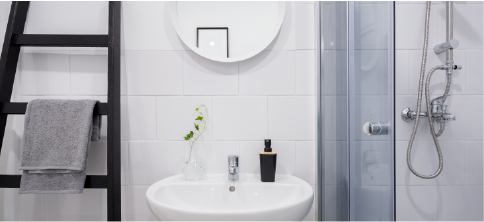 Updated April 22, 2022
Throughout the country, there are millions of families and individuals making the most out of their small bathrooms.
Whether you live in an old home with a small, galley-style bathroom or you live in an apartment or rental unit that doesn't allow any permanent or structural changes, this guide will help you make the most out of your cramped bathroom.
We've compiled a list of some of the easiest, most effective, and least intrusive ways to make a small bathroom feel and appear larger.
Jump to:
---
---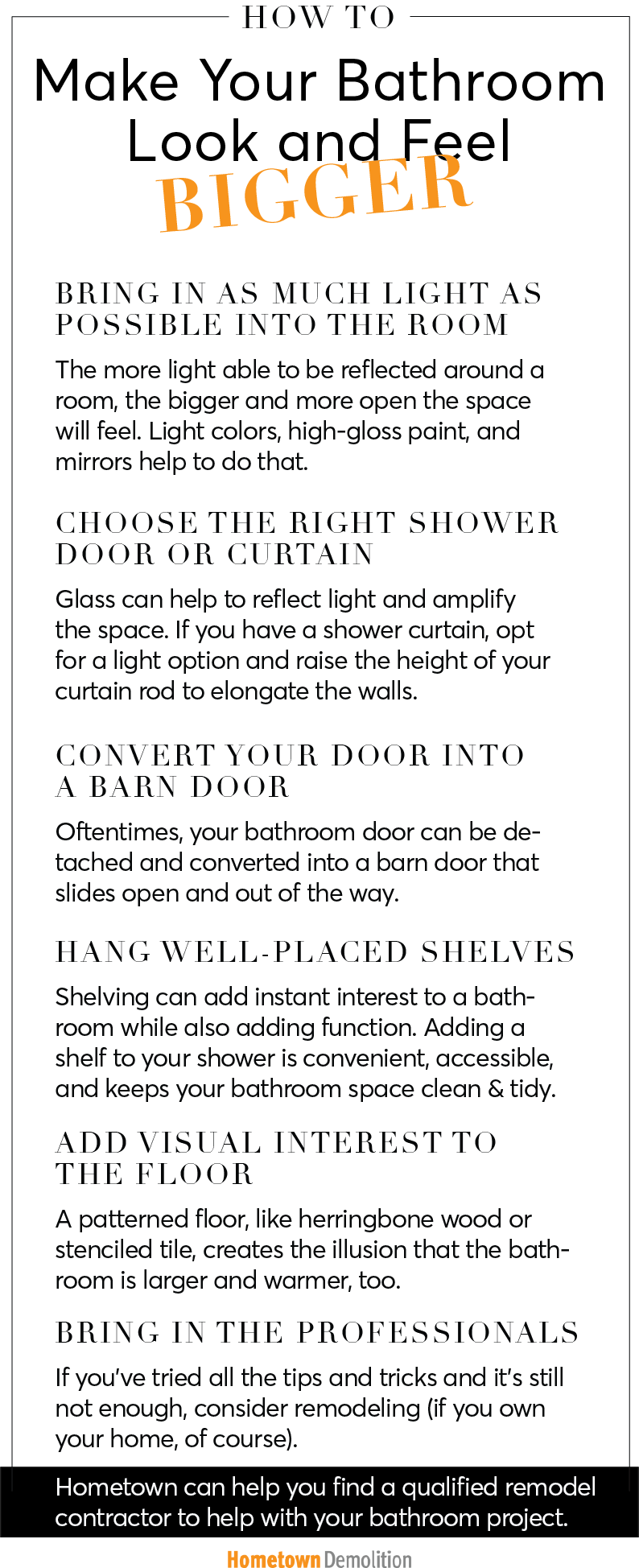 Reflect as Much Light as Possible
The more light able to be reflected around a room, the bigger and more open the space will feel.
This typically means opting for lighter colors. However, when a higher gloss paint is chosen, even darker colors reflect light and can trick the eye into seeing a more spacious bathroom.
Similarly, mirrors help to reflect light as well.
Backlit mirrors are a simple way to go the extra mile when it comes to adding as much light to your bathroom as possible, especially if your bathroom doesn't have a window with adequate natural light.
When it comes to other lighting choices, bright white bulbs mimic natural daylight the best.
Read on: 8 of the Hottest Bathroom Remodel Design Trends
Choose the Right Curtain or Shower Door
A glass shower door or floor-to-ceiling glass for a walk-in shower instantly makes your bathroom feel bigger as they allow you to see more of the room.
The glass also reflects light to amplify the overall space.
Curtain fabric naturally drifts slightly into the bathroom, making a bathroom feel warmer and more cozy but slightly smaller.
If you prefer a shower curtain, though, add instant space and luxury to your bathroom by raising the curtain rod closer to the ceiling.
The higher up your curtain goes, the more it draws the eye up and elongates walls.
Similar to our first tip, choose a lighter color for your shower curtain.
Convert Your Bathroom Door into a Barn Door
A bathroom door that opens into a small bathroom takes up valuable space.
This is especially beneficial for galley-style bathrooms.
Oftentimes, your bathroom door can be detached and converted into a barn door that slides open and out of the way.
You will likely need to remove trim, repair the drywall, and repair the area after prepping the space for your new barn door.
A pocket door is another popular option but is typically much more involved and expensive to install.
A qualified remodel contractor will be able to complete this project in a matter of hours, especially if you acquire the hardware and materials ahead of time.
Hang Well-Positioned Shelves
Shelving adds instant interest to any bathroom when utilized properly.
Small, thin shelves placed slightly higher up the wall, or staggered slightly, helps to draw the eye around the room.
Shelves can be functional as well as beautiful, but if you don't want to add shelves to your bathroom walls, consider adding one to your shower.
If you have a shower curtain, the shelf will provide a functional, accessible space to store your soaps, skincare, washcloths, and towel(s) without cluttering up the visual space of the bathroom and remaining out of site of guests.
In a similar vein, consider relocating your towel bar.
If it's taking up visual space on your wall, consider relocating it to the side of your sink where it's still convenient but more inconspicuous.
Add Visual Interest to Your Floor
A patterned floor, like herringbone wood or stenciled tile, creates the illusion that the bathroom is larger and warmer, which is often a hard balance to strike.
As previously mentioned, anything that encourages the eye to move around the room helps to create the feeling of a larger space, and patterned floors are no different.
In addition to making your bathroom feel bigger, it also adds instant character and charm to an often less-than-charming room.
Bring in the Professionals
If you've tried all the tips and tricks and it's still not enough, consider remodeling your bathroom (if you own your home, of course).
Converting your tub/shower combo to a seamless walk-in shower or swapping out a giant tub for a minimal shower tray instantly makes your bathroom feel more spacious without busting down walls or adjusting the plumbing.
Hometown can help you find a qualified remodel contractor to assist you with your bathroom remodel.
---
---
Learn more: