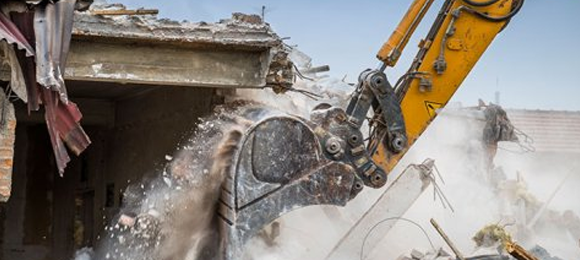 Updated July 20, 2021
When thinking about tearing down a house, it's important to understand the process behind it—not only the physical demolition but what should happen first, too.
We'll outline the house demolition process from start-to-finish so you know what to expect...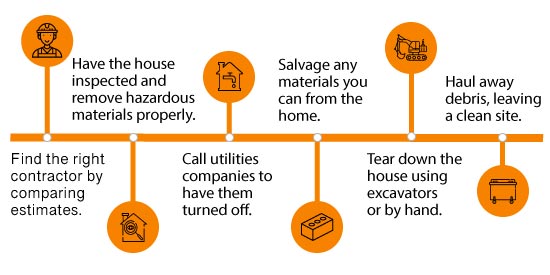 Hire the right contractor.
The first step in the house demolition process is finding a licensed and insured demolition contractor in your area.
We recommend reaching out to at least three local demolition contractors and inquiring about a quote.
You will want to get an estimate or job proposal in writing before making any sort of commitment.
Because a contract is legally binding, make sure you are satisfied with what it entails before moving forward. If you have any questions at all, ask your contractor to clarify it, both verbally and in writing.
At the very least, your written contract should include the following:
Project Details
A detailed description of the project, including the extent of the work, the equipment and materials that will be used, as well as who will be working at and/or supervising the job site
Project start date and estimated date of completion (If your project is extensive, outline completion dates for each stage of the project.)
Whose responsibility it is to pay for and pull permits for performing the work (if necessary)
Protocol for handling any changes that may arise, whether due to change orders, unforeseen issues, or cancellations
Payment Schedule
A cost estimate and the work/materials included
A clear-set schedule for payment (Ideally, you will pay a small percentage of the overall price upfront, and then you will pay for the work as it is completed.)
Before signing a contract...
Did you thoroughly research this company and determine they are qualified to do this work to your expectations?
Does this contractor clearly understand your vision, budget, and timeline for this project, and is this information explicitly outlined in the contract?
If a contractor is hesitant to offer a written contract that aligns with your standards, consider finding someone who is. At the very least, go back and forth with them until you are pleased with the contract.

---
---
Keep reading about hiring the right contractor:
---
Get the house inspected.
Before demolition, the house should be inspected for hazardous materials, like asbestos and lead paint. If there are hazardous materials present, the proper remediation protocol needs to be followed.
Shut off utilities.
Contact your utility providers—gas, sewer, water, and electric—and have everything disconnected before demolishing anything.
Salvage what you can.
If you have salvageable materials in your home, work with your contractor to reclaim them. They can help you recover anything that could be donated, resold, or recycled before tearing down the rest.
Tear down the house.
The physical act of tearing down a house can take anywhere from a single day to multiple days to complete.
The two most common ways to demolish a house are either traditional, mechanical demolition with the assistance of heavy equipment, like a hydraulic excavator, or by tearing down the house by hand, commonly known as deconstruction.
Traditional Mechanical Demolition
Mechanical demolition is the most common method of house demolition. It involves ripping the house down with the help of hydraulic excavators and other heavy equipment.
Deconstruction
Deconstruction is the process of manually stripping and taking apart the house piece-by-piece to salvage as many of the materials inside the home as possible.
Another option is a combination of these two methods—partially deconstructing your home by hand and then having the rest of the house demolished with an excavator. This is a great way to save a little bit of money on demolition.
Haul away the debris.
Any unwanted debris or junk is loaded into a dumpster and hauled away to the nearest landfill or recycling facility.
All debris should be removed from the site so that it is clean and ready for whatever comes next.
Whether you plan on just laying grass at the blank site or building a new house, your demolition contractor will generally use the same equipment to prepare the land as they did to tear down the house. Use your demolition contractor to prepare for what comes next to save both time and money.

Keep reading: 2 Jobs, 1 Contractor: How to Save Money on Demolition Projects
---
---
Learn more about house demolition: