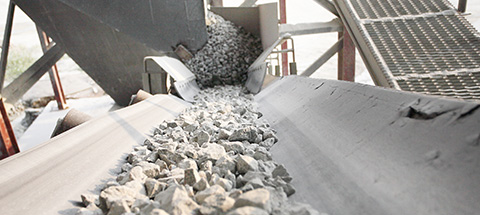 Recycling is not only better for the environment, but it's almost always better for your wallet, too.
New materials are expensive to make, and landfill space is extremely valuable.
Because of this, recycling facilities offer cost-effective ways for homeowners and contractors to recycle construction and demolition (C&D) debris/materials instead of taking them to the landfill.
Concrete, asphalt, steel, iron, and aluminum—most demolition and construction debris is recyclable or reusable.
Learn all about...
---
---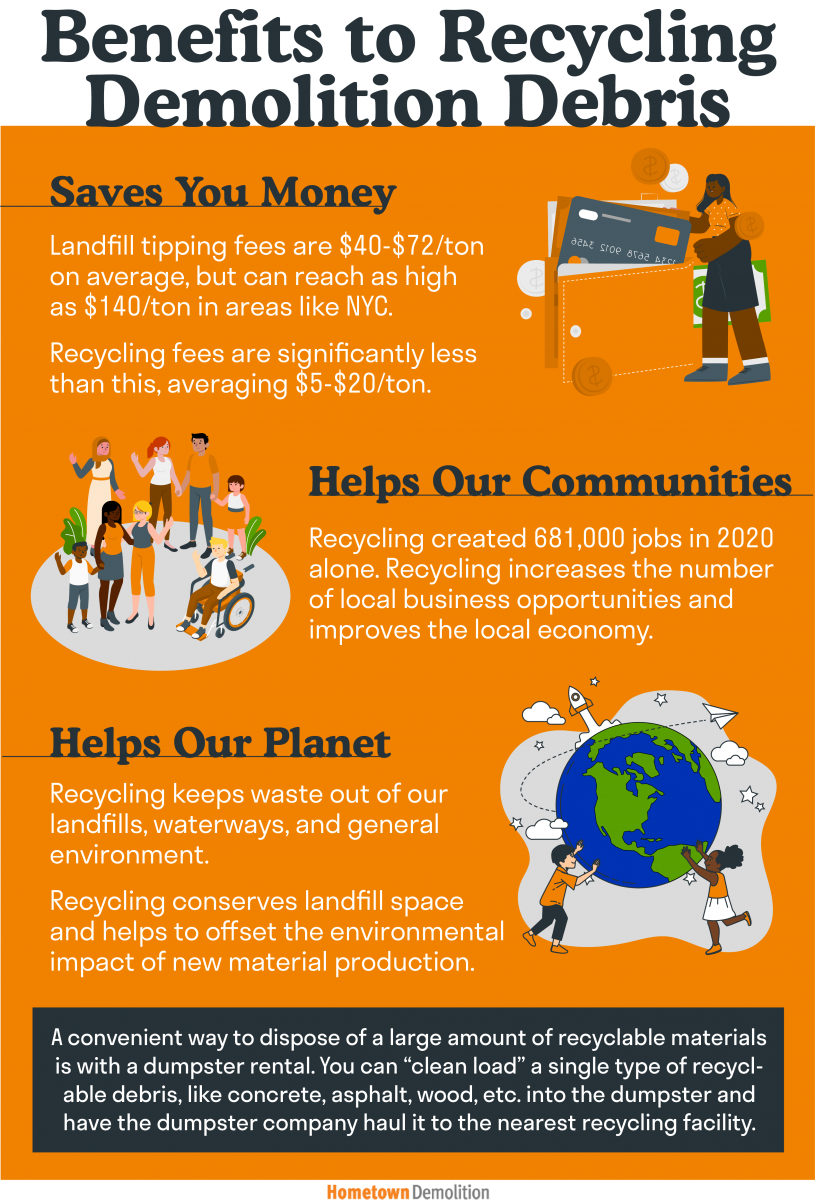 How Recycling Saves You Money
In 2020, the national Municipal Solid Waste (MSW) landfill tipping fee was $53.72/ton on average, ranging from as low as roughly $40/ton in the South Central region to $72/ton in the Pacific.
In places like New York City, where landfill space is particularly limited, the landfill fees can reach upwards of $140/ton.
However, taking concrete to a recycling facility to be crushed and recycled costs $5-$20 per ton on average.
Not only does recycling save you money during the debris disposal process, but it can also save you money when you have to buy materials again.
Recycling does two things when it comes time to purchase materials:
Reduces manufacturing costs, which keeps new product prices lower
Provides salvaged, reusable materials at a heavily discounted price for new builds
Luckily, there are a number of C&D materials that can be recycled or reused.
Keep reading:
How Recycling Helps Our Communities
Recycling creates hundreds of thousands of jobs and provides increased business opportunities within the local community, especially when deconstruction and selective demolition methods are used.
EPA's 2020 Recycling Economic Information (REI) Report showed that the recycling of C&D materials created 681,000 jobs and $37.8 billion in wages in 2020 alone.
Recycling also improves the local economy, as salvaged materials are typically locally sourced.
In addition, when it comes to preserving or restoring old buildings, recycling reusable materials—and purchasing salvaged materials instead of new—allows you to maintain the structure's original architectural character and local historic significance.
Find out more:
How Recycling Helps Our Planet
It's no surprise to anyone that recycling helps to keep waste out of our landfills, waterways, and general environment.
Recycling has a number of positive effects on our environment, like...
Conserves extremely limited landfill space
Offsets the environmental impact of new material production and the consumption of virgin materials
Saves energy by reducing the production of new materials
A convenient way to dispose of a large amount of recyclable materials is with a dumpster rental. You can 'clean load' the dumpster, which means only loading one specific type of debris (e.g. concrete, wood, or aluminum) into the dumpster.
When you're done loading up your recyclable material, the dumpster company can haul it to the nearest recycling facility for you, and you'll benefit from those cost savings.
---
---
Learn more: