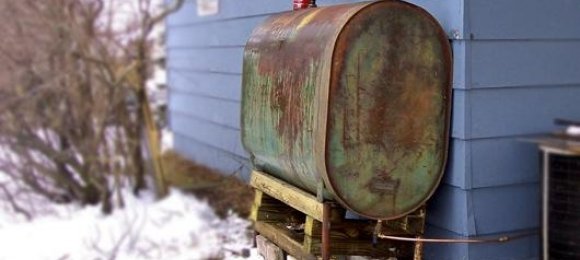 Updated January 23, 2023
Above ground storage tanks that are old and unused pose health and environmental concerns that should be addressed by the homeowner or owner of the property.
This FAQ will let you know everything you need to know about these storage tanks and how to get them removed from your property.
We'll go over:
---
---
What is an above ground storage tank?
An above ground storage tank (AST) is a large container used to hold oil, whether for heating or fuel.
It serves the same purpose as an underground storage tank (UST), only it's not buried underground.
Generally, they are located in the basement, crawl space, or against a side/back wall on the exterior of the house, and are held up by supports.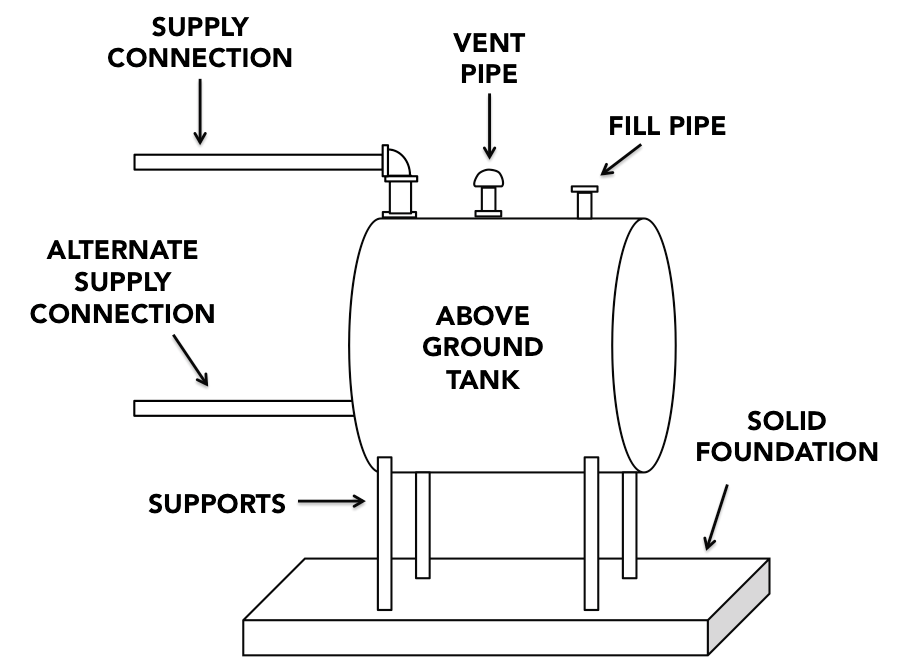 How long have above ground storage tanks been used?
1859 — Oil is discovered and first stored in wooden barrels.
Late 1800s — As oil grew more and more valuable, oil companies wanted a more efficient way of storing the 'black gold," which led to the production of the first steel storage tanks.
1922 — Underwriters Laboratories (UL)—a third-party testing facility—developed the first standards for steel storage tank safety.
1930s — Arc welding replaces riveting—an old method once commonly used to join steel—leading to an increase in tank quality.
1970s — Concerns begin to spread regarding the environmental impact of oil tank leaks, and updated technologies, like secondary containment and improved tank materials, begin to take shape.
1988 — The EPA sets a deadline for upgrading tank systems in the United States to put new tank safety regulations into place.
1990s — Many are choosing to close and remove their tanks due to the now known environmental and health risks; and for those who need to keep their tanks, many are converting to an AST from a UST.
Why are old, unused oil tanks a concern?
As previously mentioned, containers have a potential for leaks, especially if they're exposed to the elements.
Oil spills can wreak havoc on the environment and your health via:
Drinking water contamination
Indoor air pollution
Contamination of soil, surface, ground, and drinking water
Contamination of recreational water bodies
Read more: Be on the Lookout for These 5 Oil Tank Disaster Signs
Why do some tanks leak?
Over time, virtually all tanks have the ability to leak in one way or another.
Some of the most common reasons tanks leak include:
Decay or frost shift
Overfilling of tanks
Lack of routine inspection and maintenance
Leaky fittings
Lines are accidentally severed
Negligent oil delivery
How can I tell if my tank is leaking?
Unlike underground storage tanks, ASTs are relatively easy to monitor for leaks.
With regular inspections, maintenance, and proper use, it's easy to spot a leak or possible leak point.
I discovered an oil tank on my property, should I have it removed?
No matter what condition your tank is in, it has potential for damage and should be removed if it's no longer being used.
Not only that, but if you want to sell your home in the future, oil storage tanks are a huge turn-off for potential buyers.
Who should I hire to remove my AST?
When dealing with an oil storage tank, you shouldn't trust just anybody to handle it.
An oil tank removal expert or licensed demolition contractor will know how to properly handle and remove your tank.
Call around to more than one company to receive multiple quotes and opinions on how to handle it.
Hometown Demolition Contractors can help you find AST removal experts. Search by location and find contractors listing 'oil tank removal' as one of their services. From there, you can learn more about them, read verified customer reviews, and get their contact information.
Are there regulations that I need to follow?
The regulations you need to abide by will vary depending on where you're located, but no matter where you're from, there are levels within the hierarchy that you need to be aware of: federal, state, county, and municipality.
Federal
If they are 55 gallons or greater, ASTs are regulated under 40 CFR 112.
However, the regulation doesn't refer to them as ASTs. Instead, they use the term "bulk storage container" to refer to any container used to store oil.
Containers must be built with a secondary layer with sufficient space allowed for the containment of minor leaks and precipitation.
Each container must also be tested on a regular basis, as well as whenever a repair is made to the container's material.
If you cannot adhere to the proper maintenance regulations, then the tank must be properly closed, and then removed in some states.
Learn more:
State
ASTs are primarily regulated by states, but regulations can vary greatly from one to the next.
Depending on where your tank is located, state regulations may require your oil tank be removed if it is no longer being used.
You typically can learn your state's regulations by inspecting its environmental regulations and/or the fire code.
County & Municipality
Even if your state doesn't have AST requirements, your local government might.
Familiarize yourself with them by doing some research on the laws in your county or municipality, or by contacting a local tank removal specialist to advise you.
Learn more about regulations:
Is AST removal covered by insurance?
A majority of insurance companies do not offer insurance coverage for inactive ASTs or the removal of such.
And even if your AST is active and you have insurance, if it leaks, most policies have a "pollution exclusion" clause that leaves you responsible for paying every last cent of the clean-up and remediation costs.
How does the oil tank removal process work?
Tank must be closed.
Before the AST can be removed, it needs to be taken out of service and properly 'closed.'
This involves emptying the tank and connected piping of any heating oil and carefully cleaning it in order to eliminate any remaining oil and vapors.
If there's no sign that the tank leaked, it is then considered closed and ready to be removed.
If you recently discovered an AST on your property, chances are that it was already closed; but that's not always the case, and sometimes an AST was installed in order to replace an old faulty UST that could still be in the ground.
Your contractor can help you determine that.
Tank can be removed.
Once the tank is cleaned and closed, it's simply disconnected, lifted onto a trailer, and hauled away to be properly disposed of and reused/recycled if possible.
Learn more: How to Dispose of Above Ground Oil Tanks & Remaining Oil
How much does above-ground oil tank removal cost?
If your tank is leaking, the cost of removal and clean-up/remediation could skyrocket to $30,000 in some cases.
If your tank is not leaking, removing an AST can run anywhere from $500 - $3,000.
As you may expect,
the cost to remove an AST
depends on a number of factors, including the size of the tank, whether or not it's leaking or is considered 'closed," the location of the tank, and more.