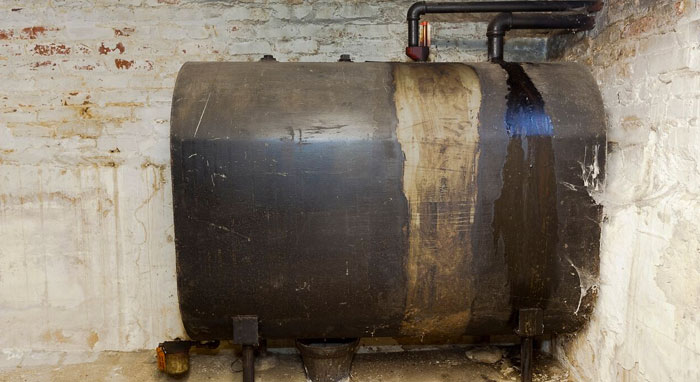 Updated March 9, 2023
While disposing of an above ground oil tank may not seem super complicated, it is actually quite complex. And it shouldn't be taken lightly.
Make sure you understand exactly what is involved in properly removing and disposing of an above ground oil tank, along with any oil remnants.
First and foremost, always hire a contractor who is experienced in removing above ground oil tanks.
We recommend speaking to at least three different contractors so that you can be sure you're getting a good price and everything is in order.
If you hire someone who offers to do the removal for a lot less than others do, think twice before hiring them.
The few dollars you think you're saving could end up costing you big down the line, because there's a high probability they are cutting corners somewhere.
Regulations for tank removal vary from state-to-state, but regardless of where you live, above ground tank disposal isn't as simple as just removing the tank and taking it to the landfill.
You will more than likely need to have the tank inspected and cleaned, submit a permit for the work, and have records of all the completed work to ensure that if/when you sell your home, you don't have any problems.
The most widely accepted fuel storage guidelines and standards are developed through a consensus of technical specialists and government agencies representing differing interests and perspectives on safety issues regarding the environment, fire, air quality, and more.
The leading authorities in these areas include:
Environmental Protection Agency (EPA)
American Petroleum Institute (API)
National Fire Protection Association (NFPA)
Air Transport Association (ATA)
ASTM International
Each of these groups publishes a series of standards concerning fuel quality and storage issues.
Learn more about storage tank guidelines: Spill Prevention, Control, and Countermeasure Regulation
---
---
How to Remove Above Ground Oil Tanks Properly
Get local permits for the removal of the above ground storage tank.
Schedule the work a week in advance to ensure you don't have to rush the process.
Have the tank inspected for any remaining liquid. All pumpable liquids need to be removed.
After any pumpable liquid is removed, the tank should be cut open and cleaned. Any remaining liquids or sludges should be removed from the tank by wiping and squeegeeing it clean, and transporting the liquid to a licensed oil recycling facility.
After the tank has been cleaned, the tank is cut into sections and removed.
The fill and vent pipes are then cut and capped on both the interior and exterior of the foundation wall (if they penetrate any walls).
The supply and return lines that feed the heater will be evacuated with a vacuum, then the empty lines are crimped on both ends, and left in place.
All work gets reviewed by the local construction/fire official who will perform an inspection of the oil tank removal. After inspection, the tank will be removed from the site.
Lastly, to help with any future sale of the property, we recommend obtaining a report documenting all tank closure activities, copies of the local permit and inspection, scrap receipt(s), and a report to certify the closure was performed.
---
---
Learn more about tank removal: