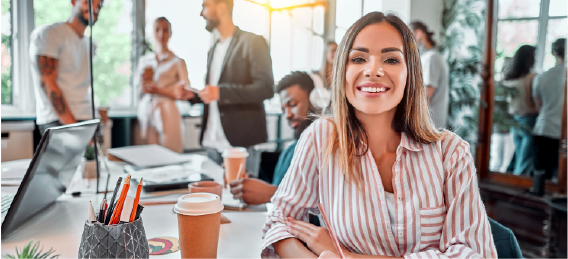 Updated January 23, 2023
Remodeling your company's office or a newly purchased commercial property is a great way to set your business up for success.
You can make changes that better reflect your business goals and branding, increase floor space and vertical storage, and transform the look and feel of the space with different lighting, windows, and/or doors.
The average cost to remodel your office space will depend on the square footage of the space, the local cost of hiring professionals, and the cost of materials.
---
---
Average Cost to Remodel a Company Office
The average price for remodeling a commercial building is around $150-$250 per square foot.
However, this cost depends on where the office is located, the extent of the work being done, materials you choose, and who you hire.
If your remodel involves plumbing adjustments, you can expect the costs of your remodel to rise quite a bit.
Typically, an office remodel is broken down into cost of labor and cost of materials.
Cost of Labor
Contractors typically charge anywhere from $30-$80 an hour.
However, this hourly rate will depend on the location and the number of years the contractor has experience performing the work.
The complexity of your project will also affect the amount of time your project will take and the billable hours for the project.
For example, an office that is fully empty, called a shell space, typically requires installing all interior features that convert an empty suite into an office.
A second generation office space already has ceilings, millwork, plumbing, etc., so it typically only requires an aesthetic renovation.
So if you are planning a shell condition office space build-out, it will likely take much longer to complete—between design/architecture, permitting, and construction—than it would to complete second generation office space build-out, meaning it will cost more, too.
Cost of Materials
The materials you choose will also be a big cost factor.
For example, stone and wood are more expensive than laminate floors.
Upgrading light fixtures, installing shelving, replacing bathroom fixtures—all of this can be done while keeping costs as low as possible or by prioritizing style and quality.
The specific renovations you want for your office will inevitably depend on your intended aesthetic and any structural choices you make.
A contractor can typically acquire materials for less through wholesale or buying in bulk, but knowing what a fair price is can help ensure you don't overpay for any materials.
Average costs for common office remodel materials include:
Drywall (4 ft x 8 ft panel): $10-$20
Doors: $150-$400
Flooring: $2-$12 per sq ft
Single bathroom: $14,000-$18,000
Kitchenette: $3,000-$5,000
HVAC: $15-$30 per sq ft
An office renovation can transform your working space into a place that inspires creativity, morale, and focus.
As a place that most people spend 40 hours or more a week, the importance of a suitable office or company space cannot be understated.
---
---
Read on: