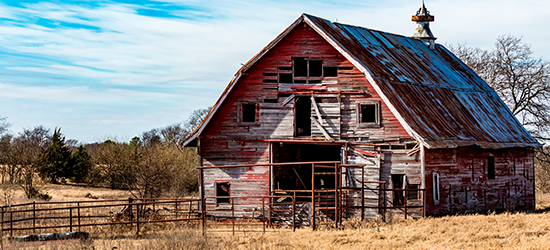 Updated July 20, 2021
When it comes to taking down an old barn, finding the right person for the job is the first and arguably most important hurdle.
Many companies that salvage old barn wood are willing to travel up to an hour—or more in some situations—for the right barn wood.
Once you know which barn removal companies are within a reasonable distance from you, start contacting them.
Ask for estimates and details about how they perform the work.
Also, ask about timelines.
When it comes to barn demolition, it's especially common for a contractor—or just a guy with a pick-up truck—to tell you they'll come and remove the easy-to-remove wood and pay you for it.
This is not the same as barn demolition and will leave you with a useless heap on your property that you'll still have to have demolished and/or hauled away.
The barn demolition contractor you hire should have the heavy equipment needed to take apart a barn, not just his two hands and a hammer (unless that's the type of service you're looking for).
Bottom line: Your contractor should come with positive reviews from other customers, preferably someone you know and trust, and be appropriately licensed and insured to perform barn demolition in your area
Ideally, you should get quotes from 2-3 contractors to ensure you choose the best person for the job.
However, this may not be a possibility for you depending upon where you live.
Reputable barn demolition specialists are not located in every area.
It may take a little research on your part to find the right company for the job.
Know the game plan ahead of time.
The contractors you speak with should have no problem going over the barn demolition process in detail with you.
Contractors should be able to clearly explain to you:
the order in which the barn will be torn down
the equipment that will be used to get the job done
who will be on-site working on the project
when they will be able to start working
how long the project will take
Oftentimes, the barn demolition process involves first tearing out the siding and then cutting small relief notches in the upright timbers.
From there, the skeleton of the barn is typically tied to a large truck and pulled down.
Once the barn is torn down, the timbers, roof, and other debris are removed.
---
Keep reading:
---
Nail down the contract.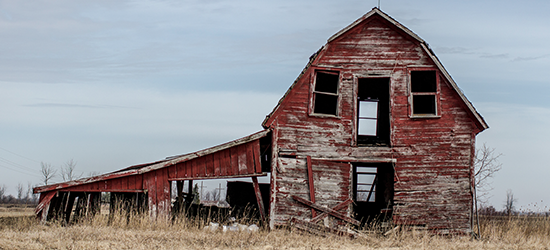 All of the project details should be included in a written contract, and before signing said contract, you should carefully go over each and every detail with the contractor in-person.
The contract should have all the project details in writing, so if you feel the contractor's contract isn't thorough enough, speak up and work with the contractor to re-work the contract to include all the necessary details.
This is for your protection and peace of mind, so don't cut corners here.
A thoroughly written contract should include (at least) the following:
The work they will be doing (Be specific!)
Total project cost
Project end date
Payment schedule
Which salvageable materials from the barn they will be taking (if any)
How they will leave your property (remove all debris, leave debris in manageable piles, etc.)
Once you and your contractor have agreed to all the project/contract details, sign the contract.
If your contractor digs their heels in at any point, be suspicious (and if possible, consider finding a new contractor).
Also, be sure to get proof of the contractor's insurance rather than just taking them at their word, and educate yourself on what type of insurance it is—what it covers, whether or not your homeowner's insurance will be held liable should anything happen, etc.
---
---
Learn more: