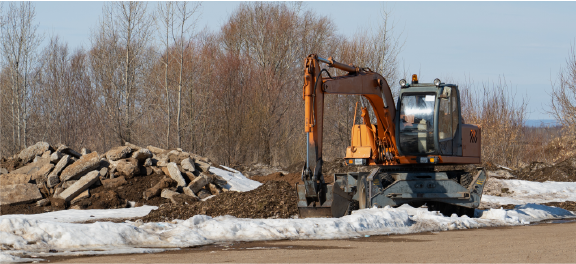 Updated January 23, 2023
Many people have the misconception that concrete can't be removed during the winter, but there are only a few places in the country where the ground freezes solid to the point where concrete removal is not possible.
In fact, winter is a great time to tackle home projects you've been meaning to get done.
During the colder months, contractors are often in lower demand, making it easier to get a concrete removal or replacement project scheduled and completed in a timely manner.
Jump to:
---
---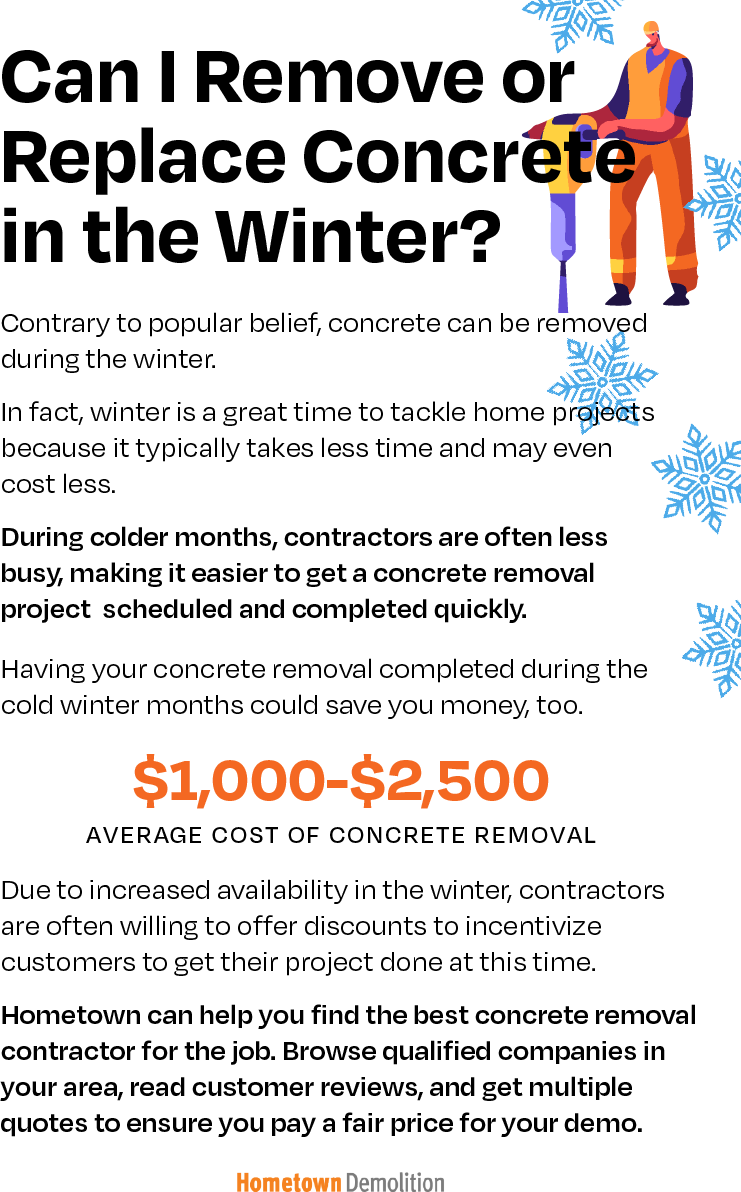 Average Cost of Concrete Removal
Concrete removal costs average $500-$2,500.
Concrete removal costs vary depending on a number of factors:
Size of concrete removal
Depth of concrete being removed
Location of the project
Who you hire to do the work
Whether or not concrete can be recycled and reused
Having your concrete removal completed during colder winter months could save you some money as well as time. Due to their increased availability, contractors are often willing to offer discounts during the winter to incentivize customers to get their project done at this time.
Learn more:
How Concrete Removal Works
The entire concrete removal process is typically able to start and move more quickly in the winter, which is always desirable.
Whether you're removing and replacing concrete in the winter or summer, the steps are basically identical.
First, a city inspector will need to assess whether or not any utility lines run underneath the concrete, and if they do, how deep they are.
If these lines run shallow enough to be affected by the concrete removal, they will need to be avoided with caution, which can sometimes increase costs due to the additional time and labor required to complete the work safely.
This is important because if you happen to damage any utility lines, you'll be the one left responsible for paying for repairs.
When reaching out to companies for a concrete removal quote, we recommend asking about how the debris will be handled and disposed of.
Typically, the concrete removal contractor will handle the disposal and arrange for a construction dumpster for you.
However, it's a good idea to make sure you confirm this with them during the initial quoting process.
If they don't handle debris disposal, the cost to rent a concrete dumpster will be an additional expense for you to consider.
In the rare chance you are responsible for handling the debris disposal, renting a dumpster is a great option.
With your dumpster delivered and ready to go, the concrete removal can begin.
The primary tools used for breaking up concrete include a skid steer loader or excavator with a jackhammer attachment, or just a good old-fashioned jackhammer.
Concrete removal pros have the power hydraulic equipment needed to break up concrete regardless of the season.
Once broken up, the concrete is loaded into the dumpster and hauled away.
---
---
Keep reading: