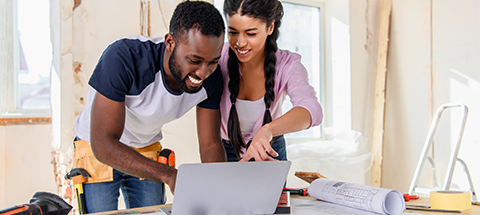 Updated June 23, 2022
Upgrading your home can feel overwhelming when you're not certain about the updates you want to do, how much they typically cost, or what you want to do first.
Hometown is here to help.
In this guide, we've compiled a list of some of the most popular upgrades, as well as some of the less-considered upgrades, how much each project costs on average, their average return on investment, and how to find a qualified remodel contractor near you to help you get it done properly.
We'll talk about:
---
---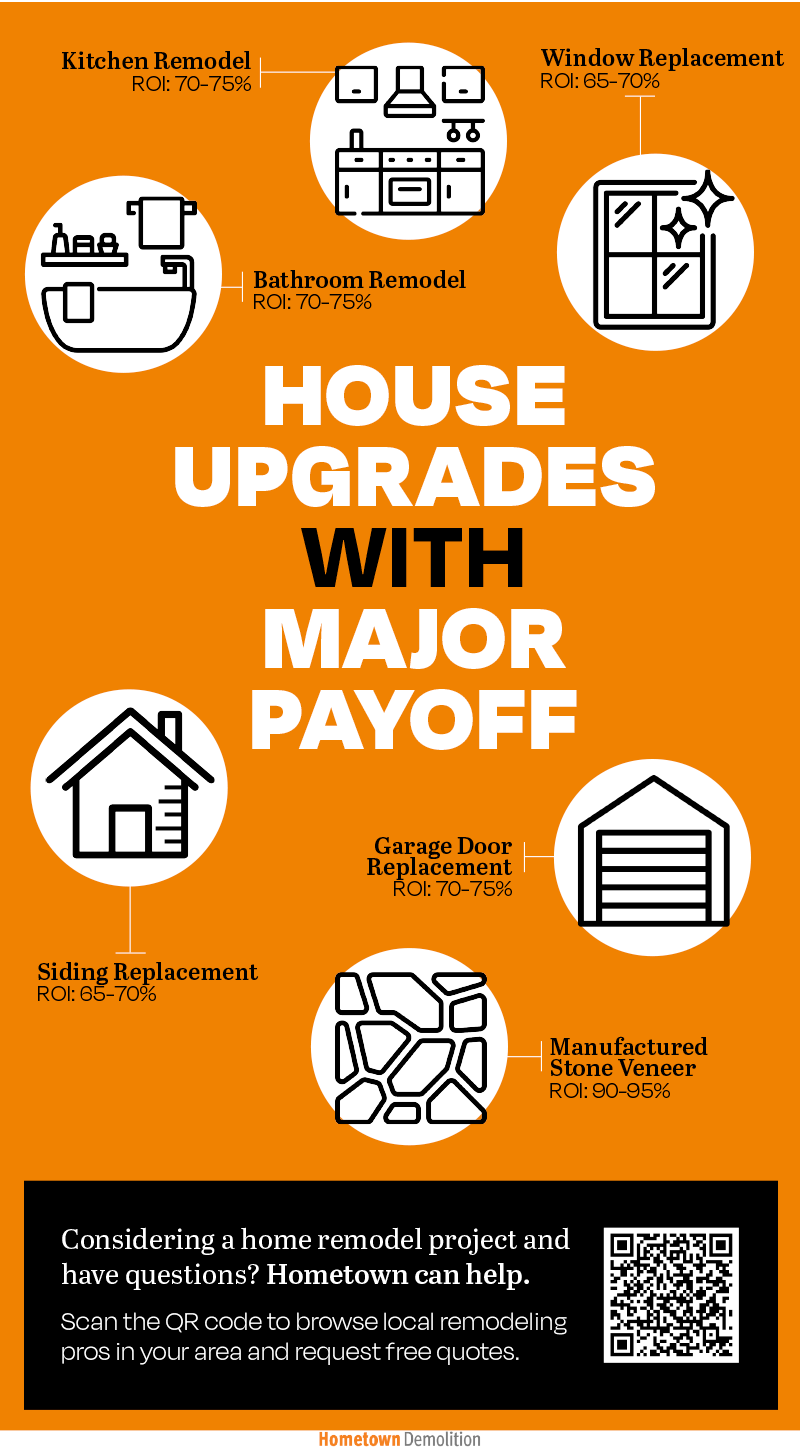 Bathroom Remodel
Average Cost: $10,000-$22,000
Average ROI: 70-75%
Bathrooms are important rooms in any home, as people tend to spend quite a bit of time in them each day.
The bathroom is the place you get ready and set the tone for the day.
If your bathroom is outdated, cramped, or just unpleasant to spend time in, a bathroom remodel is a great option and would benefit from being prioritized.
Not only do bathroom remodels improve the lives of those living in the home, but they also offer one of the highest ROIs of all house upgrades, making them a great choice for your wallet, too.
A newly updated bathroom can boost your home's resale value quite a bit, even minor cosmetic changes, like upgrading hardware, painting, and refinishing cabinets.
Learn more:
Kitchen Remodel
Average Cost: $12,000-$30,000
Average ROI: 70-75%
Kitchens are another high-traffic room that people tend to spend a lot of time in.
This is why creating a functional, beautiful kitchen will not only increase your home's value but also your day-to-day enjoyment of it, whether you're cooking meals alone or entertaining family and friends.
A minor kitchen remodel—which typically includes updating cabinets and countertops, upgrading appliances, replacing hardware, and redoing the flooring—can provide a ROI of 72% on average.
If you have a kitchen that shows its old age or is simply unpleasant to spend time in, remodeling it is a great solution and can pay off quite a bit when it comes time to sell.
Keep reading:
Window Replacement
Average Cost: $18,000-$25,000
Average ROI: 65-70%
Unlike bathroom and kitchen remodels, window replacements are less showy, but they offer a comparable ROI.
Replacing your current windows with energy saving vinyl windows costs around $100-$200 per window depending on how many windows you're replacing and current local discounts, but this cost can be recouped by 65-70% on average.
And while it may not seem like a fun or exciting project, replacing your old windows has many benefits:
Keeps your home cooler in the summers and warmer in the winters
Makes your entire home look instantly more crisp and eye-catching
Saves you money on heating and cooling bills
Increases your home's overall security
Minimizes dust and allergens that come into the home
Reduces the amount of external noise you hear
Low-maintenance options are easy to keep clean and last a long time
Siding Replacement
Average Cost: $15,000-$22,000
Average ROI: 65-70%
If your siding is looking worse for wear, a vinyl siding replacement is a cost-effective way to freshen up your home's appearance while saving money vs fiber-cement siding.
Fresh siding can make your home look brand new while still maintaining its character, and you have infinite colors to choose from if you want to really give your home a new look.
The instant boost to curb appeal increases your home's value, boasts a 65-70% return on investment, and will get you a lot of compliments from neighbors.
Find out more:
Manufactured Stone Veneer
Average Cost: $8,000-$12,000
Average ROI: 90-95%
Like new vinyl siding, manufactured stone veneer is another exterior update that can have a massive impact on your home's value.
Adding manufactured stone veneer as an accent to part of your home, such as on your garage or surrounding an entryway, adds instant dimension, character, and luxury to a home.
This type of addition can recoup 92% of its cost on average, making it one of the best home upgrades available.
As we've previously mentioned, curb appeal is important, and improving your home's curb appeal can pay off big time when selling your home.
Garage Door Replacement
Average Cost: $2,500-$5,000
Cost ROI: 90-95%
A home's garage door is one of the first things people see when pulling up to your home, and it's something you see every time you leave or return from your home.
Because of its prominence and effect on a home's curb appeal, a nice-looking garage door is arguably the highest on the list when it comes to getting cash back on your investment.
Removing your old, dated, or non-functional garage doors and replacing them with four-section doors with heavy-duty galvanized steel tracks is a highly-valued remodel project.
Garage doors come in a wide range of colors and design features as well, allowing you to find the perfect fit for you and your home's style.
Read on: Boost Property Value with Garage Repair or Replacement
---
---
Keep reading: