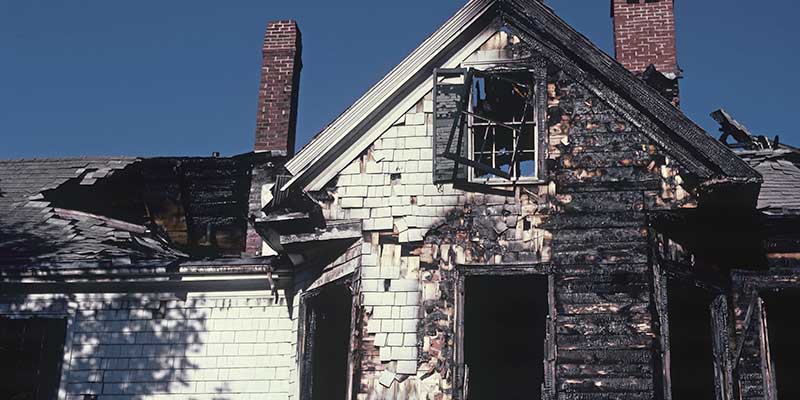 Updated July 11, 2023
After a fire, the devastation left behind can be a burden. Several actions must be taken to ensure that the property is safe, one of which is often demolition.
If demolishing your fire-damaged structure is the best option, the first step would be to contact your insurance company in order to confirm whether or not they will cover the demolition and debris removal. In most instances, insurance will cover demolition and debris removal it if it's necessary for safety.
Because the cost of repairing a fire-damaged building is often so high, demolition and rebuilding is typically the most affordable option.
Before you demolish your fire-damaged structure, it's useful to know what to expect and how the devastation is best dealt with.
In this guide, we'll discuss:
---
---
Filing a Fire Damage Insurance Claim
The first step after a fire is filing a fire insurance claim. Here's what goes into that process...
Be sure to read your contract details front-to-back to be sure you understand what your insurance covers.
Then, collect all the information you need. You will need to provide certain information about the incident for your claim to be approved, like:
Date of fire damage
Type of claim (fire damage)
Location of fire damage
Detailed list of all damages
Property's condition
All repair/replacement estimates
In-depth list of injuries incurred
Copy of police report
Be sure to ask about temporary assistance, as your insurance company may provide temporary housing if your home is uninhabitable.
Keep track of all paperwork and document the entire process as much as you can. Ask for any and all estimates in writing.
It also never hurts to get a second opinion regarding the damages from a licensed contractor or structural engineer.
Continue paying your insurance premiums to ensure you're still protected from other potential mishaps. You may find more damages, so avoid closing your claim before you're sure there are no other pertinent damages.
Fire-Damaged Building Demolition Process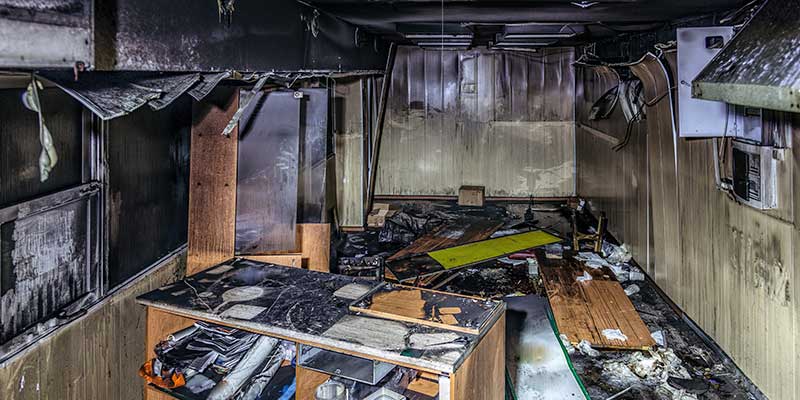 Many demolition contractors with experience handling fire-damaged structure demolition will assist with the insurance process, but that isn't always the case.
After you've spoken with your insurance company and sorted out demolition, here's what you can expect from the demolition process...
Get a Permit
It is essential as they will inspect your property after demolition. Qualified, licensed, and insured contractors will pull permits for you in most cases, but double check this with the contractors you speak to.
Secure the Area
It would be best to make sure that there are no people around who may be harmed in the process.
Stop All Utilities
You don't want gas or electricity running while taking out all the walls and ceilings. It's a safety hazard.
Protect Surrounding Property
If you're demolishing a house, it's best to cover any possible surface which can be damaged during the process.
Mechanical Demolition
Mechanical demolition is the most common form of demolition—the house is ripped down with the help of hydraulic excavators and other heavy machinery.
Debris Removal
The resulting debris is then hauled away via dumpster.
Learn more:
---
---
Average Cost to Demolish a Fire-Damaged Structure
The average cost to demolish a fire-damaged structure is $7,000-$12,000.
Cost of Fire-Damaged Building Demolition
| | |
| --- | --- |
| Structure Type | Average Cost |
| Barn | $1,500-$10,000 |
| Mobile Home | $3,000-$7,000 |
| House | $4,000-$14,000 |
| Commercial Structure | $22,000-$26,000 |
Your specific demolition may cost more or less depending on the type of structure being removed. It will naturally cost more to demolish a fire-damaged commercial structure than a fire-damaged mobile home.
Similarly, if you live in an area with a higher cost of living, it will be more expensive than demolishing the same type of fire-damaged structure in an area with a lower cost of living.
Your demolition could cost more or less depending on...
Size of the structure
Materials used to build the structure
How much of the structure is still standing
Your geographic location
The contractor you hire
Keep reading:
Finding a Fire-Damaged Demolition Contractor
Hometown makes it beyond easy to find a qualified and licensed demolition contractor capable of handling your fire-damaged structure demolition.
Read customer reviews, get answers to common questions, and easily request quotes from multiple contractors to ensure you hire the best person for the job for a fair price, on your schedule.
---