If you're considering hiring a professional in Georgia to help tackle an upcoming demolition project, this guide is the place to start.
Demolition can seem like a stressful or confusing process, but we're here to simplify things for you and answer the most commonly asked Georgia demolition questions.
Jump to:
---
---
Does my demolition project need a permit?
Yes, throughout the state of Georgia, you need a permit for most demolition projects.
Your contractor can apply for a demolition permit through your city's Building Department website.
Here's a quick reference list of demolition permit applications for popular Georgia cities:
Learn more: A Beginner's Guide to Demolition in Atlanta
Will my Georgia demolition project need an inspection?
Yes, prior to demolition in Georgia, you need to have an inspection performed by a qualified Asbestos Inspector.
You cannot presume any material on-site to be non-asbestos containing.
Instead, a thorough inspection must be performed by an accredited Asbestos Inspector and should include a report which identifies all ACMs in the facility that might be disturbed during the renovation or demolition.
What should I do if my Georgia demo might contain asbestos?
Any friable or potentially friable asbestos-containing materials found during your demolition inspection, and that might be disturbed during your project, must be removed by a Georgia-licensed asbestos removal company prior to beginning demolition.
If asbestos is present and not removed prior to demolition or disturbance, the contractor and property owner are equally responsible.
A Renovation/Abatement Project Notification must be submitted to the Georgia Environmental Protection Division no fewer than 10 working days before starting your work (if 10+ square feet or 10+ linear feet of friable or potentially friable ACM is to be removed).
If demolition is to be done after abatement activities, a separate Demolition Project Notification must be submitted.
A Demolition Project Notification must be submitted to EPD no less than 10 working days prior to the start of the demolition, regardless of the presence or absence of ACM.
If renovation/abatement activities are performed prior to demolition, a separate Renovation/Abatement Project Notification must be submitted.
---
---
What's the best way to dispose of demolition debris in Georgia?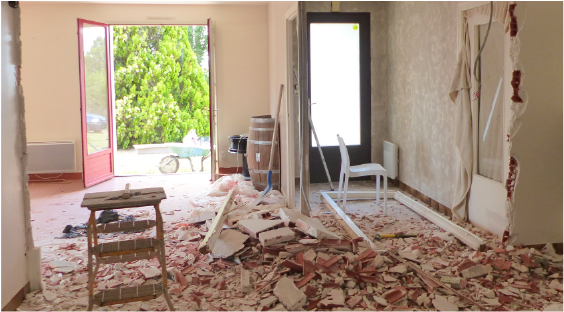 One of the easiest and most efficient ways of managing debris during a demolition or renovation project in Georgia is with the help of a temporary dumpster rental.
You can choose from a variety of sizes and pick-up frequencies to accommodate your project needs and budget.
Oftentimes, your demolition contractor will handle the disposal of debris, but be sure to clarify everything with your contractor before signing a contract.
If you're responsible for your demolition or renovation debris disposal, Hometown makes it easy to get dumpster rental quotes from Georgia-area providers in order to get the best services for a fair price.
Keep reading:
Who should I hire for my Georgia demolition project?
When looking for a qualified demolition contractor in your area to complete your project, you want to look for a contractor with experience and good customer service, not just the lowest price.
Hometown makes it easy to find local demolition professionals throughout Georgia, learn more about each company, read customer reviews, and request free quotes from as many contractors as you'd like.
---
---
Find out more: