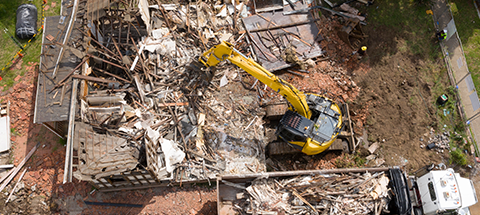 If you're considering hiring a demolition contractor in Atlanta to help tackle a demolition project, this guide is the place to start.
Demolition can seem like a complex and stressful process, but we're here to simplify things for you and answer the most commonly asked Atlanta demolition questions.
Jump to:
---
---
How does the demolition process in Atlanta work?
The City of Atlanta requires a number of plans and various paperwork be submitted to specific offices before demolition can begin.
If you plan to demolish a one- or two-family home in order to rebuild, the Atlanta demolition permitting process includes:
1. Research
Start by researching your home/property to determine if you are located in a historical, overlay, or special district.
If so, your property may require additional approvals from other staff and agencies before submitting a building permit.
If you're unsure, learn more about how to get started with Zoning, Development, and Permitting services.
2. Submit
Your demolition permit application can be submitted via Atlanta's Online Permitting feature.
Note: If received after 5:00 pm, the application's submission date will be considered the next business day, and a maximum of 5 applications are permitted per applicant per day.
3. Intake & Pay
A) Department of City Planning Performs Completeness Check
In order to be considered complete, your application must contain all required drawings and supplemental materials.
The Department of City Planning (DCP) staff will initiate the review record in Atlanta's permitting portal, which will become visible in your dashboard.
If considered incomplete, DCP's staff will let you know via email or phone of any additional requirements or actions you need to take before your permit is marked "Complete."
Generally, this check is done within 48 hours of application submission.
B) Applicant Pays Designated Application or Deposit Fees
In many cases, there are application or deposit fees due once your plan is accepted.
All fees can be paid online using the convenience of Atlanta's Accela Citizen Access web portal or in person at the Cashier's window located on the first floor of City Hall.
When fees are due, you'll be notified via email.
4. Zoning Review
The first review is often done by the Office of Zoning or the Historic Preservation Studio for zoning compliance.
On average, this review checks for items that are related to zoning, like the site and exterior aspects of the project.
The initial review typically takes place within 15 business days of the application being considered "Complete."
To see what items will be reviewed, review your zoning category in the Zoning Ordinance.
5. Route & Review
Once a project has received Zoning or Historic Preservation sign-offs and all fees have been paid, the DCP staff will then be able to route your project for review by other pertinent agencies or departments, including:
Building
Arborist
Site Development
Traffic Engineering
In some cases, these reviews occur at the same time as the Zoning review.
If not, the DCP staff will route the plans on behalf of the applicant, and you will be able to check the review status, see comments or recommended revisions, and view markups all within the online permitting portal.
Applicants will be able to respond to any comments and upload updated drawings as needed for review within the portal as well.
6. Coordinate & Pay
Once all reviews are coordinated and completed, the DCP staff will:
Request final supplemental documents from the applicant, like a contractor's license
Assess and invoice any final fees for permitting, arborist, fire, or stormwater reviews
Communicate with the applicant the fees that are due
You can pay any fees using the online permitting portal.
7. Approve
Permit Issuance
The DCP staff will digitally stamp all approved plans and materials and will issue separate records and individual permits.
Any approval letters and permits will be generated electronically and uploaded to the permitting portal.
Approved Plan Retrieval
You can retrieve the approval letters and/or permits from the online permitting portal by downloading and printing them so you can have a paper copy of plans on-site for any downstream inspections.
Do I need a permit for my Atlanta demolition project?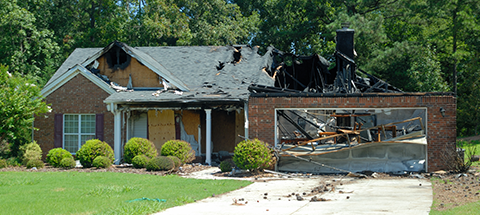 Yes, you will need a permit for your demolition project, as well as a few other demolition-related authorization documents.
Some items are exempt from requiring a permit in accordance with Ordinance 17-O-1307, like general repairs and certain HVAC/mechanical, plumbing, or electrical work.
Other common projects that call for a permit from DCP (and other agencies in certain situations) include but are not limited to:
New construction
Additions
Alterations
Accessory/Outbuilding structures, like sheds
Fences
Decks and porches
Windows, roofs, and solar panels
Tree removal
Helpful documents:
---
---
What should I do if my demolition project contains (or may contain) asbestos?
If your project may contain asbestos, a demolition permit may not be issued until you have presented Atlanta's Environmental Protection Division office with your Notification of Asbestos Renovation, Encapsulation, or Demolition.
The Atlanta EPD office can provide more information via phone at (404) 363-7026 or online at https://epd.georgia.gov/.
Their offices are located at:
EPD Asbestos Program
4244 International Parkway, Suite 104
Atlanta, Georgia 30354
EPD Coastal District Office
One Conservation Way
Brunswick, Georgia 31520
Learn more: Atlanta Asbestos Notification Requirements
What's the best way to dispose of demolition debris in Atlanta?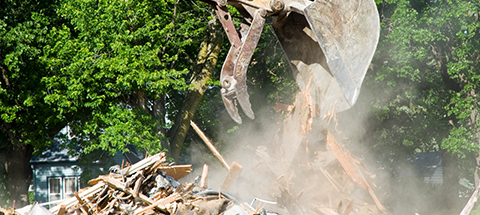 One of the easiest and most efficient ways of managing debris during a demolition or renovation project in Atlanta is with the help of a temporary dumpster rental.
You can choose from a variety of sizes and pick-up frequencies to accommodate your project needs and budget.
Oftentimes, your demolition contractor will handle the disposal of debris, but be sure to clarify everything with your contractor before signing a contract.
If you're responsible for your demolition or renovation debris disposal, Hometown makes it easy to get dumpster rental quotes from Atlanta-area providers in order to get the best services for a fair price.
Keep reading:
How should I dispose of household hazardous waste?
Household hazardous wastes include products labeled as toxic, poisonous, corrosive, flammable, combustible, or as an irritant.
The City of Atlanta does not offer a city-wide collection program for household hazardous waste removal, but their recycling partner, Center for Hard to Recycle Materials (CHaRM), offers a variety of options.
Find out more:
---
---
Read on: