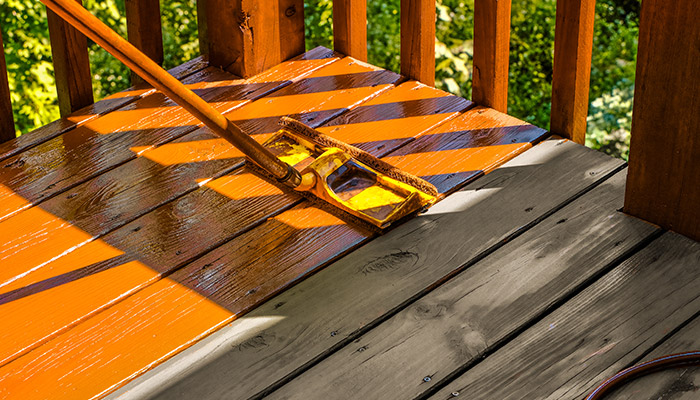 Updated January 23, 2023
Have you made sure your deck is ready for winter yet?
If not, it's time to start thinking about what you need to do to protect it.
Depending upon your location, winter may bring cold weather, snow, ice, and salt, all of which can wreak havoc on your deck if it's not properly "winterized."
Just as you prepare your landscaping for cold winter months by trimming, mulching, and performing other yard maintenance, your deck should be properly prepped as well.
If the deck is made of wood and you're located in a place where winter can be intense, these tips are especially important.
Not just wood, composite decks need winter preparation as well.
Moisture from snow and ice can lead to mold and mildew, which can eventually lead to rot. And the freezing and thawing of this moisture can weaken deck boards over time.
Not only is cold weather prep the key to a longer lifespan for your deck, but it also means less repairs in the long run and more time spent enjoying your deck in the warmer months.
To lessen the damage that winter weather inflicts on your deck, take the following steps to prepare it in the fall for cold weather.
Here are our tips to help you "winterize" your deck...
Clean the deck
This is arguably the best thing you can do to prepare your deck for winter—not just because you remove materials that can decay your deck, but because it also gives you a clear view of any other issues that may be going on.
Clear the deck of any furniture or decor, sweep off all debris and dirt, and give it a thorough scrub down with a mild cleanser and brush.
We advise against using a heavy duty power washer because it can damage the boards if done incorrectly.
Leaves, dirt, pine needles, animal droppings, and other debris can eat away at a deck, leaving it discolored and eventually leaving to mold and rot.
Be sure the deck is free of any and all debris so you have a clear view of all parts of the deck.
Inspect the deck
Visually inspecting the deck is the next step.
Tighten any loose screws you come across and hammer down any nails that may have popped up.
Check for any signs of damage or decay, like mold, mildew, or rot.
The areas underneath deck furniture are notorious for hiding moisture that leads to discoloration and weak spots.
If necessary, replace any boards that have gotten weak.
Seal the surface
Fall is the perfect time to seal a deck.
Once the deck is thoroughly cleaned and dried, you can apply a wood preservative or decking stain to seal it up.
When dry, apply a clear wood preservative to bare wood or a decking stain to previously stained surfaces.
If you are staining your deck, make sure you choose one that contains a wood preservative for added protection.
Coat all end-grain surfaces so they can't soak up water and crack over time.
Sealing the deck in the colder weather of fall is a great approach because it dries at a good pace and is generally a drier, less humid time of year.
A deck that's left unsealed is subject to moisture penetration, which leads to warping, cracking, and rot over time.
If the deck is too far gone, it may need to be replaced.
---
---
Learn more: