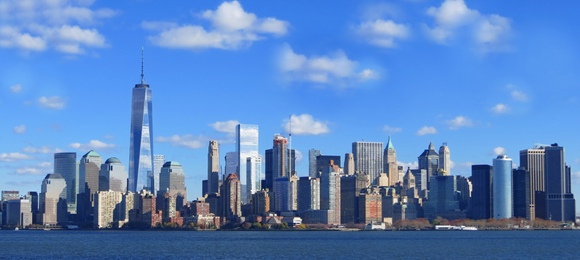 Updated September 2, 2021
Looking for answers to questions regarding demolition in New York? You've come to the right place.
This guide will go over the most frequently asked questions New Yorkers looking for demolition services face.
Start at the beginning to learn everything there is to know about how demolition in New York City works, or jump ahead to find answers to your specific questions regarding...
---
---
Do I need a permit to perform demolition in New York City?
Yes. In New York City, various permits are required for the construction, alteration, or demolition of any building.
However, lucky for you, your contractor is the one in charge of filing them with The Department of Building (DOB).
Learn more about permits:
How long does the permitting process take?
Depending on the complexity of your project, it could take anywhere from one week to three or four in order to obtain all the necessary permits.
How does the process work for obtaining a demolition permit?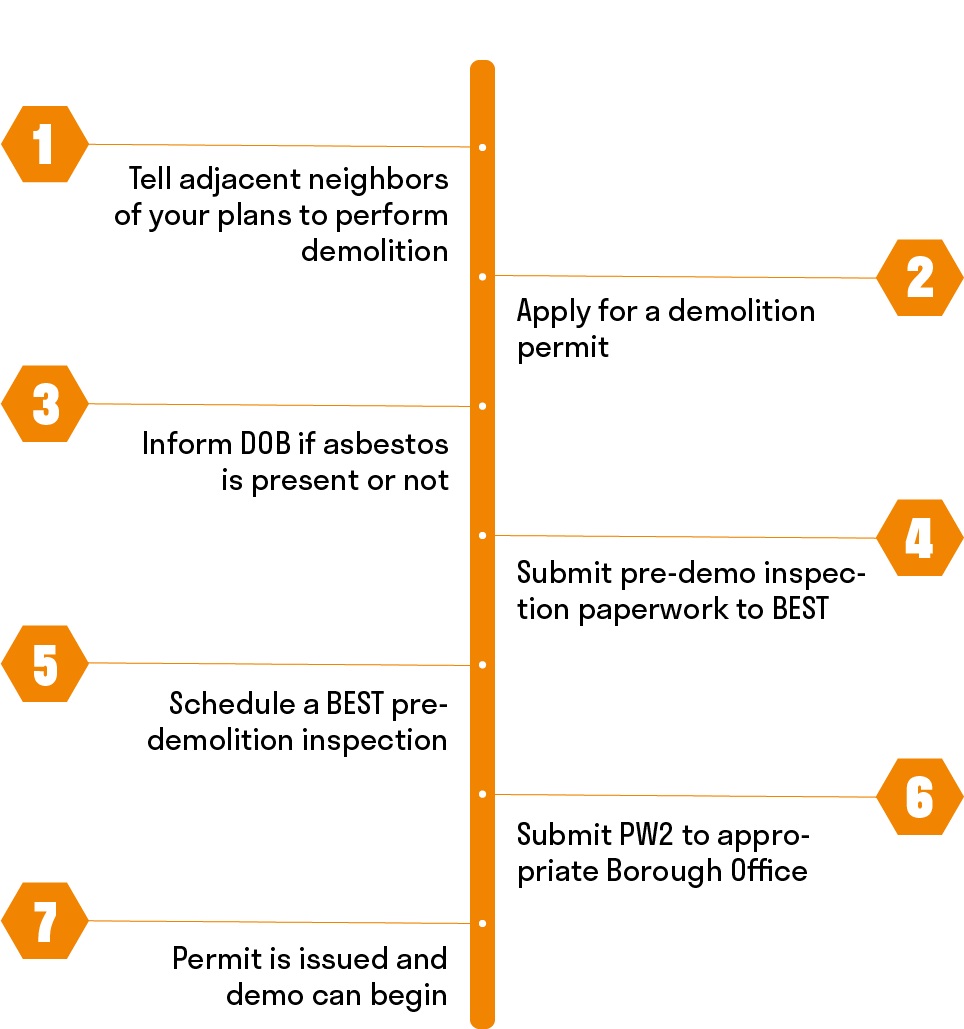 Step 1: Tell your neighbors about impending demolition.
In New York City, before the submission process can even begin, residents are required to send all adjoining property owners written notification of the demolition taking place (via certified mail) 5 days prior to submitting the permit application to the Department of Building.
Step 2: Apply for a demolition permit.
The contractor/company you hire will need to apply for a demolition permit next.
They can download the PW1 Plan or Work Approval Application form and file it at the appropriate Borough Office, or they can file it electronically online.
Step 3: Inform DOB if asbestos is present or not.
Then, on behalf of the owner, your contractor must inform the Department of Building if there is asbestos present in your home or not.
If there is asbestos — the applicant submits an ACP 7 Form, certifying that Asbestos-Containing Material (ACM) is present and describing what will be abated. All ACM must be abated before demolition can begin.
If there is NO asbestos — the applicant submits a Department of Environmental Protection issued ACP 5, or a DOB-issued Asbestos Exemption Certification Letter (ASB 4 Form).
Step 4: Receive the job number.
Once your contractor submits the PW1 form, they're issued a job number.
From there, the number can be entered into the DOB's Building Information System.
Step 5: Submit paperwork to the Construction Safety Enforcement Unit.
Upon paying the appropriate filing fee, your contractor submits an Application for Inspection Prior to Demolition (Pre-Demolition Report) to the Construction Safety Enforcement Unit (CSEU), which reviews the application and enters it into a demolition spreadsheet.
If large-scale machinery is required, the contractor must submit an Application for Recommendation for Mechanical Demolition.
They review the proposed demolition plan and make recommendations for carrying it out.
Step 6: Schedule a pre-demolition inspection.
After submitting the initial paperwork to the appropriate Borough Office and to the Construction Safety Enforcement Unit, the demolition contractor must also schedule a pre-demolition inspection with CSEU.
The inspection is done in order to:
Ensure the paperwork on file matches the site being demolished
Verify the location and size of the building
Confirm that the structure is vacant
Step 7: Submit PW2 to your Borough Office.
Once the site passes the pre-demolition inspection, your demolition contractor submits a Work Permit Application (PW2) to the appropriate DOB Borough Office to obtain a demolition permit.
Be sure you understand how to fill out the PW2 Form properly.
If everything checks out, the permit is issued and demolition can begin!
Can I hire whoever I want to handle my demolition project?
You can hire pretty much anyone you want to handle your demolition project, as long as they're a licensed demolition contractor in the State of New York.
Hometown can help you find the right contractor for the project.
Who is responsible for what?
There are a few different departments responsible for issuing permits and overseeing various stages of the demolition permit process, so let's break it down...
Department of Buildings (DOB)
Issues permits for construction and demolition activities in the City of New York
Inspects plans and sites to verify that appropriate protocols are followed
Fire Department of NYC
Issues permits for hazardous materials, some of which may be in use on construction and demolition sites
Inspects construction and demolition sites to ensure compliance with fire safety standards
Department of Environmental Protection
Oversees and inspects asbestos abatement activities throughout the city, whether conducted independently of or in association with construction or demolition activities
Keep reading about finding the right contractor:
---
---
What should I do with all the resulting demolition debris?
Whether you're tearing down a building, house, or removing concrete, you're going to have quite a bit of debris to dispose of.
Many contractors may include the price of hauling in their quote, so be sure to ask.
However, if they don't, you'll likely have to haul it to a landfill yourself or rent a dumpster to have another company haul it away for you.
In NYC, a dumpster rental company must be issued registrations by the Business Integrity Commission, authorizing them to collect and remove C&D materials.
Learn more about debris disposal: