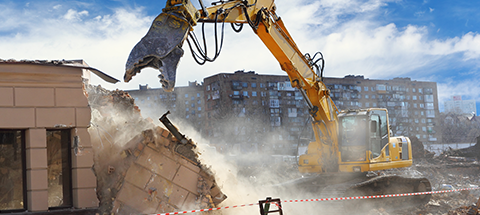 If you're considering hiring a demolition contractor in Chicago to help tackle a demolition project, this guide is the place to start.
Demolition can seem like a complicated and overwhelming process, but we're here to simplify things and answer the most commonly asked Chicago demolition questions.
Jump to:
---
---
Do I need a permit for my demolition project in Chicago?
Yes, a demolition permit is required before starting most demolition work in Chicago, regardless of size or scope.
This includes the removal of structures, like homes and garages, as well as interior demolition (even if no plumbing or electrical work is being done), like the removal of plaster, lath, or drywall.
If there is no record of a demolition permit to remove a previous structure, a building permit will not be issued should you want to rebuild at the site in the future.
Why do I need a permit for a small demolition project?
Permits exist to ensure demolition and construction work complies with the minimum standards of safety established by the Chicago Construction Codes.
These standards are in place to protect the safety, health, and welfare of the public.
Keep reading: Information on the Chicago Demolition Process
How do I get a demolition permit?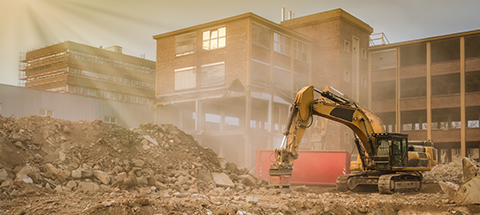 The Department of Buildings is responsible for issuing permits.
To start a demolition permit application, complete the first page of Form 480 (Demolition Permit Application) and email it to DOBDemoPermits@cityofchicago.org along with at least two clear exterior photographs of the building or structure to be demolished.
An application for a demolition permit can be submitted by:
Property owner
Contractor performing the work
City-licensed expediter
If your application is more than 30 pages (with attachments), it must be submitted in hard copy by mail or delivery to:
Department of Buildings
ATTN: Demolition Permits
121 N Lasalle St
City Hall Rm 906
Chicago, IL 60602-1256
Once an application is submitted, you'll receive an email with your permit application number or directions for submitting any missing necessary information.
If there are any address-specific holds that must be resolved before a demolition permit can be issued, you'll be notified of those as well.
Once you receive a permit application number, you'll need to collect the required approvals and documents listed on Page 2 of the permit application.
You will have 120 days from the point of receiving your demolition permit before it expires.
If needed, you can request a 90-day extension.
Learn more:
---
---
Do I need to post the permit at my demolition site?
Yes, before your demo project begins, your contractor will need to post a copy of the demolition permit certificate at the job site.
It should be placed in a location that is visible from the sidewalk or public street and should remain posted until the final inspection is completed.
Whenever work is occurring, a copy of the written Site Safety and Operations Plan and Structural Condition Report must be available on site as well.
How long is a Chicago demolition permit good for?
Demolition work must start within 6 months of paying for the permit.
Once the work begins, work cannot stop for more than 12 months cumulatively or continuously.
If you need additional time, contact the Department of Buildings at DOBDemoPermits@cityofchicago.org for an extension or reinstatement.
Who should I notify if my project start date changes?
If your start date changes, you must notify the Chicago Department of Public Health (CDPH).
You can reach them by phone at (312) 747-9884, by calling 311 for 24-hour assistance, or in person at:
Public Health
333 S. State Street
Room 200
Chicago, IL 60604
Does my demolition project require an inspection?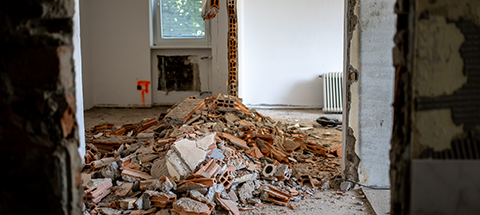 Yes, your demolition contractor must request a post-demolition inspection once the work is complete but before backfilling (if applicable).
If backfilling and grading are required, a second inspection must be requested once that work is complete.
These inspections are included in the permit fee and must be requested online.
For complex demolition projects, your contractor will need to request:
Progress inspections decided upon during the pre-permit inspection
An inspection when all demolition work is complete
An inspection once the site is graded
If additional inspections are called for, whether at the request of the contractor or the Department of Buildings, an additional fee will be charged when the permit is issued.
In addition, pursuant to the Construction and Demolition Debris Recycling Ordinance, compliance paperwork must be submitted to the Department of Public Health (CDPH) at the conclusion of demolition work.
---
---
Are there rules for recycling construction and demolition (C&D) debris?
Yes, according to the Chicago Construction and Demolition Site Waste Recycling Ordinance, contractors must:
Keep track of the amount of C&D debris that is generated on your job site(s).
Recycle 50% or more of the recyclable debris generated on the job site(s).
Submit a Recycling Compliance Form to the Department of Public Health at the end of each project, along with an affidavit from the waste hauler or recycler.
What is C&D debris?
C&D debris is defined as solid waste produced from construction, demolition, remodeling, or repair projects that is non-hazardous and non-contaminated.
Common C&D debris includes:
Asphalt pavement
Bricks, concrete, rock, etc.
Glass and plastics
Landscape waste
Non-asbestos insulation
Plaster and gypsum drywall
Plumbing fixtures/piping
Roofing shingles and other roof coverings
Scrap metal
Wood
How does C&D debris need to be recycled in Chicago?
Planning ahead is the first step to successful and proper C&D recycling.
Your contractor will need to estimate how much of various debris types will be generated at the job site(s).
Then, they can determine how the materials should be sorted and which recycling service providers should be used.
To learn more about which projects must comply and how compliance is enforced, read the ordinance.
To find out more about documenting your compliance with these requirements, read the C&D Recycling Rules and Regulations.
---
---
Learn more: