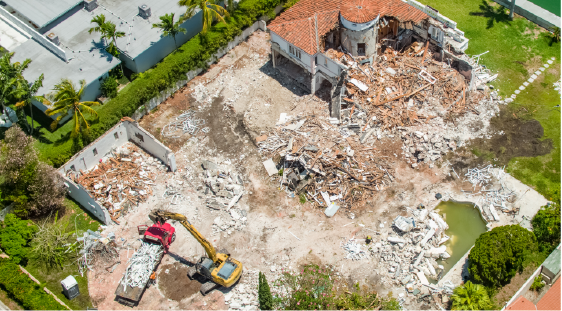 If you're considering hiring a demolition contractor in California to help tackle a demolition project, this guide is the place to start.
Demolition can seem like a complicated and overwhelming process, but we're here to simplify things and answer the most commonly asked California demolition questions.
Jump to:
---
---
Are there certain requirements for demolition projects in California?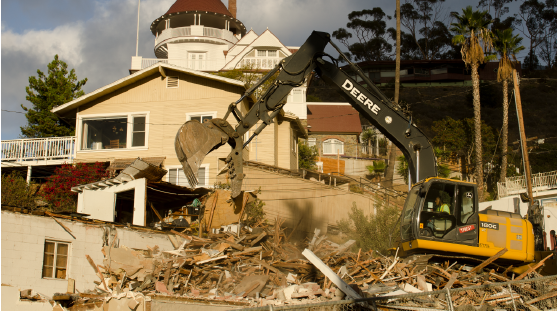 Yes, there are a number of requirements outlined in the California Code of Regulations: Demolishing Buildings that must take place before, during, and after demolition.
California's demolition requirements include, but are not limited to:
Shut off all utilities.
Utility companies must be notified, and all utility services must be shut off, capped, or otherwise controlled before starting demolition.
If electricity or water line use is necessary during demolition, the utility services must be relocated or rearranged in order to protect utility line(s) from physical damage.

Determine if hazardous materials are present.
Before demolition can begin, a professional must determine if any type of hazardous materials, gases, or other dangerous substances have been used on the property in some way.
If the presence of any hazardous or dangerous substance is apparent or simply suspected, adequate testing and proper removal must be performed before demolition can begin.

All pipe-covering insulation, steel beams, ductwork, etc. must also be surveyed for asbestos.
If asbestos is present, the employer shall comply with Section 1529.
Perform periodic inspections.
During demolition, as work progresses, ongoing inspections should be performed in order to detect any potential hazards resulting from weakened or deteriorated floors, walls, or loosened materials.

Employees should not be permitted to work where any hazards exist until they are corrected through shoring, bracing, etc.
Manage and dispose of debris properly.
When demolishing any structure or alteration, including partial demolition, all debris, unless being used in reconstruction, must be immediately placed on the ground so as not to exceed its safe carrying capacity.
Methods for dust control must also be in place, including the use of water in order to dampen dust material and debris sufficiently so as to prevent dust from rising into the air and spreading.
Learn more:
---
---
Does my California demolition project require a permit?
Yes, most California demolition projects require a permit.
You or your contractor can apply for a demolition permit through your city's Building Department website.
Here's a quick reference list of the departments responsible for demolition laws and issuing permits in popular California cities:
How should I manage my California demolition project's debris?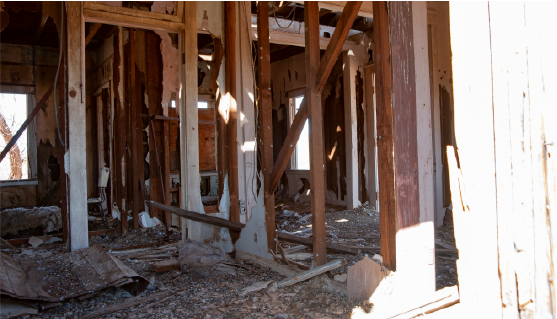 One of the most efficient ways to maintain debris during a demolition or renovation project in California is with the help of a temporary dumpster rental.
You can choose from a variety of dumpster sizes and pick-up frequencies to accommodate your project needs and budget.
Oftentimes, your demolition contractor will handle debris disposal, but be sure to clarify everything with your contractor before signing a contract.
If you're responsible for your demolition or renovation debris disposal, Hometown makes it easy to get dumpster rental quotes from California providers in order to get the best services for a fair price.
You can also locate a contact for your local jurisdiction, use the CalRecycle's Local Assistance Contacts database.
Find out more:
Who should I hire for my California demolition project?
When looking for a qualified professional in your area to complete your demolition project, you want to look for a contractor who possesses a C-21 License as well as experience and good customer service, not just the lowest price.
Hometown makes it easy to find local demolition professionals in California, learn more about each company, read customer reviews, and request free quotes from as many contractors as you'd like.
---
---
Keep reading:
How much does demolition cost in California?
The price of demolition in California depends on a number of factors, like the type of demolition project, the size of the project, where you're located exactly and how accessible your project site is by heavy equipment, the type of debris you're disposing of and how much, as well as who you hire.
In California, all of these factors will affect the price of your specific demolition project.
However, we can look at examples of what other Californians have paid for their demolition projects in recent history to get a better idea of what a fair demolition price is.
In Los Angeles, for example, one customer paid $8,000 for a 1,300 sq ft house demolition.
In San Jose, a customer paid $4,500 to demolish a two-car garage and 9,000 sq ft concrete driveway.
In Chino, a customer paid $1,500 for a 72 sq ft shed.
In La Habra Heights, a customer paid $26,000 for the demolition of a 4,500 sq ft commercial building.
Read on: