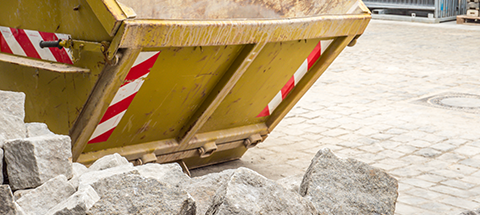 Updated February 22, 2023
The construction and demolition debris (C&D) waste stream is staggering, reaching roughly 130 million tons per year and making up approximately 25% of the solid waste discarded in the U.S.
Nearly all job site wastes are recyclable, yet C&D wastes remain one of the largest waste streams in the country.
Although recycling requires slightly more planning and effort, it typically costs significantly less and keeps reusable materials out of our landfills.
Whether you're a contractor or a homeowner working on a DIY demolition, construction, or remodeling project, recycling C&D debris is one of the greatest commitments you can make to sustainability, environmental preservation, and your bottom dollar.
Jump to:
---
---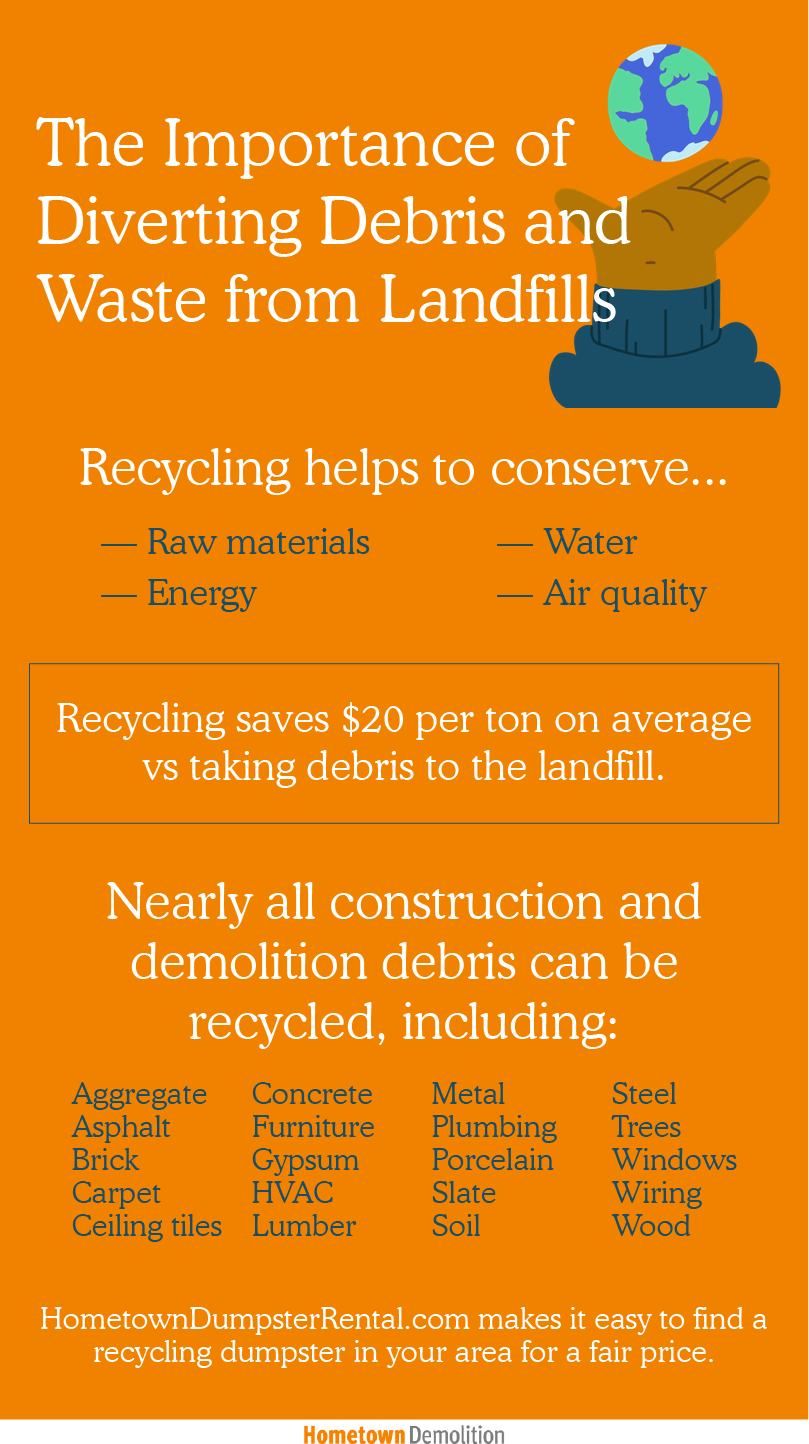 Sustainability & Environmental Preservation
Recycling allows usable materials to be produced at much less of an environmental and financial cost than creating new materials from primary sources.
Recycling conserves:
Raw materials
Energy
Water
Production of harmful pollutants and greenhouse emissions
Nearly every type of waste material produced on a job site can be recycled.
C&D debris that can be recycled includes (but is not limited to):
Aggregate
Asphalt
Brick
Carpet
Ceiling tiles
Commercial membrane
Concrete (with & without rebar, block)
Dimensional lumber
Doors and door frames
Engineered beams
Furniture and furnishings
Gypsum
HVAC (ductwork, motors)
Lockers/athletic equipment
Medical/lab equipment
Metal (ferrous, non-ferrous)
Millwork
Partition systems
Plumbing (pipes, fixtures)
Porcelain fixtures
Reception/casual furniture
Shingles Panels (plywood, OSB, MDF)
Slate
Soil
Steel framing members
Structural steel
Trees, stumps, brush
Wallboard
Windows and frames
Wiring/conduit
Wood
Recycling C&D debris also creates employment opportunities and boosts economic activity that can help improve the local economy.
Keep reading:
Lower Costs
The cost of recycling is almost always lower than the cost of throwing C&D debris away in a landfill.
On average, you can save up to $20 per ton by recycling debris rather than taking it to the landfill.
Like anything else in demolition and construction, recycling is relatively straightforward if you have a good plan mapped out.
Making plans as you go is sure to increase your budget, so we advise establishing a good plan before beginning your project.
A good recycling plan should…
Allow you to recognize all recyclable debris
Outline how you're going to manage each debris type
Make it easy to assess costs and determine which materials can be sourced separately, which can be commingled with other recyclable debris, and which should be taken to the landfill instead of recycled
Detail methods of communication, tracking, and troubleshooting
Find a Qualified Recycling Dumpster Provider
Dumpsters are a great way to manage recyclable demolition or construction debris.
We recommend getting quotes from three or more providers in your area to determine...
Who can properly recycle the debris you have
Who has availability for your desired rental period
Who has the dumpster size you need
Who offers the most competitive price
---
---
Learn more: