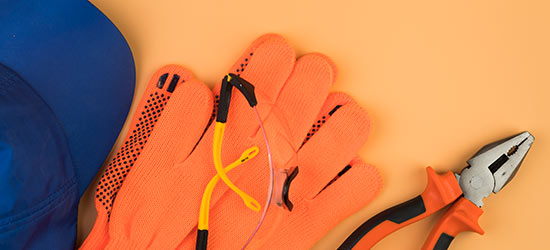 Updated November 30, 2021
As a result of the COVID-19 pandemic, there has been an increase in DIY projects, cooking at home, gardening, and other house work.
This increase has also led to an uptick in the risk of injuries from things like power tools, hot water, and everything in between. The U.S. Consumer Product Safety Commission reminds Americans to stay safe at home during quarantine.
This is why it's so important to always prioritize your safety and health, but especially in the midst of a pandemic.
Here's how:
---
---
Wear the Necessary Safety Attire
Hospitals throughout the world have seen a noticeable increase in the number of "traumatized eye" injuries.
For example, doctors and nurses at Oxford Eye Hospital saw six "traumatized eyes" in one week when they generally only see one every two to three weeks.
That's 12x more patients (who need serious care) than they generally see in one week's time, and many professionals attribute this to more people doing work around the house without using proper eye protection.
Injuries can include anything from hot water eye burns to nail gun-related injuries.
In addition to wearing protective eyewear, also wear:
Every year, thousands of people end up in emergency rooms from DIY-related accidents. That's why it is crucial that DIY safety is a top priority for anything you're doing while at home, especially now more than ever.
Hospitals around the world are being inundated with people sick with COVID-19, and they need all their resources to fight this pandemic rather than tend to an injury that could have been avoided altogether.
Make Sure You Have a First Aid Kit
It should go without saying that you need to have a well-stocked first aid kit in your home.
A good first aid kit will include bandages, gauze, alcohol pads, Neosporin, burn ointment, aspirin, tweezers, cold compresses, and more.
If you don't know where your first aid kit is or whether or not it contains everything it should, find and assemble your first aid kit before you do anything else.
Consider your first aid kit an extension of your safety equipment and always have it ready when needed.
Use Power Tools Very Carefully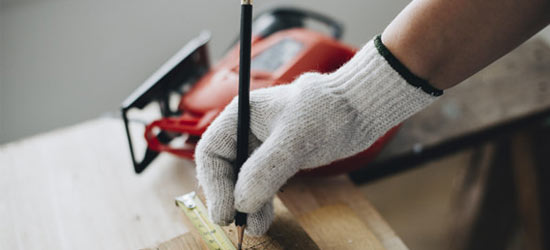 Power tools are just that: powerful. They should always be used carefully and after being sure you are following all safety precautions and using the equipment properly.
Properly prep and store tools during your project so that they are convenient enough to reach without being in your way and tripping you up.
Never leave power tools unattended when plugged in, and keep them out of reach of children.
If you need to buy the right tools, big box stores like Home Depot and Lowes offer most of their items online and can deliver them right to your home.
However, during these trying times, we encourage you to support local hardware stores whenever you are able to do so. Many are offering curbside pick-up and local delivery services, help with projects over the phone, and more. Not only is their customer service often superior, but they could use your support now more than ever.
Keep reading:
Stay Vigilant of your Surroundings
Be aware of your surroundings at all times to prevent any injuries or accidents. This will prevent you from accidentally hurting yourself, someone else, or your house.
Always be mindful of where others are, whether they are entering or exiting your work area, where your equipment is located.
Cover sharp edges and eliminate any tripping hazards.
Keep all young children and pets out of your work area at all times.
If you have any doubts about your ability to safely complete any project, wait until it's safe to hire a professional to help out. Hometown Demolition makes it easy to find the right demolition contractor for your project, whether it be interior demolition, structural demo, deck or fence removal, etc.
Learn more: